tired.
[tuning to: britney spears - break the ice]
i dont know why, but im just so tired today. whole day walking ard with my eyes 3/4 opened. dragging myself ard like a zombie..haa`..anyway, met up with
QiHui Darling
today! its been months since we last met! and im just so delighted to see her! hehe`..went for dinner followed by walking ard and finally ended up at
TCC
for coffee and chatted. it was nice catching up! =) but as we both are pretty tired, we decided to leave early..sad~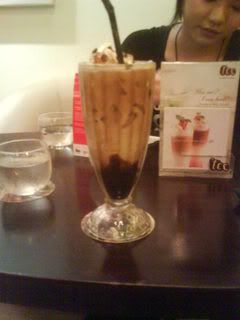 my Mocha Villa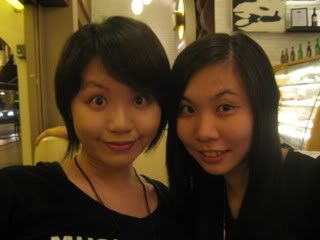 my darling Qihui and Myself. =) *can u see that im really trying hard to widen my sleepy eyes!*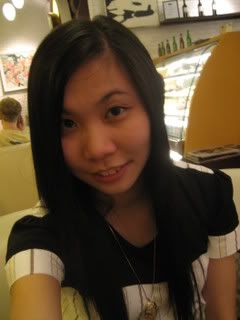 im trying very hard to open my sleepy eyes and smile properly...but the tiredness still cant be hidden! in fact its written all over my face! *faints*
anyway...i need to slp early tonight...firstly cause im very tired and also cause i need the energy for tmr! its gonna be a busy and long day for me! gotta wake up early for work..after which i need to be at
Grand Hyatt hotel
for my co.'s event. Will be having some dinner thingy for the
Official Launch
of my co's
Corporate Social Responsibility Programme
& my co's fund at
NTU
, with
Dr Vivian Balakrishnan
, Minister for community Development as our
Guest of Honour
.. and apparently i was arrowed to be one of the
Floor Usher
for the night, along with
SiewLing
..haa`.. so we gotta be there at 3pm for the rehersal and prepations...it'll be pretty rush...as we gotta dress up and stuff like tt..and gotta be ready for standby by 6.45pm..whereas the rest of our other colleagues get to go home at 3pm..and rest and come down at 6.45pm... event gonna end at 10pm! i do hope everything goes well tmr..=)
nitey all~ ciao~ gonna go catch some zZzz....