Its gonna be my year again! Yeap im born in the year of the
Rabbit
~ *
hop hop hop
*
Anyway that means that
Chinese New Year
is approaching! Time for shopping and splurging! New clothes, new shoes, new lingeries, new bags, new wallet, new toothbrush, new everything~ Without a doubt, i did my share of shopping and splurging as well! Only this year i didnt have to do alot of last minute shopping as most of my shopping had been done over the past few months! I still have quite a number of dresses and clothes and even shoes that are new! Only a few more items i needed before im done!
And over the last few days and a week before, thats just what i did. I went to shop for 1 more new bandage dress from
Topshop
(
sponsored by Mr Bf
), a new pair of pumps (
sponsored by Mr Bf
), 1 blazer from
G2000
(
short version of a trench coat, i totally LOVE this. Pretty!
), 2 simple yet really sweet t-shirts that i totally love (
from some random pushcart
), and a new wallet from
LV
!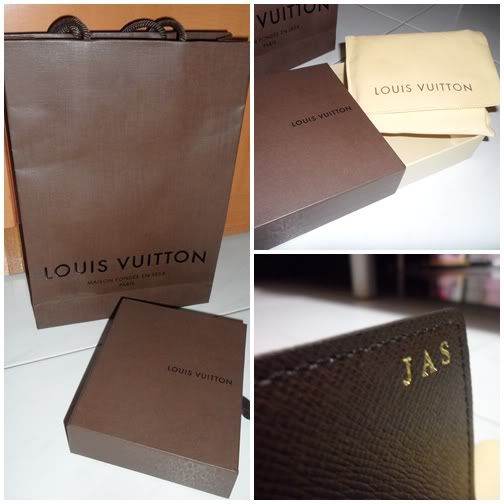 Yay~ And i did the Hotstamping of my initial~ =)
Finally gotten myself a new wallet! been wanting to get 1 for the longest time! more than a year i suppose! yea i didnt get a new wallet last year~
last few months i've already gotten 3 maxi dresses, 1 pullover, 1 skirt (
pressie from adel
), 2 dress, 1 shorts, 1 top, and a couple more stuff i dont even remember~
now i just need a new bag, a new pair of sandals, probably 1 proper black blazer, and probably a couple more items would do! =)
Anyway apologize for the long wait for my updates! Last few weeks i had been pretty busy! here's a brief list of stuff i did over the last weeks.
1. Mahjong session at my place with my lovely colleagues (Jen, Peggs, TLC)
2. Mahjong session with Bf and his friends
3. Shopping with Bro at Orchard ION
4. Shopping with Bf and his family at Tampines mall, PS and TampinesOne
5. Salsa lessons (
sadly my Intermediate 1 last lesson was on Monday~)
6. Rain jie birthday surprise dinner at Sushi Tei (
will blog a seperate post with photos about this soon!)
7. Spring-cleaning my messy room
8. Reading a really good old book (
Memoirs of a Geisha
)
9. Spending time with Muffin dearest
10. Attended Vivian (Bf's cousin) BBQ birthday party
11. Dinner Treat from Me to Bf @ Irodori Japanese Restaurant (Riverview Hotel)
Oh! and on top of just buying clothes and all, Bf bought me a new
Hello Kitty Laptop Cooler
, and i bought my favourite
Reese Peanut Buttercup Chocs
! Yum!