Did i wake up from the wrong side of the bed? or am i just lack of sleep?
Why i asked? Cause im in a very bad mood today! My temper is really bad and i get agitated by every little thing! I'm so angry i thought i am gonna kill someone!! (
ok not literally, its just an expression to show how angry i am!
)
ARGH!!!
Incident 1
: Having to wait wait wait and wait just to eat. and i was already very hungry at that time.
Incident 2
: Came home to get the car. And
Muffin
Pee all over the place! -.-"
Incident 3
: While on the way driving him to
Clementi
for work, there were
MANY
'
Kayu
' drivers who were constantly in front of me, no matter how i switch lane and cut around, there is bound to be a '
Kayu
' driver.
Incident 4
: Already kinda pissed by those '
Kayu
' drivers, his colleagues had to keep calling and calling and asking where he is and chasing him to get there quick. (
How am i to to there quick with all those STUPID drivers on the roads who were either road hogging or braking for no reasons and blocking my way!
)
Incident 5
:
MASSIVE
traffic jam which i got stuck in for half an hour after i dropped him off and make my way home. (
considering im driving a manual car and its really very irritating!!
)
Incident 6
:
AGAIN
there are
MAN
Y stupid '
kayu
' drivers in front of me! (
WHATS UP with them!
)
Incident 7
: Came home and realize naughty
Muffin
made a mess of his playpen!
Argh
!!
Incident 8
: After
Muffin
had his dinner, as usual he went to pee and poo, and
TODAY
(
this doesn't usually happen
) he made a mess of himself, the playpen and the area around his playpen! he was literally stepping all over his pee and walking around!
ARGH
!!! had to clear up the place and him
AGAIN
!
Nothing seem to be going right today!!!! 8 major incidents in total to agitate me!! Is my temper just exceptionally bad today, or am i just having a really bad day? Is it due to the really HOT and HUMID weather and the sudden downpour?
Damn!
And i seriously think those stupid '
Kayu
' drivers should jolly well
STOP
driving and causing traffic jams by road hogging and endangering people's life, and they should just take the bus and MRT instead!!
ARGH
~
I'm flaming up again just trying to recall and type this post!!
Hope tomorrow is gonna be a much better day!
Drank lotsa cold water and ate ice cream to try cool myself down~ and i feel that im gaining weight
AGAIN
. this better not happen! after how i worked so hard to skip meals and slim down to achieve my ideal weight! sigh!
K anyway, enough of ranting for today. Period.
_________________________________________________________
Gonna blog about happier stuff
NOW
!
Yesterday
morning send
Bf
to work and came home to do some chores. Vacuum the floor, went for a short jog, and simply wasted my day~ In the evening, waited for
Bf
to come over pick me up for dinner. Gosh waited til i almost fainted and suffered from Gastric pain! Was initially told that it would be around 6+ to 7. End up i waited and waited til 9 before he came over. -.-" Of cuz i didnt stupidly wait without eating. I ended up snacking on lotsa junkies! Half the bottle of potato chips, a slice of fruit cake, a bottle of Brand's essence of chicken and biscuits~
He and
XiaoQiang
came over to pick me and we went to
Katong
to have noodles before heading over to
ECP
to past time by catching sweets and bears!
Bei
and his gf,
Valenz
also came to join us and we basically hang out the whole night there til 1-ish am. We ended up with a total 4 bags fully filled with sweets and bears!! Bei and Valenz had 1 bag, while XiaoQiang, Bf and Me had 3 bags! We traded the bag of sweets and snacks for JP points and also the huge plushies for JP points except for 1, which is the HelloKitty Head Cushion which i like alot and am planning to put it in my future office! =) and so we still ended up with a bag of bears home~ haa!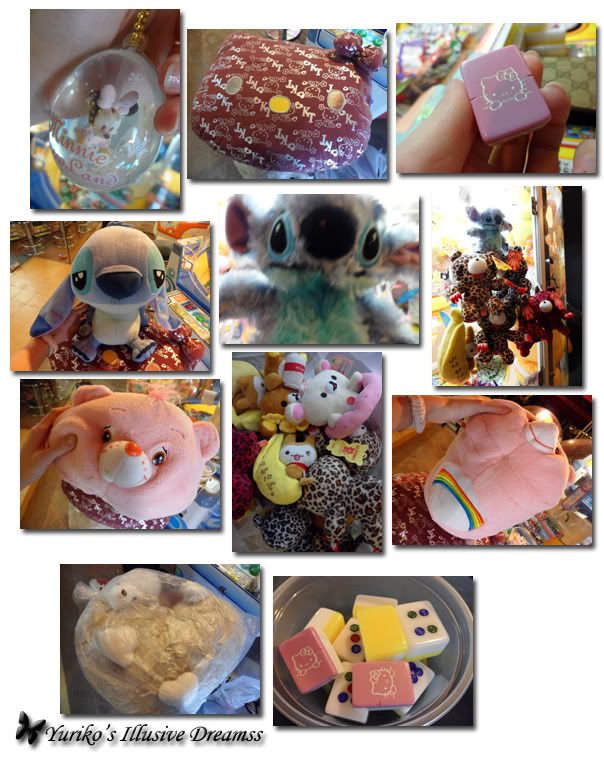 Just some of the bears~ didnt manage to snap everything~
Also the mahjong tiles are attached to some of the bears and can be exchanged for other prizes! I like the HelloKitty tile! hehe~ And after exchanging 10 of it for JP points, there was 1 outstanding and Dear changed for the Minnie in a Ball keychain for me! very nice and cute right! =) And also beside that pict is the Hello Kitty Head Cushion i mentioned earlier. Very nice and unique yea? i like!! (not sure when i start appreciating HelloKitty! cuz i nv like it in the past!! but i realize the growing no. of Hello Kitty stuff i have at home now!! =p) thanks Dear for letting me keep that while we exchanged the others for JP points~ wanted to keep all of it, cuz they're all so cute! espcially the Stitch and Carebear! But i have way toooo many plushies at home that i no longer have space for them~ so its better we changed for JP points which can later on be exchanged for better prizes such as iPhones, DS Lite, Camera, etc! =)
After which, they got hungry and so we head to
Simpang Bedok
to supper before we called it a day and headed home to watch soccer~ and i ended up knocking out at 4-ish am while he slept at 6-ish am~
I was a happy girl ytd night! hehe! caught many bears, sweets, company of bf and his friends, and got a know a new friend Valenz who is pretty sweet!~ =)
Well, doubt i can do such night activities as often anymore, cuz i'll soon get my ass back to work!! *sulks*
But then again, im really looking forward to going back to work again! Its been slightly more than 1year since i last left my previous job at
RSA
, and have been surviving on my savings which i've already drained out!! and i really need to start earning and saving back the amount i wasted this 1 year!! Plus i've wasted a year of working experience and really need to get back on track and buck up!! And of cause, though i've had bad experiences in previous jobs due to politics, backstabbing, evil and irritating colleagues and bosses, I'm still not gonna give up hope for a better boss and nicer colleagues in my future job, nor let those horrible past affect my future!! =)
So, peeps do wish me luck on my next job alright! =)