Failed Terribly.......
Slept pretty late last night and we ended up waking very very late today! and i really mean late! 4ish-pm to be exact! lazed around further and watched tv before we head to
ECP
for our first meal of the day~! It would have been another person's dinner, but was our breakfast! LOL!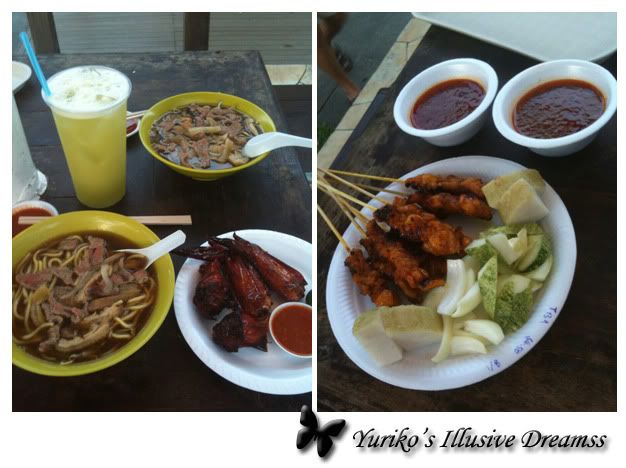 our foodie at ECP~ Beef Noodles, Satay, Chicken Wings, and our Sugar Cane Drink~
after eating, we head home to watch
HongKong
drama til 11ish-pm before i packed up and we head to have our favorite
Pig Kidney Mee Sua
near my place~ i've always like the
Mee Sua
and the soup there! Yummylicious~ and that was also our 2nd and last meal of the day! After which
Dear
send me home for the night~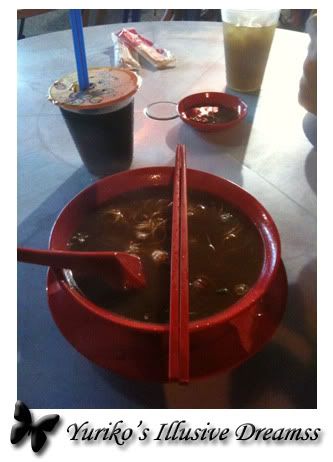 Our Pig Kidney Mee Sua~ My Luohan Longan Drink, and his Chestnut Drink~
All was well til i got home....
Hell broke
~ i saw my result slip lying on the table with one the results for my last examination.......
I
Failed
.....
i couldnt believe it! i knew i would do badly for it....but i thought i would at least pass!
Once again,
History
repeated itself!
During my Diploma, i also failed 1 paper during my last semester. And now for my Degree, i failed yet another paper during the last semester! Its a curse! i can nv graduate at the same time as my fellow classmates... sigh....
Feeling so demoralize.... i had intended to look for a job, but with this failure...it has cause a lil barrier for me! It would be kinda '
Not3Not4
' (不三不四) if i were to start work now~ firstly cuz
CNY
is coming, and now cuz i would have to study yet
AGAIN
for the supp paper which would be on the
16March
~ and if i work, i would have to take leave for that paper, and it wont reflect well on me having to take leave on a new job~
sigh..this stupid failure has caused me so much trouble! argh!!! waste my time, waste my money!! and now i feel so worried bout my other result....and also for my project..... sigh.... worried worried worried......
so disappointed with myself yet again... i
SHOULD
have done well, since i aint working....Instead everyone around me who are working scored so much better than me.....
ARGH!! I HATE NUMBERS! I HATE MATH
!!! Math is also the reason why i didnt go poly, cuz i didnt do well for it in my O's and thus couldnt get into the course i wanted, and am only left with the other choices which i totally have no interest in!
ARGH
! Oh yea i forgotten to mention, this paper i failed is on
Capital Market, Investment and Finance
! =( *sulks*