RWAR~
gosh my life have been pretty monotonous these days that i have nothing much to blog at all!! i've opened this "New Post" page many a times. but just as i wanna blog, i realise i simply have nothing to blog...
Life has been pretty boring....
been at home doing the housechores, packing up my room and packing up some old stuffed toys which i've planned to donate to the orphanage for the moment. Its less then half my collection, but i'm just not ready to let all my precious go yet! Some have sentimental values and some are birthday gifts etc. Guess it'll take me some time to slowly learn to let go and be gracious enough to donate them all to the orphanages.. The reason i'm even thinking of letting some of my precious go is cuz of the lovely heartwarming smiley faces i saw during my last mission trip to a orphanage in batam. Thats when i decided i needed to do something! =)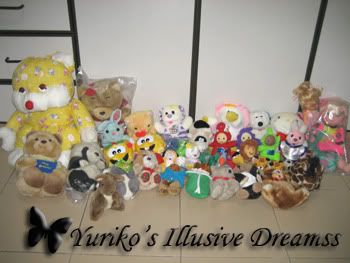 part of the stuffed toys and dolls and sally secret dolly that im gonna donate to the orphanage! =)
other then that i've simply been rotting in front of my laptop, and i only go out at night for suppers with friends to catch up..
other than that my life is pretty boring now...nothing exciting happening in my life!! to think i had a list of things i wanna do before my exams...duhz~
think im gonna start working on some of the items on my list soon! as for now...i'll continue rotting my day away....cuz i'm still feeling tired every single day though my exams are already over...-.-" my bio clock havent properly tuned back yet! my slping hours have all gone haywire~
and some friends even commented that i have very puffy and sad eyes..-.-" its probably due to my lack of proper slp...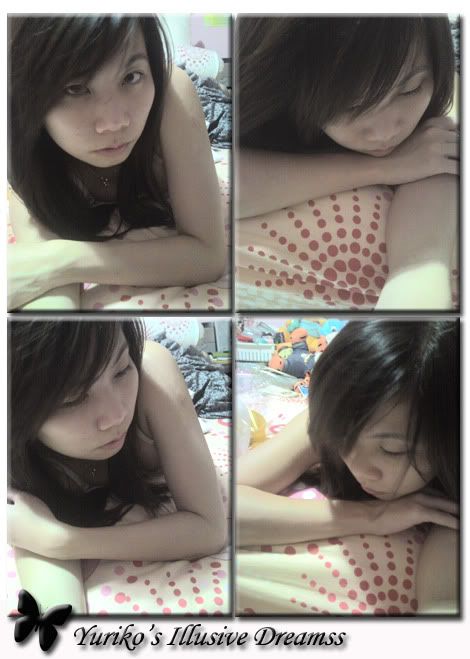 Evidence of my boredom and puffy eyes~ -.-"
bah~ gonna go do some facial mask for now! ciao~