My Poor lil Darling Muffin had his Annual Jab!
woke up late this morning for morning prayers meeting. my alarm has once again failed me and
John
overslept as well! haa! and so i didnt go. anyway woke up with
my love
beside me and we washed up and he prep for work. i then send him and some carton boxes to the
Changi Airport
for his sister and send him off to work at
Suntec
before making my way back home. Heard from my mum that
Muffin
miss me alot! last night when i left home he cried and whine for quite awhile and went hysterical! gosh my sweet and silly lil darling!
anyway came home and rest for awhile before i brought him for his
annual jab
at
Mount Pleasant Vet (East)
. he's a brave lil boy!! didnt cry or whine at all. only clung very tightly onto me! i remember the last time i brought him for a gastric jab and he screamed so loudly and ran to me and clung onto me! so adorable! anyway i was a proud mummy! hehe! after the jab he made a new friend!! another 4mths old maltese! super cute. wanted to go home as the weather was simply killing me and i was having quite a headache. but seeing the 2 of them playing made me wanna stay longer. and thus i did! started chatting with the owner and we became friends too! exchanged numbers and email! haha! soon after we parted and i came back home!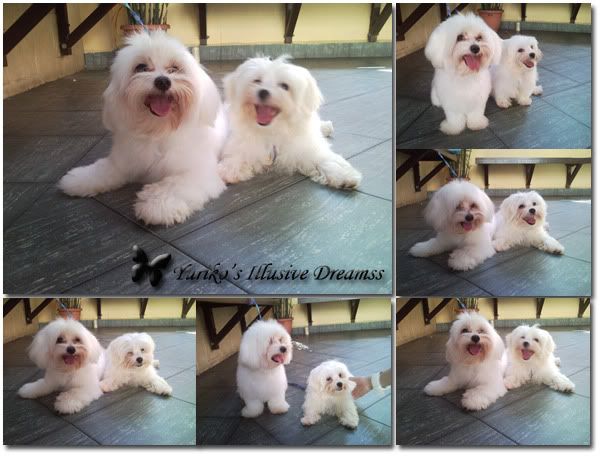 Muffin and Sockz!
(
Sockz is so adorable! he kept imitating Muffin's movement! when Muffin sits, he sits, when Muffin lies down, he lies down too! and side by side! haha so adorable! Muffin looks so big as compared to Sockz~ it feels like he is the big bro (Da Ge Ge) hehe!
)
wanna rest badly! but i didnt have a abit of taking afternoon naps and thus am online til now. still gotta go to school for the impt
FYP project briefing
. Stress! after today im gonna be
OH
so very stress! sigh~! gonna go pop some panadols now~