Morning prayers are refreshing!!
i've not been waking up so early for sucha long time! its been
2
to
3
mths since my
bio-clock
went
topsy-turvy
! been slping at
4am
to
5am
and waking up at
10am
to
12+pm
or even at
2pm
sometimes! but
this very morning
i woke up at
5.30am
(*beams*) and forced myself to go to bed at
1am
last night! but since im not used to slping so early i ended up tossing and turning in bed til
2+am
before i eventually doze off~ thus its pretty shocking for some of my
CG members
to see me (the
night owl
as they called) that early in the morning!~ on top of that i was the
First
to reach
Payer Lebar MRT station
! haa! anyway shortly after i reach a few of them came and we went up for our morning
Prayer Meeting
! =)
its the first morning prayer meeting i attended. and i must say im pretty surprised that i felt so refreshed and felt good bout it! =) anyway after prayers,
Kaiyun, John, Christine
and
me
headed for
McDonalds breakfast
, while the others rushed to work.
Christine
left for work after breakfast while the 3 of us stayed on to continue fellowship~ chatted bout stuff and we got so caught up that we didnt realise we've chatted for 2 hours! haa~ after which we all headed home. =)
Upon reaching home did the housechores, iron and folded the basket of clothes, bath
Muffin
, practice on my guitar and did some revision. =) Waking up early is indeed good! Cuz i get to accomplish more things in the day!! looking forward to this whole wk of prayer meetings~ =)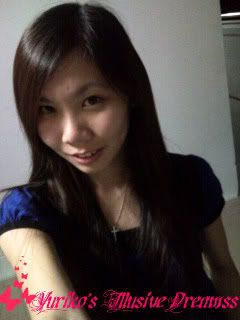 camwhoring early in the morning while waiting for the lift before heading to Prayers Meeting!
(ok i know i look extremely tired!! with bloodshot eyes and heavy eyebags~ faints!)