We finally met! a day out with a sweety whom i've known online for 3 to 4 yrs!
I've known this
sweety
for close to
3
to
4
years
and we've been trying to arrange for a meet up for the longest time! Probably ever since we've known since years back! Gotta know her through an online forum which was opened by my bf years back and even though that forum had since been closed, we've been in contact via msn. She's one of the few online friends of mine whom i've known for so long, can click pretty well with and we could chat about almost anything under the sun!! (
its to the point i even helped in her process of choosing her christian name! =D
) And She's none other then
Caelyn
! =) (
nice name right?! hehe =P
)
Finally, now that we're both not working and am very free, i proposed to meet her! And alas, we arranged to meetup at
Orchard
at bout
1pm
. Finally there is actions and not just words spoken! We were pretty excited and chatted through last night. Discussing what we're gonna do, what we're gonna wear and the best time to meet up! (
typical girlies~ hahaa!
)
But i recieved an sms from her this morning, and for a moment i thought she was gonna cancel the meetup! thank god she didnt, and asked to change the timing to
2pm
instead. Of cuz i agreed, as long we're still meeting up! And so i got prepared, bath and changed and went down to
Orchard
in time, only to find out she would be late~ haha! typical girl yet again!~ but of cuz i didnt blame her cuz i use to always be late during my meetups with my friends(
so i could consider this my retribution! wahaha!
)...plus my other friends are also always late! so im somewhat immune to the waiting as long as i had someone to talk to or something to do!
and so while waiting, i called my gd friends
Simin
and ew chatted on the phone throughout my wait while i was walking around Takashimaya and Wisma and shopping alone...meanwhile i bought a nail polish remover and my favourite ice milk tea from
Mos Burger
before heading to the fountain area to sit down, rest my legs and put down my
VERY
heavy bag (
i had
school
today, and had to bring
2
very heavy and thick books for today's tutorial!
), and continued to wait for her. at about
2.45pm
she finally arrived! i hanged up the phone and we headed to
Pepper Lunch
for lunch!! i ordered the salmon and ice lemon tea while she had chicken and ice peach tea. we then chatted for quite awhile there before we left and walked around to shop! we started off from shoes (
Pazzion
,
Prettyfit,
etc.) to clothes (
Forever 21
and
Cotton-On
) where she bought a few tops while i didnt manage to see anything i like~ *
sulks
* After which we went to
TheBodyShop
as i wanted to purchase body scrub!! We spend quite some time in there opening up all the tester and smell all of the different fragrance of every flavour!! and finally i settled for
PassionFruit
, as the scent is pretty sweet but yet not too strong! =) after which we continued walking around from
Mango
to
Takashimaya
before we decide to take a bus down to
PS
to have coffee at
Starbucks
, as the sky was pretty dark and we were worried of getting caught in the rain if we were to settle down at
Paragon Starbucks
. Plus
PS
is nearer to my
school
thus reducing the rush later on and we could sit and chat for longer period of time! After the wonderful coffee session which was accompanied by lotsa chatting and phototaking, it was time for me to leave for
school
! Was pretty tempted to skip school to accompany her as she was waiting for her BF to go down to meet her (
which i later on found out that he only went down at 10.30pm! faints~ poor girl had to wait all alone with her heavy bags for 3 and a half hours!!
)
But i ended up going to
school
as i know that it would be an important lesson since its our tutorial session and our lecturer was going to discuss on our exam focus! After lesson, here i am back home as my bag is way too heavy to head anywhere else and i just wanted to come home to throw everything aside and just relax!! haa! anyway belows are the picts taken today! =) Will be looking forward to our next meet up again probably next week! weeeee~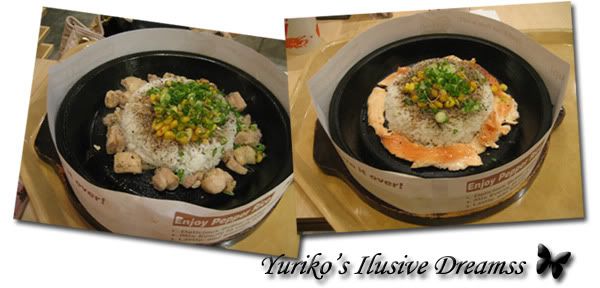 Our lunch at Pepper Lunch! (Left is hers [Chicken], Right is mine [Salmon])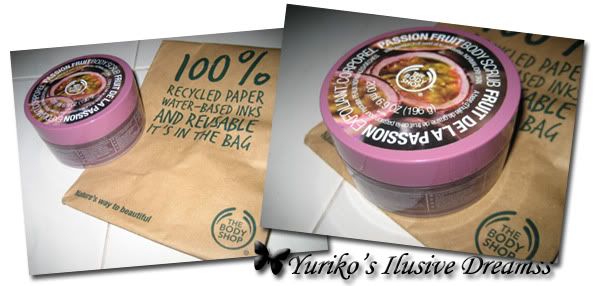 My Passion Fruit Body Scrub from TheBodyShop!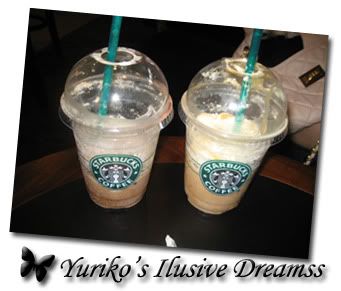 At Starbucks! My Mocha Frappucino and Her Caramel Frappucino!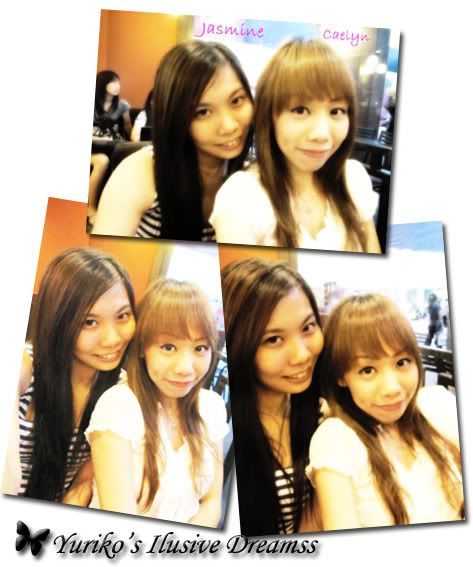 ME and Caelyn Sweety!!
(
i swear she looks just the same as in her photos! very sweet! and i just love her cute dimples!!
)