Church, Tomyam, Pool, X-Men Origins: Wolverine, New Fila Blades, Rollerblading! I'm all worn out!!
on
saturday
, woke up in the afternoon, prep and waited for
bf
to come pick me up. went over to his place to rest for awhile before we head down to church service.
Dr Stephen K. Munsey
was preaching for the day and i must say...i was
TOTALLY BLOWN AWAY
! he's sucha awesome preacher! Lotsa emotions and expressions. and he did a 1 man drama as he preaches! Totally unique and outstanding! Topic for the day is
LOVE
.
anyway after the session, we head down to park the car at
Shaw tower
before we went over to have Steamboat dinner with
Marcus
and
Yifeng
! we had 2 soup bases, Tomyum and Chicken soup. and without a doubt i was gulping on the Tomyam soup throughout! Yummylicious! i just
LOVE Tomyam soup
! haha! after dinner we head down to a
pool
and
billiard parlour
near the old Devils Bar which is also somewhere near the HardRock Cafe. played til 1am before heading home for the night.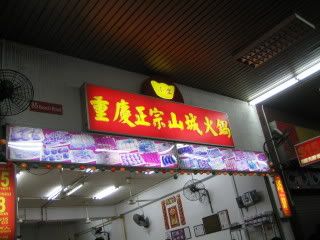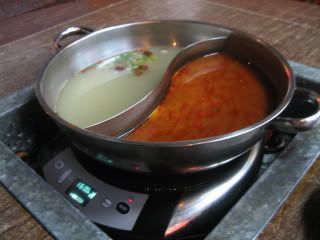 steamboat!!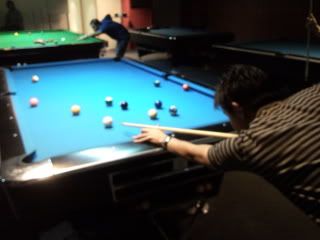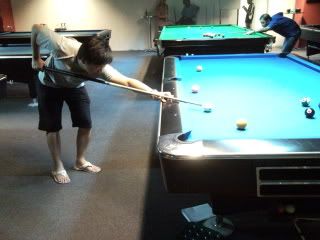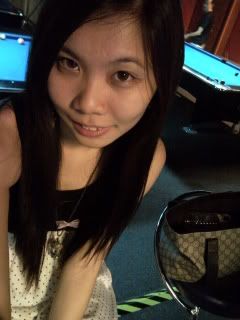 Bf and Yifeng playing pool! Marcus left earlier and thus didnt snap him! and since no one is snapping me! i snapped myself! haha!
as for
Sunday
, woke up and eat and watched
X-Men Origins: Wolverine
! Fantastic show since i've always like
X-Men
and have watched their other parts as well. In fact this episode was one i was looking forward to since
Wolverine
is my favourite character in
X-Men
since my younger days while watching the cartoon, reading the comics and also when playing games! haha! Anyway this show is basically about
Logan aka Wolverine
's past, his origin and the life he leads before he eventually loses his memory! The story line is bout him living a mutant life, seeks revenge against Victor Creed (who will later become Sabretooth) for the death of his girlfriend, and ultimately ends up going through the mutant Weapon X program. All in all, i would say its a MUST watch!! 4.5/5 popcorns!! only that some part of the graphics aint very well done thus i didnt give it 5/5popcorns! but nonetheless its still a great show!!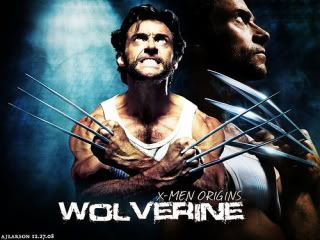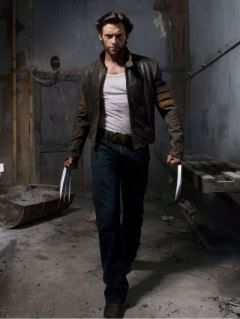 Wolverine! So cool!!
I shant spoil the whole movie for you if you havent watch it, but if you really wanna find out the whole storyline, you can read up the synopsis
here
!
Anyway after the movie, we went to
ECP, Urban Inline
to purchase my new
Fila Blades
!
(my old ones are back at home with me now, while the new ones are left at bf's place)
Gotten the
Skate Filas Thetis Pro Lady
in black and white with Chrome Buckle!
!
( wanted something in pink but they're all for kids! =( )
In terms of specs its considered close to the higher ends for recreational skaters. Wanted to get another pair from
K2
. But the sales person there sounded really convincing and insisted the
Fila
one is better as
K2
Skate's standard have dropped. Cost me
$255
! sigh. feeling broke! On top of that I bought new protective gears as well! As my previous ones are pretty old, torn and kinda oversize for me! So this time round i bought the Kids size!! Fits just right! Finally it foesnt move ard so much and i dont have to keep adjusting!
Max broke-ness
!! considering that i aint working now! =(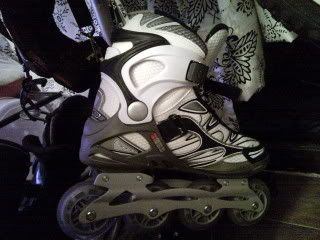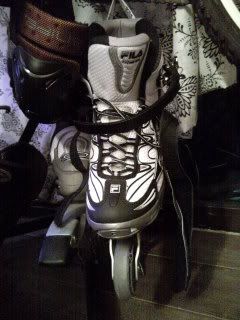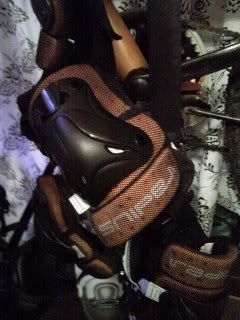 My new blades and protective gears!
After buying, went to meet
Marcus
and
Yifeng
again for rollerblading session! Bladed from
Fort Road
til almost reaching
Tanah Merah Safra Chalet
and back to
Fort Road
again! tts like close to 15km i suppose? or more than that? im not sure. but one thing i know. My legs and feet were sore and aching til i could hardly move!! We made a few stops for drinks, ice cream and also dinner at Carls Jr. Gosh im not sure if its the new blades which are not seasoned enough or it just aint very good for me to go fast and far without much effort! Cuz i definately gone slower during this blading session and caused the other guys to keep stopping and waiting for me. Or m i just getting old and my stamina have dropped since i've stopped blading for quite some time? Im not sure...sigh... Lets hope the next session would be better!
as for today, woke up early and prep and bf send me home before he headed to work. upon reaching home did some housechores and then i went out with
Muffin
to meet
Simin
for lunch again. as for now im back home and resting for awhile before i head out to school later on!