Baby Sitting and Roller Blading!
Been busy these days ever since i left
RSA
. Though i aint at work, but i'm over at
Baby's place
babysitting
his 2 nieces and also
dogsitting
my lil
Muffin
! Their parents are in
Aussie
settling some stuff (as they'll be flying over for good soon!), 2 of their kids followed them over, while 2 of them stayed over at
Baby's place
. As thier grandma (baby's mum) who is supposed to take care of them have to go to work, thus she asked for me help since i aint working anymore. And so on
Tuesday
and
Wednesday
i was over at his place.
On
tuesday
woke up to feed
Muffin
in the morning and waited till
Baby
went to work before i head back to slp. At bout 9+am, his dad woke me up to help him drive one of his car, while he drove the other car to a
workshop
to swop the tyres. After which went back home and pick the kids who just woke up for breadfast at
McDonalds
. Came home after breakfast to bath
Muffin
before i tried to study while the kids used my lappy to play game and i dozed off soon after. Baby came home later in the evening and we went to
Changi Airport
as its the only place where the
Singpost
opens til late, to post a letter to
Aussie
, and we also had our dinner at
BurgerKing
, before finally heading home to watch tv.
Yesterday
, same routine, woke up in the morning and waited til
Baby
went to work before i head back to slp, and after which woke up to eat since his dad had packeted food for us. After which i spend the whole day doing research for my
ASM assignment
. In the evening,
Baby
came home and we had dinner before we head out to
ECP
to meet
Kenneth
for
RollerBlading Session
. And this time round we took bout 1 and a half hrs to blade from fort road to bedok jetty and back including the time we stopped to get drinks twice! =) Weee~ But poor baby who was using my blades(while i was using his) was suffering as it couldnt go fast. Think i'll have to get another new pair of blades soon! Aiming the
pink
skates which i spotted a few wks back from
K2
!! =) Shall post up picts on it once i get hold of it! =)
This morning woke up very early, waited for
Baby
to prep to go to work, while i prep to go home. Upon reaching home played with
Muffin
for awhile...after which i cant help but felt really irrtated by my messy room, thus i ended up spending the whole morning packing up my room all over again...cant help it..think cause im a
perfectionist
...whenever i see that my room is messy and when im free i'll definately clear it up! After which did my facial mask (bought many but didnt have the time to do due to my very hectic schedule...finally now i have to time to do so!)...finally i felt like my face can breathe again! its been do dull and dry these days..thus i chose to do the moisturising mask which makes m face feels much more subtle now! =) Did some housechores as well and packed my bag for my
Scuba Diving Trip
to
Pulau Aur tomorrow
! =)
anyway heres some picts taken of muffin this morning while playing with him~ =)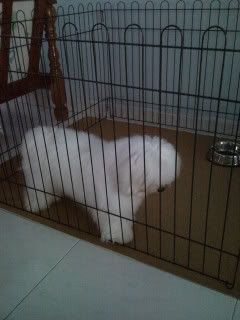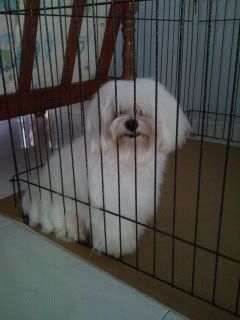 Lil Muffin being locked up! =p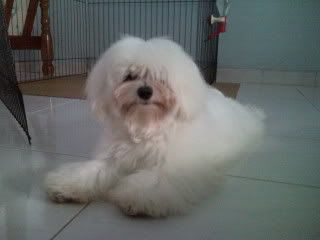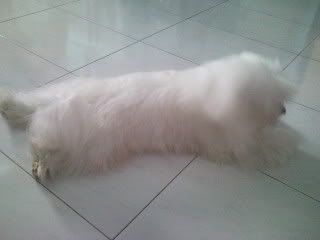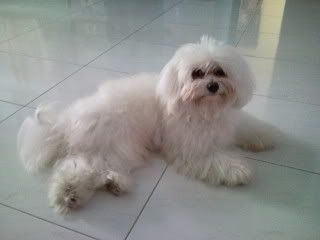 his fur is so long and messy now! cant even see his eyes unless i were to flip it up for him! but it'll droop down again very quickly!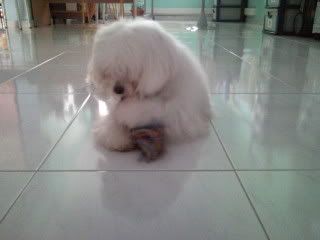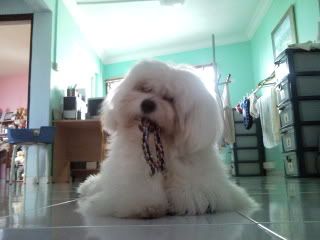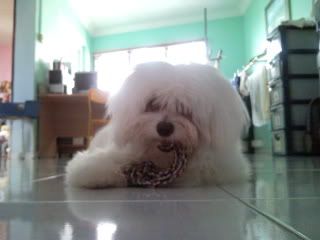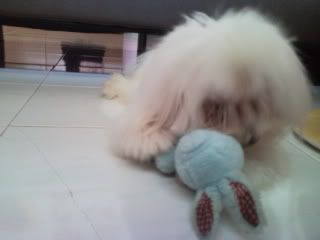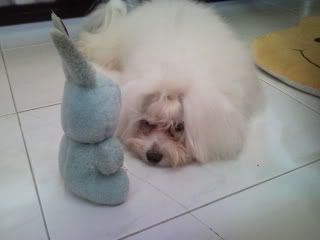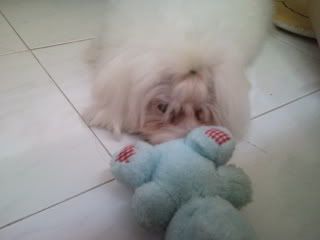 Muffin playing with his rope and fave blue bunny!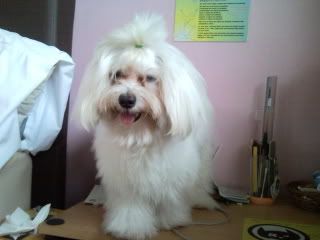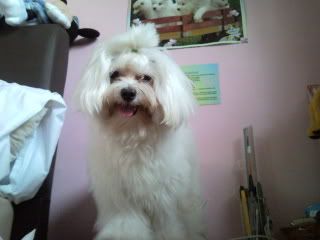 Muffin with his hair tied up and standing on my table!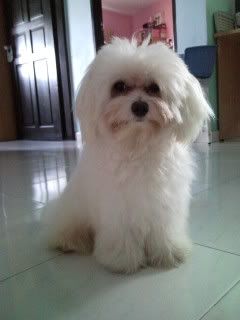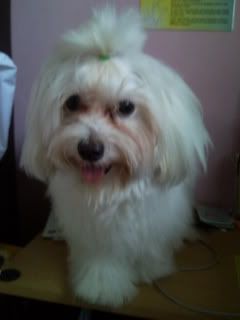 My precious! with his hair untied and tied up~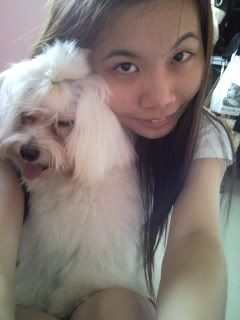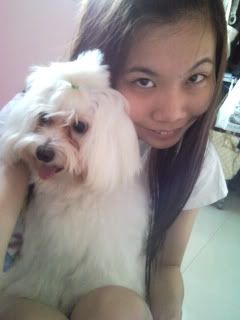 darling and me! =)
(i look very tired i know..tts cuz i have insufficient slp!)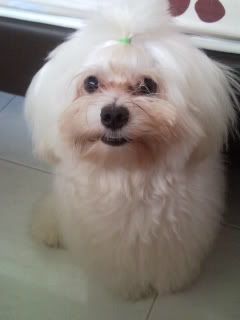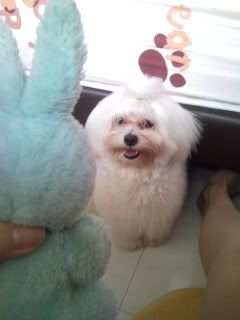 haha! he's staring very hard at his fave bunny which is in my hands!
Anyway i gonna continue on my asssignment. Ciao for now~ Will be
back
from my Trip
on
Sunday night
! Thus do look out for updates on my trip by Monday! =) Nitey to all for now~