so much to do...so little time...
i've got lotsa plans in mind~ wakeboarding session, swimming with yingting, scubadiving, more ktv sessions, learn latin dance, meet brenda for CNY shopping, shopping sessions with cynthia, meet up with simin and linda to catch up, meet some old friends to catch up (lotsa them), drinking session with my circle of trust, etc. etc. ...
in fact my schedule is kinda packed and filled up at the moment, without including those other plans i have in mind but haf yet to set dates yet! i've got badminton session with colleagues tmr, bf's co. D&D to attend this friday, meet bf's friends on sat for some photoshoot thingy, rollerblading with bf and his friends on sunday, sch like to start next wk, bingo(maltese)'s bday party to attend next sat, and a coming family day at pasir ris park organise by my co. the following following sat...faints..
but with tt said, i feel my body being drained out of energy! i wish i have more time to slp and rest so i can have more energy and also more time to do all the activities...but tts close to impossble with my tight schedule...work sch work sch..sigh...
oh well..anyway just an update..yesterday went back to work le..after work, went for a
Appreciation dinner
specially for the helpers for my co.'s 5th anniversary and dinner&dance event last friday..went to
Noble house
at
ShentonWay
...after which followed by drinking session...gosh..my colleagues are really wild...the drink wine and all like its water..faints~ haha..even my COO, GM and some of the managers went wild..haha!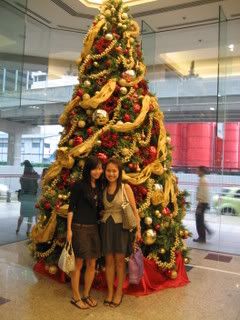 Jamie and Me at our office lobby with the Xmas tree! =D
also im gonna meet bf later after work...as for now...i better get back to work..ciao~