im TIGGER-ess~
haha! tts wat
Elmer
calls me! LOL! Tts cuz I was feeling hippity-hop again..haha! Plus the fact that
Tigger
is cheery, cute, blur, timid though he's a tiger! Haha! which kinda sounded like me as commented by a few friends.. hehe! =D probably one of the reason by i like Tigger so much. hehe!
Anyway tt aside, I was feeling pretty hyper and cheery the whole day til about 5pm when my head suddenly starts to hurt badly! That's when my day start to turn bad…after work, went to meet my circle of trust for dinner…as I have had 2 Muffins for teabrk, I was still feeling full and therefore decide to only have dessert of
Strawberry Milk ice
~ yummy! Its kinda too sweet though..but well, I have a sweet tooth, so its alright! Hehe! After class, while on the way home in the train.
Badluck
struck me! the train suddenly stopped on the way and a china lady who was carrying lotsa stuff fell and
stepped on my feet
!! To make that worse, she was
wearing heels
!! *
ouchhh
*…I so wanna scream, but the pain was so intense I couldn't even say a word or scream out loud! She kept apologizing, and of cuz I don't blame her, as it aint her fault…I kept insisting its alrigth as I didn't feel like talking further…the pain was killing my feet! But she kept talking n apologizing…and the best part was when she opened her bag and took out her box of Clorets (Sweets) and offered to me and said in mandarin "
chi zhe ge hui shu fu yi dian
" meaning after eating the sweet I will feel better. *
faints
* I was totally speechless! Haha! Well now my feet have a blood clot (blueblack) wih some abrasions and dried blood stain…and walking is still painful for me! sigh..super unlucky!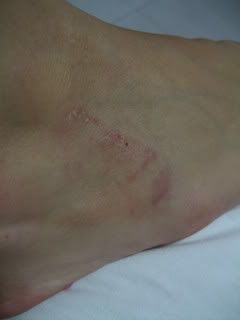 my poor disfigured feet! =(
Anyway today after work, gonna be meeting
Baby
at
Raffles city
before we head down for
AnAn
and
Anthony's
Wedding dinner at Swissotel! =)
Update again! Ciao~ Stay tuned!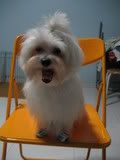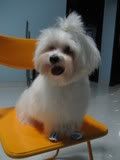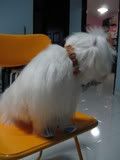 heres muffin darling to end my post! =)