EXAMS are KILLing my brain cells~
just had my ACG paper on Monday and my FM paper ytd... stressed the hell out of me....paper was horrible as well.. i totally couldnt do..sigh...now all i hope for is a pass...and i'll be very glad alrdy~ sigh`.. lets not discuss bout the paper...it'll just demoralize me further...
on sunday, my study group did something facinating!, we squeezed 6 people in a beetle~ 2 in front of coz..and 4 behind! its like so small from the outside..and still pretty crampy in the inside..thanks god we're all considered 'slim'...haa`...so we manage to get in there.. but its pretty difficult to imagine having 4 grown adults at the back of tt small car.. but that car is just so cute la!! haa`.. *loves*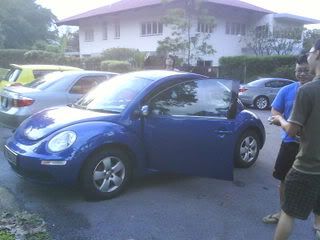 anyway...nth much to blog...everyday its just the same routine...wake up...bath...go to KAP mac and mug...and for exam days..will be wake up, batha nd down to sch to mug before exams... ytd after paper..was feeling super hungry as i only had a bowl of honey star throughout the day..therefore, went for dinner with my Jeffrey..and he's like so worried bout the FM paper we just sat for..haa`..i dont even wanna look back at the exam paper..but there he is lookin thru the paper over dinner...and analyzing how much marks he's gonna score.. haa`.. after dinner...went back home to put my stuff and off to my boy's place...
as for today...gonna haf my co.'s event, Paintball, head at Orchid Country Club...hope it doesnt rain~ and hope all goes smoothly~ as of now..i better get busy at work...stress~ many days of leave and im now piled with things to do~*sulks*