exams stress..counting down to 1 and a half days..
[tuning to: olivia - all out of love]
friday, 16/11/07

..
was a super duper busy day for me at work as after today i will be on exam leave..and will only go back office once a wk for 3 consequetive weeks~ therefore i had loads of stuff to clear and had to pass my stuff to my colleagues and report to my manager on those stuff tt requires following up...turn out had to do OT til 8+ bfore i took a cab home as i was simply worn out after work...and not forgetting
Happy 4th Monthniversary Baby
! =)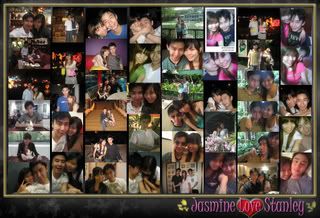 a little preview of the collage of some of the fotos of us taken over our 4mths together tt i've done for baby~ =) *loves*
anyway, as for
saturday, 17/11/07
.. had to wake up super early..in fact even earlier den my usual working days...as i had to assemble at my office building by 8.20am to go to
Seletar Country Club
for my
co's Teambuilding
event.. upon reaching...in fact from a distance..i could see my colleagues...as we were all in our co.'s teambuilding event 07's T-shirt which is in
BRIGHT orange
~! faints sia..and i totally look like a nerd or a sec sch student who s going to sch or for some flag day thingy..wahaha..been a long long time since i last wore like tt...haa...overall the whole event was pretty fun..except certain things tt made me pretty pissed off...but oh well..small matter..so i shall not talk bout it.. =) photos will be uploaded when i get them from Siewling.. =)
after the event..went home...bath and prep...den
Baby
went to pick his mum and niece up and came over to pick me up...went back to his place to have dinner..he read his book and rested while i continued my revision...was actually suppose to only meet him after my exams which is like 2 wks away..and tt would mean we wont meet for 3 whole wks! but turn out we both gave in...and met up..haa...and later at night.we went to
Partyworld
at
Chinatown
to meet
Adrian, Phylis
and
Ansley
for Ktv session~ and
Wenjing
joined us later on...went back at bout 4+ and we knocked out right away...was super tired as i had woke up super early for the teambuilding thingy.. oh and btw..
Baby
just changed his headlamp to Angel and Eagle eyes..i
Like
!~ hees`...its
Super
NICE
! and now is ride looks uber
COOL
~ haa`...too bad i forgotten to bring my camara along..so couldnt tk a pict of it...will update on it another time! =P
as for today, woke up.. washed up..and we head down to
ECP
to have out
Brunch
at the
HK cafe
.. went to check out the blades..but didnt see anything tt i fancy..so we went back to his place to get my books and then he send me down to
KAP
again to mug with my classmates..and later at night he came to pick me up to send me home ler...
right now..feeling pretty tired.. just did some brush up on my POM revision...and now resting...therefore decided to come blog bfore i slp...tm gonna wake up early again to head down to
KAP
again to do some last min revision bfore my exam which starts on tueday!~
STRESS
~
please wish me luck~ haa`.. =)
tata for now~ Nitey!