Happy National Day!!
its our nation's birthday again!
Happy Birthday Singapore
!~ haa`..
anyway...ytd evening...met up with
Simin
and her son at
PS
...den we walk ard for awhile bfore heading to
Ajisen
for dinner while waiting for
Linda, Yvonne
and
Eugene
to come meet us..after dinner...brought
Simin's son
to the arcade..as he kept crying non stop...upon reaching...the crying automatically stopped..and he was happily running ard and inserting coins in machines for us...lol..he's still so cute! and guess wat..i caught myself a
Minnie Mouse
dressed in Bride's clothes ! lol...wanted to catch the
Mickey
in groom to make a pair..but didnt haf time as i gotta rush to school after that...well..at least now the
Pirate Mickey
that i left at
Baby
's place, will have a partner ler!~
random shots taken while at home. =)
the Bride Minnie tt i added to my collection...and that's PirateMickey happily with its new partner on Baby's desk..hees`.. =)

anyway i left soon after i caught Minnie and rushed down for class...class was not to bad...lecturer quite hilarious and the way he describe stuff is just so funny... and after class...Baby came over to pick e up ler....den we went to get 2 bottles of mango tea from a 7eleven bfore heading down to CosyBay! hees`...had a nice stroll...sat down to chitchat and camwhore!~ lol`..was definately nice to just spend time with him there as i kinda like that place...nice scenery and ambiance... =)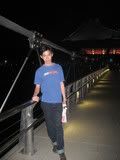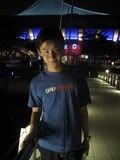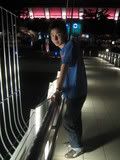 my "ever-ready-to-pose-for-a-pict" bf!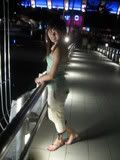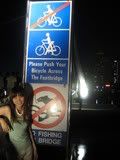 we were so attracted by the signboards tt day..and he made me the signboard girl for the nite..lol..
the beautiful scenery..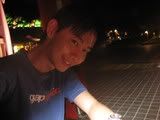 i'll let the picts do the talking..=p
i call this...the love bridge! =D
and finally..picts of us!

after which went back to his place...and we start our dvd marathon! watched the show "24"..its a super nice show! and yea...now i know y Baby got hooked to it! lol...now im hooked to it too...guess wat...we watched til 3+am bfore finally deciding to go to slp!

as for today...woke up, watched tv and had our breakfast..after which Baby gave me some talk...some motivational and business talk thingy...well..shall not go into details...but i felt its pretty beneficial..haa`...and i think its really wonderful having a bf who is able to talk and share such things with you...as most of the time...a typical guy would just wanna spend time...say sweet nothing..and just be a bf to you...but to me...a wonderful bf is one who is not only a bf...but oso gd friend..motivator..guardian..teacher..counselor..listening ear..pillar of strength...and im so grateful to have found him..=)

ok...enough of these sweet stuff here...else later u guys tink im bragging..haha`...anyway..in the afternoon, we head down to ECP Mac to meet one of his friend, Alan, to get a ticket for this event tt baby sign me up for this sat...had our lunch there then we head back home and continued our dvd marathon of "24"! lol`..its so addictive that we didnt wana leave the room at all! we almost forgot bout dinner til his mum came knocking at the door and get us out to eat dinner...turn out we had our dinner while watching the show...its only til our eyes were so shagged out that we decided to rest for awhile bfore he send me home...

as for tmr...its gonna be another stressed up day ler...cuz have many deliveries and shipments to rush out...sighh...hope nth goes wrong again! anyway...im gonna go zZzz ler...tiredd...still gotta wake up early tmr..=) nighty to all! and once again...bfore the day end...Happy National day to all!