[listening to: Mario - Gallery]
ytd..without me saying...was a stressful day at work... anyway....after work...went to
Bugis
...and i bumped into my darling,
Sherlyn
! gosh! u should have seen how happy we were to see each other! we literally ran to each other and gave each other a big tight hug! haha`...had my dinner at
Siam Kitchen
...after tt went to one of the Ktv Pub at
Boatquay, Versus
, with
WenBin
...upon reaching...realise...2 of the waitress there are some of my frens i know back when i ws in sec 3 or 4....and i use to b quite close to them for tt period of time...they are namely,
Phoebe
and
ShiMei
..and also..i bumped into
Edison
and
Ian
there...haa...small world eh.. =)..had a couple of drinks, played some games, sang songs...after which he send me home ler..was quite nice catching up with him as i haven seen him since we left sec sch~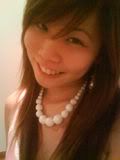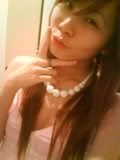 cam-whoring in the toilet after i knock off.

as for
today
...had quite a hard time trying to wake up..as i slept pretty late...and had to wake up at bout 10+ to prepare to go out....only this wk..its not the usual meet up with my classmates to study...as i skipped it for another impt meeting...
went to
CompassPoint
to meet
Cliff'
s
Mum
and 2 Sisters,
Eunice
and
Brenda
... apparently...his mum asked brenda to ask me out..i was pretty surprised and happy bout it...as i miss them truckloads~ haven seen them since CNY...so yea..met them up...had a nice lunch with them, chit chatted and catched up...den we head to the arcade as
Eunice
wanted to play...spend quite some time in there...and i certainly enjoyed myself thruout... i really miss playing with
Eunice
....and yea..i
love
them lots! its some kinda
special bond
and
feeling
that i haf with them which can nv explain or found easily...=) after which
Eunice
and
Brenda
had to go for tuition...so i headed home....
while in the train on my way home...many thought struck me...memories of the past came running thru my mind...whereby it came to a point tt i almost broke down in tears...which of cuz i didnt...controlled my tears and thank god my eyes were only watery....at tt point of time...i so wanna fly home asap....sighh...and upon reaching home..i just didnt feel like going out ler...guess i dont really haf the mood to step out of the house...due to the overwhelming range of emotions tt im feeling now....namely...sadness, happiness..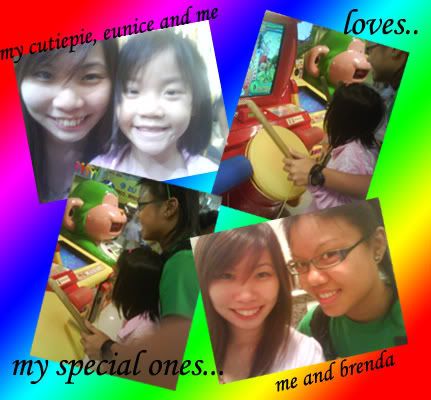 k. tts all for today.
period.