I probably watched too many horror, serial killer and psychotic movies yesterday afternoon. Cause i ended up having a whole night of nightmares and i couldnt get to sleep well as the images kept haunting me throughout the night! *sulks*
Lesson learnt! I should not be watching such genre of movies again! Cause without fail, i would have night mares and difficulty getting to sleep that very night. =(
Ok, ranting aside, just a quick update of my mundane boring life again!
Friday
night after work came home, brought
Muffin
down for his walk, painted my nails and headed out to meet bf and went back to his place. At 11pm, we headed down to
Kallang Leisure Park
,
Filmgarde
to watch the movie,
"Just Go With It"
. (Please refer to previous post for my review about it!) After the movie he sent me home.
Saturday
woke up and brought
Muffin
down for his walk again. After which i had my brunch and drove Mummy and myself to
Ang Mo Kio
for our monthly facial session. Super demoralize! Super broke! Was kind '
forced
' and persuades by 3
VERY
aggressive beauty consultants to sign up a new package (since it was suppose to be my last session of my previous signed package)
MEGA Damage
! $980. -.-" Sulks! What made me more pissed was, after signing that up, another 2 beautician tried selling me another new product. Non stop she went on and on about it despite me rejecting it over and over again. Til i couldnt take it anymore i had to raise my voice before she gave up and replied 'next time then'. -.-"
Feeling super down the rest of the day after my facial session. Especially because Im feeling really broke already, plus i didnt want to continue in the first place and had plans to move my facial sessions to another place. Hated it. I swear im not going to bring my bag or wallet ever again to that dreaded place til i complete my package and get out of that place! If you want to know and avoid that scary place, please ask me for the name of the beauty salon! I will gladly share! I guess other than their scary aggressiveness, and the fact that my face is showing little improvement (not sure if its because they are not good or my body hormones are just toooo stubborn -.-), and their VERY costly products that they will constantly try to sell to you, and their costly packages, the only thing i like about the place is their back massage! =) If not for the back massage i would seriously punch them at that very moment. Haha!!
Anyway that aside, after the facial session, headed home to wash up and prepared and bf and family came to pick me up before we head to
Holiday Inn Park View Hotel
,
Window On The Park Restaurant
, to meet up with his relatives to have dinner and celebrate his uncle's birthday. I've been there a couple of times many years back, but i guess i've not written a review about this restaurant before. Well i must say, the place is pretty small, have very little variety of food selection for their buffet, service is also not that fantastic. The cleanliness of the place is quite bad as well. They spill lotsa stuff around and the waiter even dropped and broke some soup bowls, and didnt really bother clearing up the mess. Before we left, i even saw a few broken glass pieces lying around. -.-" That aside, the food quality is only average. The nicer ones would be the chocolate fondue that wouldnt go wrong in any way, the DIY laksa and cold lobster. The desserts are alright as well. I wouldnt really recommend this place but no harm trying since they are having 1-1 buffet dinner right now, so its pretty cheap!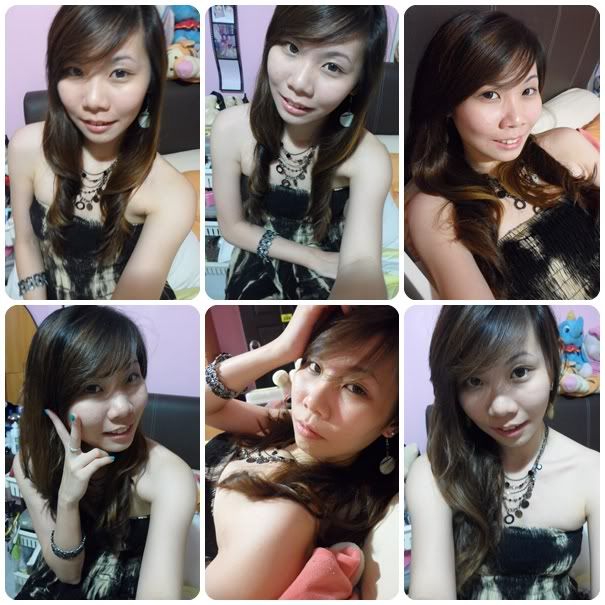 Camwhoring before heading out! =)
As for yesterday Sunday, i rested the whole day at home, watching movies and dramas on TV.
Today went to work as usual, and i had a pleasant surprise after lunch! I had won a lucky draw in office! And the best part was, i won the item i had been eyeing for since it arrived in office! There are a couple of items actually, ranging from XO, Birdnest and Red Dates~ And i won myself a
Golden Rabbit
! Weeeeee~ =) Im born in the year of the rabbit, so i really badly wanted it! Seems like my thoughts manifested! Hehe!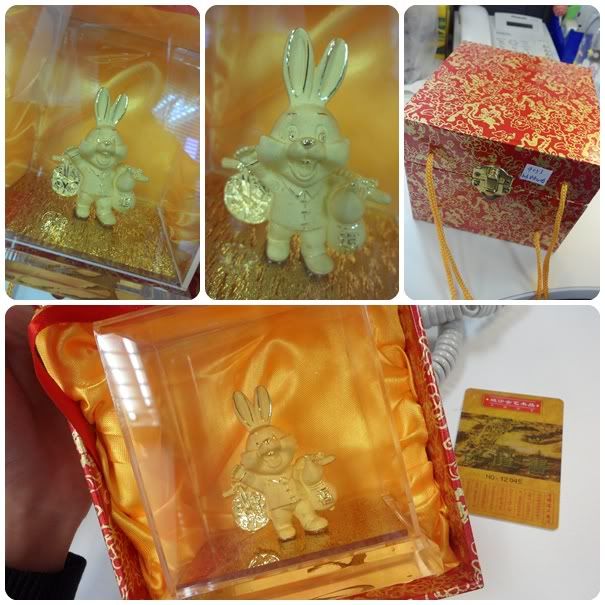 Cute eh? Hehe! =)