Been craving for
Gelare Waffles with Ice Cream
again, but as
BF
was sick and wasnt feeling too well the last few days, we couldnt eat it and thus i had to '
Tahan
' til he was better! Finally today, we decided to head to
Downtown East!
First we head for dinner at
BBQ Chicken
. Its a
Korean No.1 chicken restuarant
! Haha! And so being a Korean fan, we decided to give it a try~ Yum! the food is pretty good, but the service not very fantastic. Oh well. all the young student, what can we expect~ I was hoping the waiter and waitress would all be Korean! Hehe! =p But nonetheless, we ate til we were soooo full i almost wanted to puke!
(Click on Picture to Link to website for a peek at thier menu! =))
But since our main purpose for heading to
Downtown East
was to satisfy my craving, we were determined to eat it no matter how full we are! And off to
Gelare
we went! Thank
GOD
we were just on time! In fact we're the 2nd last customer before they closed for the day and stop all orders! Phew~ Ordered the regular
Waffles
with 2 scoops of Ice cream,
Chocolate Overload
and
Mocha Chips
, with my favourite
Maple Syrup
and
Whipped Cream
!!
YUM
! Gelare has always been my favourite dessert place, and has NEVER ever go wrong for me! =) Definitely the
Best place
for
Waffles with Ice cream
ever on earth! (
or at least to me~! hehe
!) That explains why i ALWAYS have cravings for it! Hehe!
(Click on Picture to Link to their website for more info IF you've not heard of them, which i hope NOT! =p)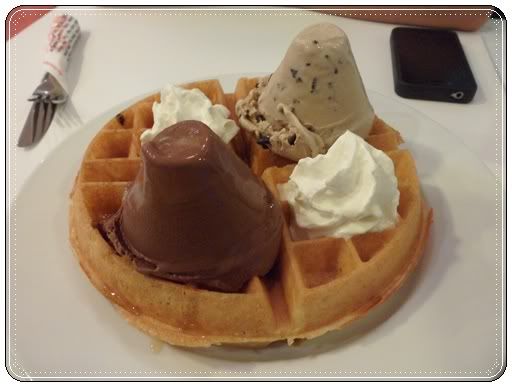 Yummy!
After eating i was so full i really felt like puking and definitely want to sleep right away! Bf send me back home, i washed up and head to bed to rest awhile, played some games on my iPhone before i finally knocked out for the night~ =)
Nights World!