Its the most talked about, most loved, most sang about festive season of the year again!
Christmas
!
Tons of people in the shopping malls crazily shopping and grabbing for presents! and the time when most gifts shops and departmental stores get really busy and harvest the most profits for the year! I was no exception! Only this year my shopping was done really last minute as i dont have the time to shop nor the finances to do so. Thus i could only make do with simple presents which i felt was convenient, affordable yet practical. Hopefully those who received them wouldnt feel that im an insincere cheapskate! Please pardon me this year! Well, i just started out my new job and im not exactly earning alot, plus my expenses and liability have increased and im barely making ends meet~
Anyway just a quick update of my pre-xmas, xmas, and post xmas~
Thursday after work, met up with my long time good friend,
Sherlyn, Rene
! Its been a year or 2 since we last met up, and its just so nice to finally be able to arrange a meet up with her! It was totally last min, we only confirmed the meet up 1hour before we meet! but im glad we were both able to make it! Met up with her at
Plaza Singapura
and we head to
Manhattan Fish Market
for our dinner. Catch up quite a bit and enjoyed the seafood platter for 2 which we ordered! But it soon got rowdy as many tables were celebrating their birthdays, and thus we decided to leave and head to
Starbucks
to continue our catching up session while enjoying our cup of frappe! Soon it was late and she wasnt feeling too well after consuming her medication, and so we bid farewell and headed home for the night! [
Sherlyn, Its been an awesome catch up session and im looking forward to our next meet up! Get well soon sweety! =)
]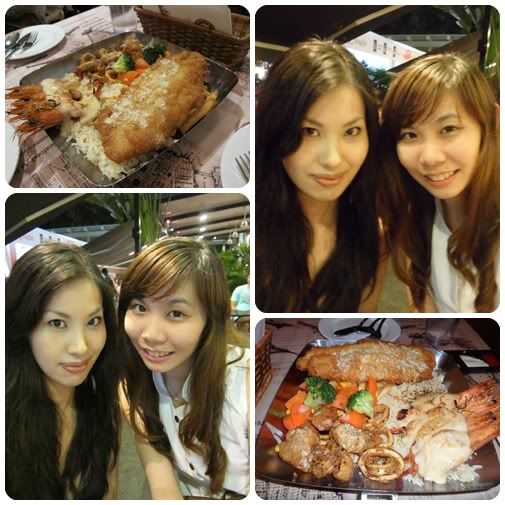 Sherlyn And Me, And Our Seafood Platter for 2 at Manhattan Fish Market!
Friday
was a half day of work for me as it was
Christmas eve
! Everyone was in the holiday mood and i believe no one was actually doing any productive work! There were gift exchange session, lotsa celebrating, singing, and drinking in office~ But as half my team wasnt around, me and
Peggie
were practically stoning away and were feeling super transparent as we were not exactly involved in any of those mentioned activities since we were both very new and still not that close to everyone in office. I guess thats one of the problems with working and being new in a huge organization. (But still glad i've got nice colleagues, manager and director who didnt forget us and gave up xmas pressie! Thanks!! I especially love the M.A.C lipgloss from my director! Hehe! and of cuz the other pressie were wonderful too! =)) Soon it was time to knock off and i headed home to get changed before
Geraldine
and
Peppy
came over to pick me and
Muffin
up and we head over to
Pet Mover's Dog run
at
Pasir Ris Farmway
! Met up with
Valarie
and her 2 furries and we spend the rest of our afternoon there. In the evening,
Geraldine
send me and
Muffin
back home. Bathed
Muffin
and rested a little before
Bf
came over to pick me up and we head to his uncle's place for
Christmas gathering
, dinner and countdown with his relatives!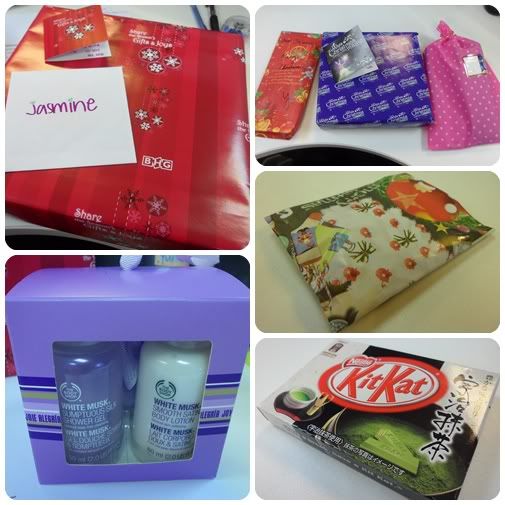 Pressies from my Adecco Colleagues! =)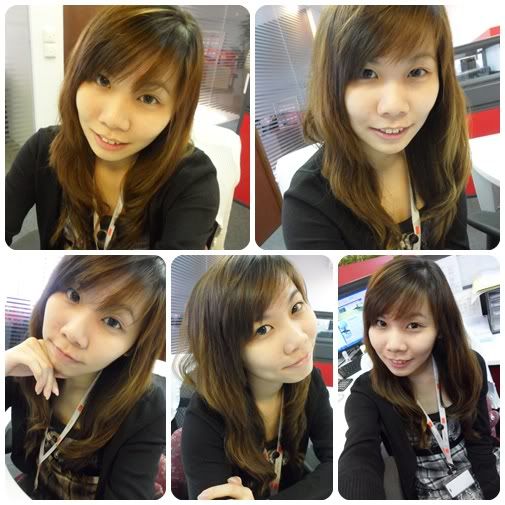 Yours Truly! Camwhoring in Office!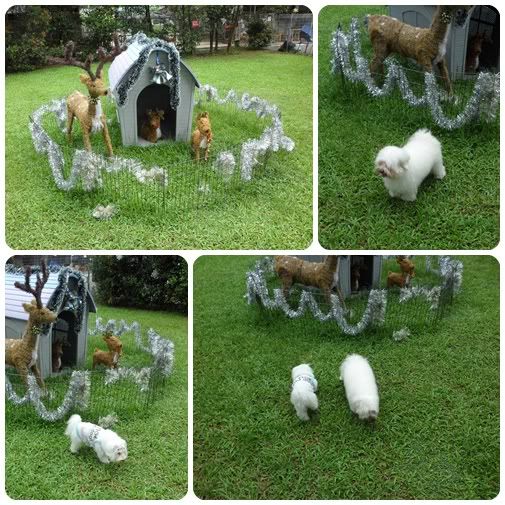 At Pet Movers Dog Run! Muffin And Peppy!
As for
yesterday, Saturday, Christmas Day
, woke up late as the party only ended at 3plus to 4am the night before. Watched tv the whole day, played our
Hello Kitty
mahjong, and then head to Tampines Mall for dinner at
Din Tai Fung
. Did some window shopping and bought the
Monopoly Deal
cards, before we head home and played with it.
Today woke up and washed up. Had brunch and in the afternoon we head to
Plaza Singapura
to do some shopping! Sweety boy bought me a couple of stuff such as a new
PINK
panasonic ear piece, Loreal facial foam, a new
PINK
comb, toothfloss and a new pair of pretty heels! =)
Thanks my dear
! After it all, went for dinner before we head back to his place. Laze around a little before he sent me back home! =)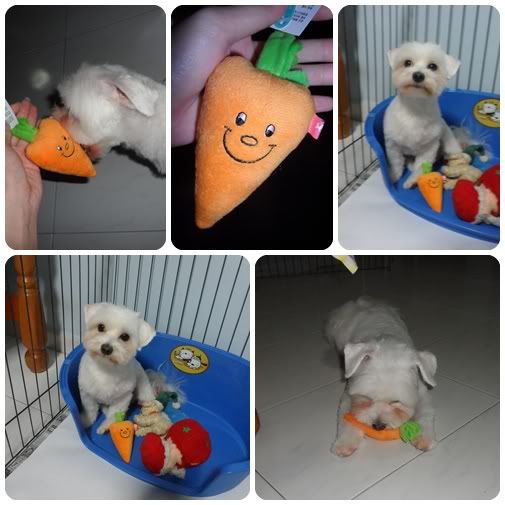 Muffin with his new haircut (he just went for full grooming this morning!) and his xmas pressie from ME! Toy Carrot! Hehe!
Anyway hereby wishing each and everyone,
MERRY X'MAS
!! May your xmas be filled with lotsa fun laughters joy and gifts! Hope everyone had been blessed during this jolly season! =)