After my '
long
' weekend due to my 2 days of
MC
last
Thursday
and
Friday
, I was feeling super lazy to drag myself outta bed! Anyway today,
Bf
went to collect his new
Bride Vios 3 Lowmax
bucket seat for his car today. He's gonna be changing his driver seat, but not my passenger seat! Haha cuz I forbid him from doing so! I prefer his current original
STI
seat which were much more comfy! I nv really like bucket seats! Not much cushioning and I cant move around much plus its difficult to get outta them especially when I wear mini denim skirts! Haha! And so after which he was so excited to show them off to me! LOL.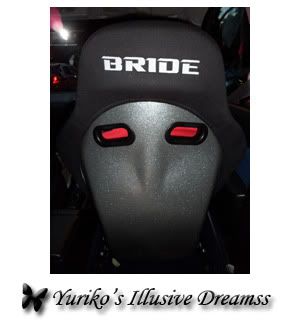 backview!
But after work I went home first to rest while waiting for him. Waited and waited and end up he only came over to pick me up at 9+! =( super hungry and tired by then! After which we went to
ECP
to meet up with
XiaoQiang
and
YY
for dinner. Tried out the new place,
Sizzling Hot Plate
! Food was not bad, plus its pretty cheap! And as always we had the
Taiwan Snowflake Ice
! Yummy!! This time round we tried the new flavour that was the
National Day special
! Haha! Its actually just strawberry snowflake ice, with strawberries and honey stars! YumYumYum!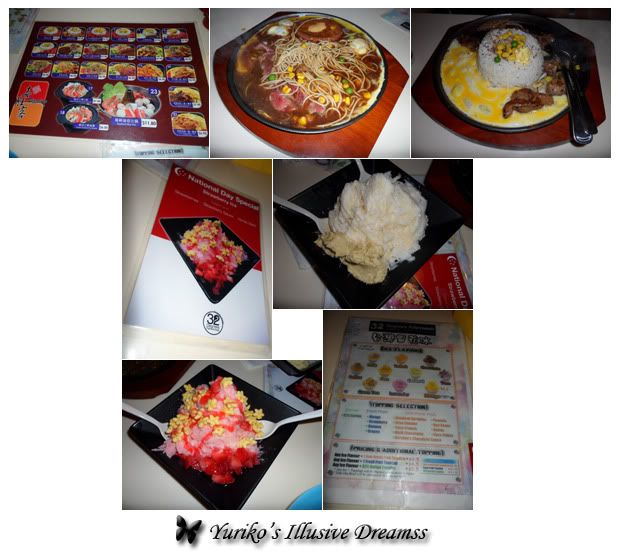 foood!!
After dinner, we played the
Big Sweet Lan
d and
Mario
game. Gosh the
Hello Kitty Pink Mahjong
set that I wanted was gone! =( *sulks* super upset as u was really looking forward to collecting a few more JPs to exchange for it! Its so pretty! There is still 2 other set of Hello Kitty mah-jong set but in another design available. But I didn't really like it as much. It's the glittery sort, pretty nice, but I didn't like the casing and other accessories in it! =(
Oh well, collected a few more JPs, and off we head to
McDonalds
for supper before heading home to sleep at 2+am! *gosh* im really putting on ALOT of weight! Time to start dieting
AGAIN
! =( and im so
VERY
tired!!