Firstly i wanna wish
Singapore
a
HAPPY NATIONAL DAY
!
and i must say, this lil girl is just so adorable! i just had to place her pict in my blog! hehe! =)
Next i wanna blog about my long weekend!
Friday
after work, went shopping alone as i wanted to wait for time to pass. After which went over to
Sheraton Towers
to meet my bf, his family and his relatives for dinner at
The Dining Room
to celebrate
his aunt
's birthday! Dinner was alright. Food variety wasnt much, and some of the food, for example the Fresh Oysters, aint very fresh. Plus the pasta and spaghetti tasted pretty horrible. Only thing i felt was pretty good was their desserts! They have freshly made waffles,
Moven Pick
ice cream, and lotsa yummylicious cakes, etc~ Service and ambiance was pretty good as well, with liveband singing!
I didnt snap any photos though except for 1 photo of a serving of dessert i had. thus am unable to elaborate much. But its a place worth trying i guess anyway! =)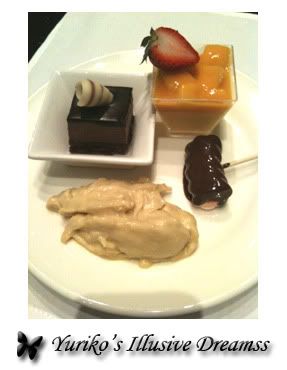 1 of my serving of dessert! *yumyum*
On
Saturday
, i came home in the morning as bf went to work. In the afternoon rushed out to Aljuniud to get Fion's birthday cake. After which cab down to
Marina Square
. Went straight to
Kbox
and gotten a room. Also i got them to keep the cake in the refrigerator first. Soon
Fion
and
Jerrain
came, and our ktv session commences! Midway,
Jerrain
went to get the cake while i kept
Fion
company. Soon she came back with the cake and we surprised Fion! She was totally caught off guard! And i'm pretty glad she is happy about it! Hehe! Sang her a birthday song, took photos, and the rest of the '
cut-cake-ritual
' went on. After which it was the gift from
Jerrain
. White wine! =) Yummy! Lotsa photo taking went on, with singing, chatting, eating and drinking! And the room was really very cold! So cold that we all had to request for blankets to cover ourselves! Soon the session ended and we took a stroll and found ourselves seat to sit and chatted awhile before we parted. Fion had other birthday celebrations with her friends, and so Jerrain and me left for home.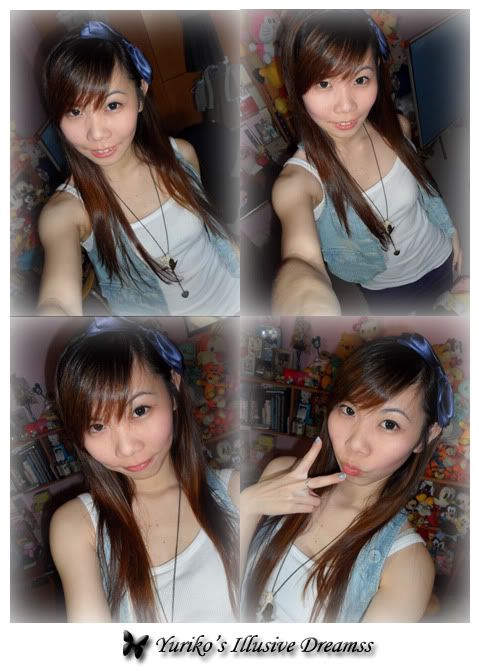 Camwhoring at Home before going out!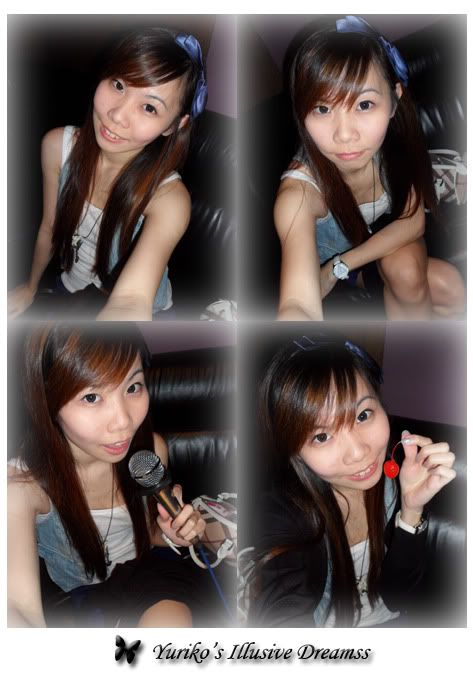 Yours Truly! Cam-whoring while waiting for the babes!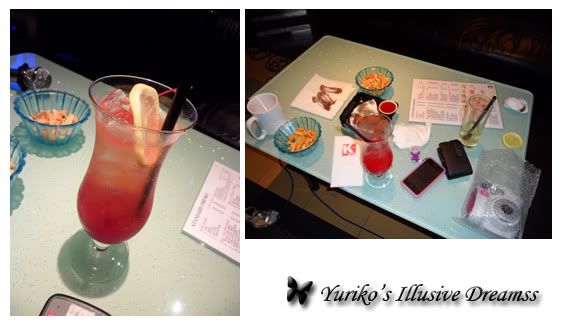 Our table of drinks and food~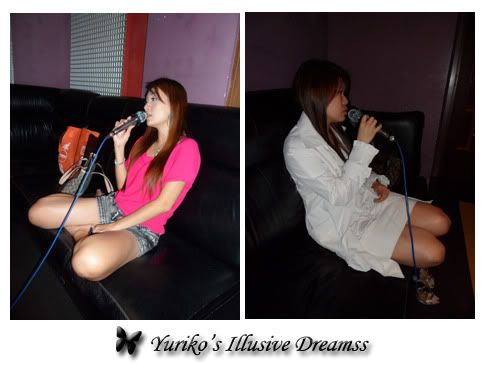 The babes singing their hearts out!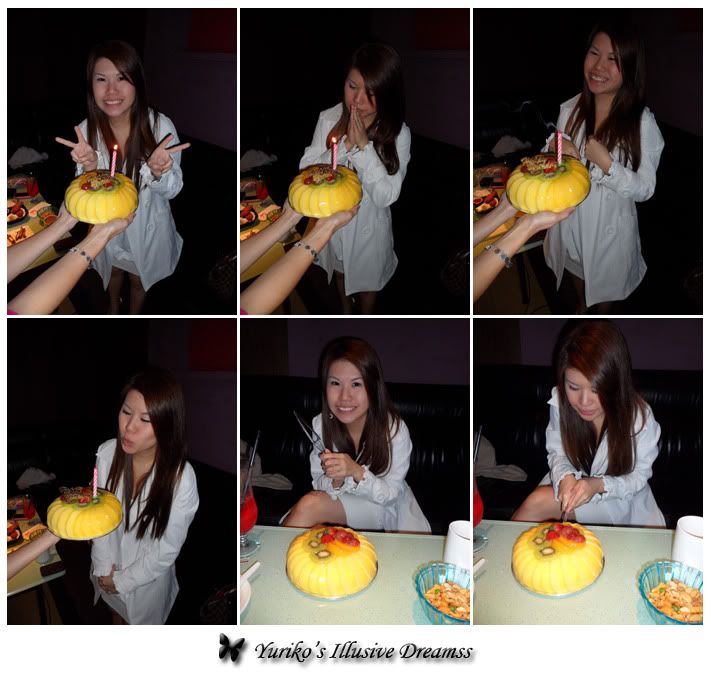 The surprise, the birthday girl and the cake-cutting session!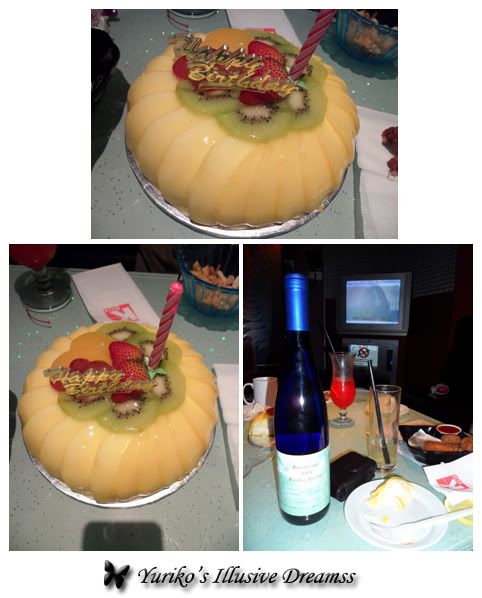 Our surprise gifts to Fion! Mango Cake and a Bottle of Riesling White wine!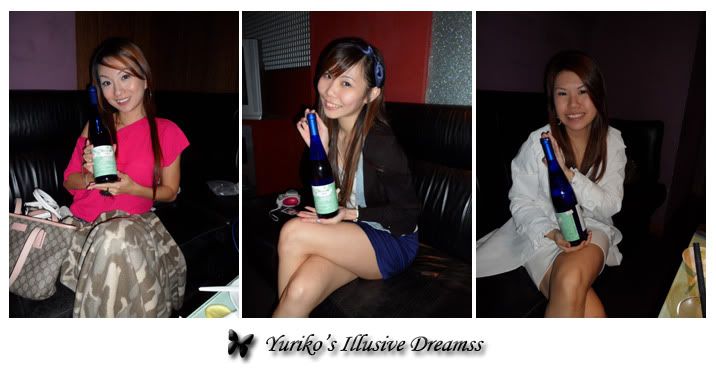 Us Posing with the pretty and yummy bottle of Riesling!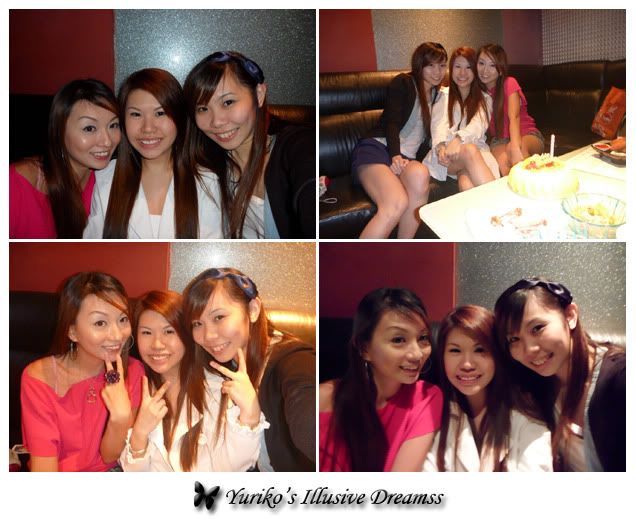 Togetherness~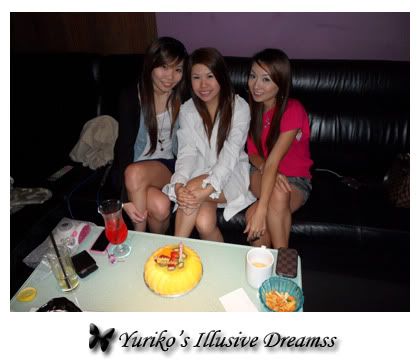 BFF always! =)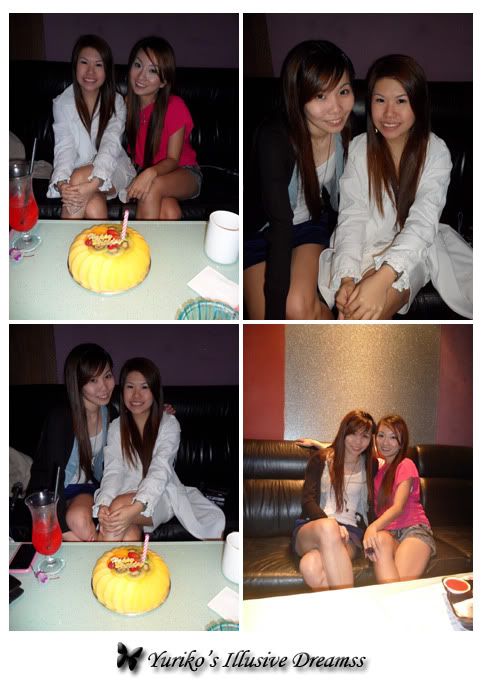 Taking turns to snap with the birthday girl and with each other! =)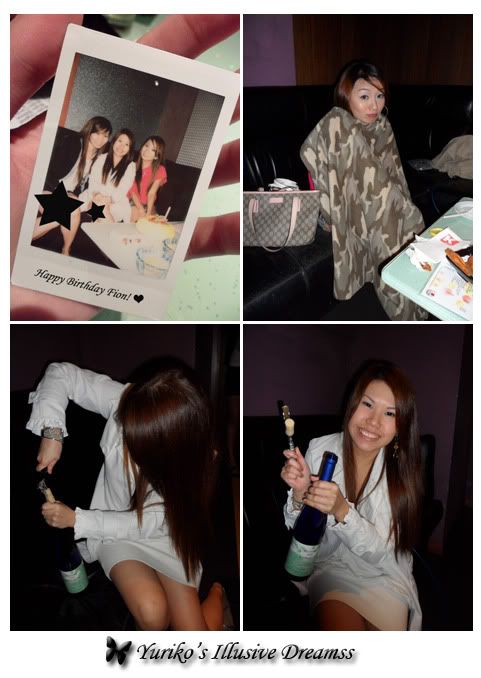 Random~ A poloroid photo taken by my new toy! And that Jerrain showing how cold it is in the room til she had to wrap herself in the blanky! And also our wine opener! The birthday girl herself! hehe! She's really good with it! =)
Upon reaching home, lazed around and at night i cab down to bf's place. He had bought dinner for me! Ate and soon i was tired and knocked out for the night.
Sunday
, yesterday. We woke up and prepared and head over to
Yishun
for his friend's house warming and kid's birthday. After which went to
Northpoint
to shop around as i was looking for a present for his dad. But the retail outlets there were really limited and i couldnt find anything at all. Thus we decided to head over to
Parkway Parade
instead. Shopped around for presents, and did some window shopping. After which we went to get our dinner and headed home to eat. Watched tv and soon i was tired again and headed to bed.
This morning
, woke up and he was already out to work. i washed up and changed and then went back home.
Upon reaching home, watched tv with my parents. And im gonna bath
Muffin
now! Later at night gotta drive out to
ECP
,
Red House
for chilli crab dinner with bf and his family to celebrate
his Dad
's birthday!
Gosh many people's birthday these days! Busy Busy! Long weekend! And im still so tired! Havent got the chance to really have a good good rest! =(
Gotta be back at work again tomorrow! And i can really see myself being very very busy soon! Sigh! Pros and Cons! I get to learn alot! But im gonna be really tired! Oh well. Nothing is perfect and smooth sailing on earth! All the best to me! And i should really '
Add Oil
'
加油
for myself! hehe! Praying hard for a pay increment sooon! =)