Firstly i wanna wish my
Dearest
,
Happy 1st Anniversary
! Its been quite a journey for us, having lotsa ups and downs, and im glad we held on and stayed strong. =)
Anyway as mentioned in previous post, after work yesterday i went to get us a anniversary cake! Went over to
Big O Cafe
and bought the '
Afrodisiac
'! Its a Heart-Shaped chocolate truffle cake! after which rushed home as i wanted to surprise him with a handmade card! Yes i love doing handmade cards as i feel its much more sincere and meaningful compared to buying cards. Had wanted to do up something the last few days but i was with him everyday! Glad i was able to rush out something in time! =p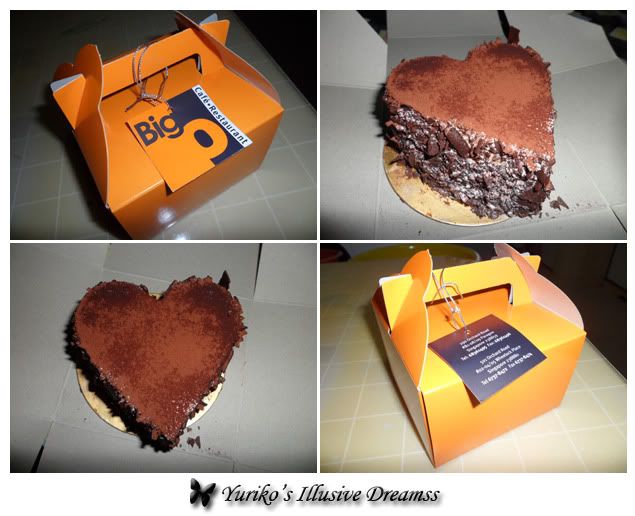 The Yummylicious cake! Seriously its VERY yummy!! Super Chocolaty!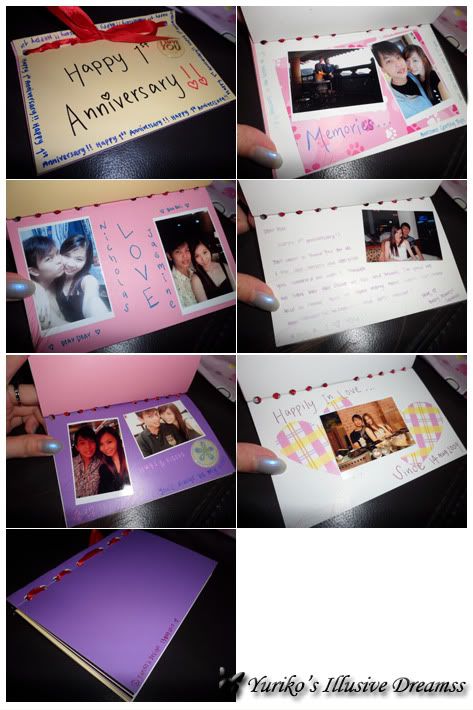 The Handmade card just for him! =)
And at night, after his knocked off from work, i met up with him and we head back to his place together. Upon reaching home, gave him the surprise anniversary card! After which he played his PS3 while we waited for his friends to be ready. And we head out to meet
XiaoQiang
and
YY
for dinner at
Punggol Nasi Lemak
. After dinner, XiaoQiang send YY home, while we went to
ECP
. played the
Big Sweet Land
again! gosh, its so addictive!! and this time, we have a new target! the last time we already exchanged for the PS3 with 45JPs. Now we're aiming for 16JPs for my Hello Kitty Mahjong Set!! Hopefully we're able to get it before others!! Its just so pretty i gotta have it!! abit more to go~ weeeeeeeeee~ XiaoQiang came down to join us to play and we all left at about 4+am!
Anyway as for
today
, its our anniversary! woke up in the afternoon, and we joined his parent for our brunch. We had intended to celebrate our anniversary during dinner. But alas we were tooo full from the late brunch and as expected he wanted to catch the EPL which has just started! And so we decided to postpone our dinner date to another day. Sigh. honestly im pretty disappointed about it, as i was really looking forward to it. But oh well, no point having a dinner unhappily and in a rush since i believe he would rush thru it so as to rush home to watch the EPL, and also we were too full to enjoy a Buffet dinner.
At the very least he was with me the whole day, and we spend some quality time together chatting, watching tv and playing games together! And at night he went out for football with his friends as usual and he came home exceptionally early this time as he skipped having supper with his friends so he could come home to accompany me! =)
Oh well, looking forward to our belated anniversary dinner date together and also looking forward to many more happy days ahead =)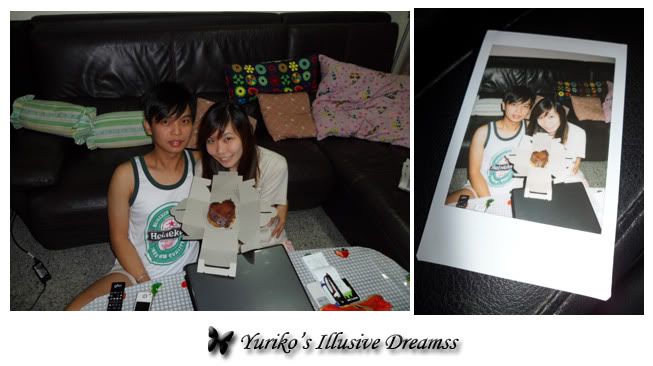 ℒℴvℯ yℴu
Our Very First Poloroid together! And Us with our very First Lil Anniversary cake! Our First Anniversary! =)