Friday
after work, went home and waited for my bro to get home. After which went to have dinner with my family! Dinner was good, and i enjoyed it TTM! After which came home and checked the
Toto
results~ *sulks* i bought many set of numbers and quite a few sets only strike 3numbers! which is insufficient to win anything at all~ Sigh~ My dreams of winning the
8.3million
was dashed! And so were my plans to utilize the money! Haha! Anyway, later at night drove over to
bf's
place and accompanied him for the night.
Yesterday
,
Saturday
morning went home as he had to go to work, and my parents needed to use the car. Upon reaching home i continue to sleep again and woke up in the afternoon as my mum woke me up to eat. practically lazed around the whole day watching tv. In the evening, went to
Expo
to meet
bf
. After which we head back to his place. rested abit before we went out again to meet
XiaoQiang
and
YY
for dinner. Had wanted to have dinner at
Bugis
, but as the place was really packed, we decided to head over to
Newton circles
instead. Had a whole table full of food again! After dinner, we head over to our usual spot,
ECP
. Played some games there before we head to have the yummy
Taiwanese Snowflake Ice
again! Chatted for awhile before
XiaoQiang
and
YY
left, while me and bf stayed to play
Big Sweet Land
. We had planned to collect a few more jackpot points so that we could exchange for prizes! And as planned, we collected
45JPs
and exchanged for the
PS3 Slim
! Well in actual fact its really not worth it! The amount of money we spend could probably buy us 1 and a half of the PS3!! Gosh~ But well, since we already started and step into this trap, we had to think of something we needed and want and get it instead of wasting money getting redundant stuff~ After this, we're definitely gonna stop or at least cut down on such redundancy~
As for
Today
, woke up in the afternoon, washed up and we head down to
Takashimaya
~ He went to get another
PS3
controller and games, and we went to get ourselves brunch~ And i had initially wanted to get myself a new
Agnes B
bag! but after shopping around, we just couldnt find anything spectacular which caught our attention. And they didnt carry the one i fancy as its only sold in Japan! =( Had wanted to give up searching for a new bag, and look for it again some other day. But we ended up walking around and head to
Burberry
!! And 1 of the bag caught both our attention!
Well i dont usually look at
Burberry
stuff, as im not exactly a huge fan of it. So it was really a very random impulsive buy! Haha! Yes eventually i bought it! Its the
Burberry Nova Check Bowling Bag
in
WHITE
! So pretty~ the black one was pretty common, and i didnt exactly like it, and they didnt carry the red. (
even if they did i guess i wouldnt want it as im not a big fan of red
) Yay as it was the
ONLY
white bag left on the shelf! We did walk over to the
Burberry
boutique as well, but it no longer carry any in white! So i was really happy that the only white bag left was the one i like! Hehe! I love anything in
White
! =) Am a happy girl as always! But again huge damage to my wallet! Haha!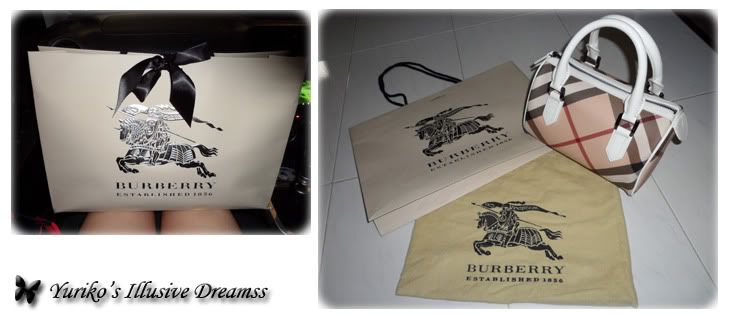 In fact for both bf and i, it was a damaging weekend! =p
At night we went to
Parkway
as he wanted to buy another game for his
PS3
, and we bought dinner and bubble tea before he send me home~ =)
Gosh the weekend past in a flash again! I can sense the
Monday Blues
approaching again~ -.-"
Have a great night everyone! Am gonna be heading to dreamland in awhile~ Weather is pretty cooling now, i wish it rains later when im sleeping! Hehe! =)