Its been 1 and a half month since i joined my new company. Been enjoying every moment so far. Nice bosses, nice colleagues, nice working environment. And its the first time i joined in their birthday celebration and outing! =)
It was
Adeline's birthday
!
8June2010 Tuesday
i was feeling cranky and just wasn't feeling too well and right the whole day. Didnt eat much and in fact i skipped proper lunch and only snacked a lil. After work went to
Kbox
at
Cineleisure
for KTV session with my colleagues. I must say Kbox is
EXTREMELY
lousy! Bad sound system, Smelly curtains and rooms, stupid song system which is difficult to find songs as it doesn't go by alphabet and disorganized. On top of that, the tidbits they gave were already out of air, not fresh and not too good. Service is alright but the staff are pretty blur!! We had bought a bday cake to surprise Adel, but the silly waiter came in to the room and asked, (
in mandarin
) "
do you all have a cake kept in the fridge?
" faints~ Surprise gone.
Plus the sound system and song choices were so limited and bad that we couldn't find a proper birthday song to dedicate, ended up the whole situation ended up in laughters. Haha!
After KTV session, we all left and headed home for the night as we all had to work the following day.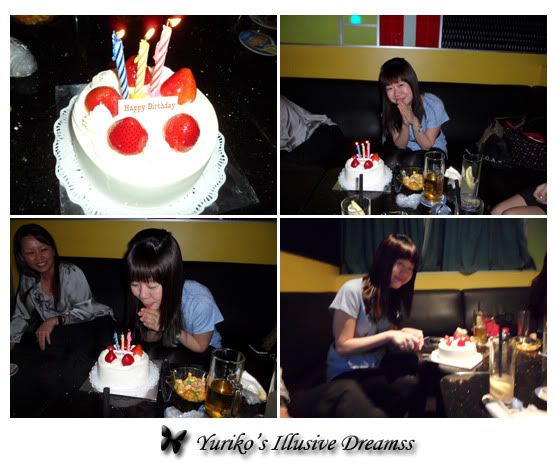 The sweet birthday girl, Adeline! And the pretty strawberry cake we got for her! =)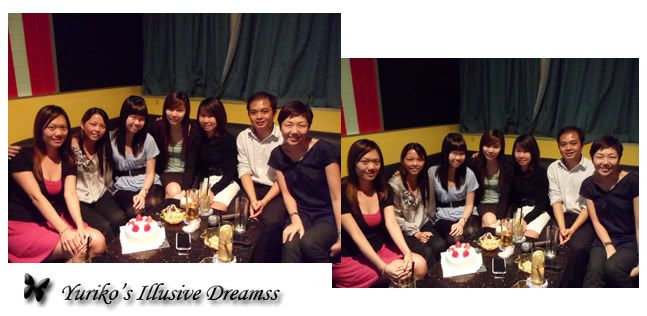 Groupshot!!
9June2010 Wednesday
We had a mini birthday celebration in office for
Adeline
.
Nathan
had made a
cheesecake
specially for her! How sweet, imagine going home after KTV last night, went to grab some stuff, go home and still had to prepare this cake before sleeping, and waking up for work early in the morning to bring it to office.
WOW
~
Anyway as he haven't decorated the cake, he brought the stuff along and
Steph
did the decorations! Soon
Sharifah
from our other office came by and surprised Adel, and we started our mini office bday celebration! After which it was the last surprise! Pressies and birthday card! The present was specially chosen by
ME
and
Macie
! So glad she liked it!
Well i am still new and not too familiar with everyone's preference and likings, thus i was pretty worried at first! Thank god manage to find something that she likes! =D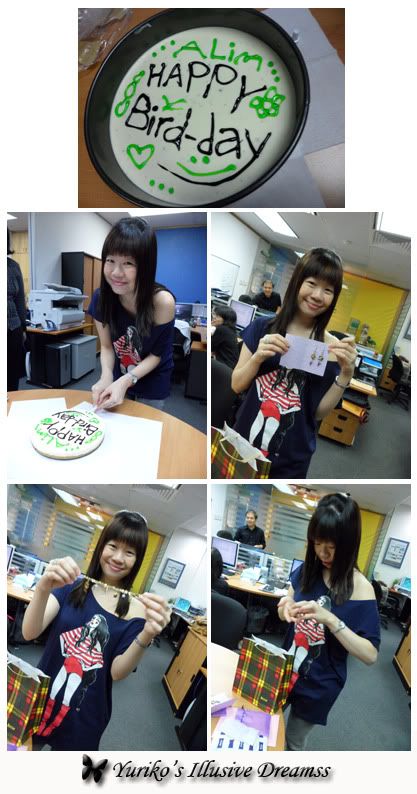 The cheesecake made by Nathan and decos by Steph! haha so cute and nice right!
And thats the bday girl with her cake and pressies!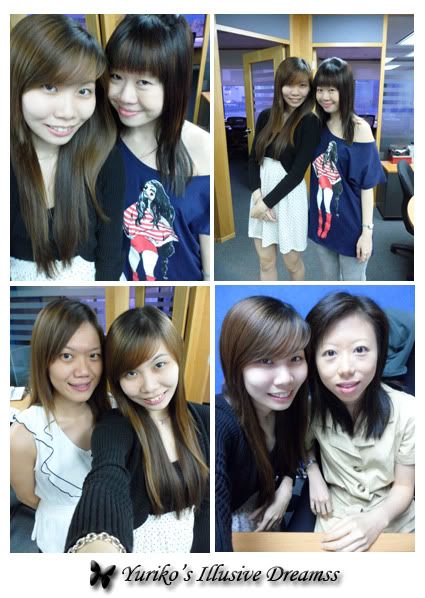 Yours truly with the bday girl, Adeline. And also with a cute colleague Yiwei. And last but not least with Macie, my superior! The best superior i've worked with! =)
* kinda lazy to edit and watermark all my photos, thus i only chose a few to upload. for more photos! simply visit my Facebook to check them out! *