feeling lethargic!
Weekends were alright. But i sleep pretty late everyday!
Saturday, 15may2010
Spend my day at home doing chores and bathing muffin, in the evening,
Dear
came over to pick me up with
XiaoQiang
, and we head down to
ECP
. Meet up with
Jonathan
and
his gf
. After which we went to
Changi Airport T3
for supper. Gosh their supper looked more like dinner! They ordered alot of food! After which, we went home and head to sleep at about 4+ or 5am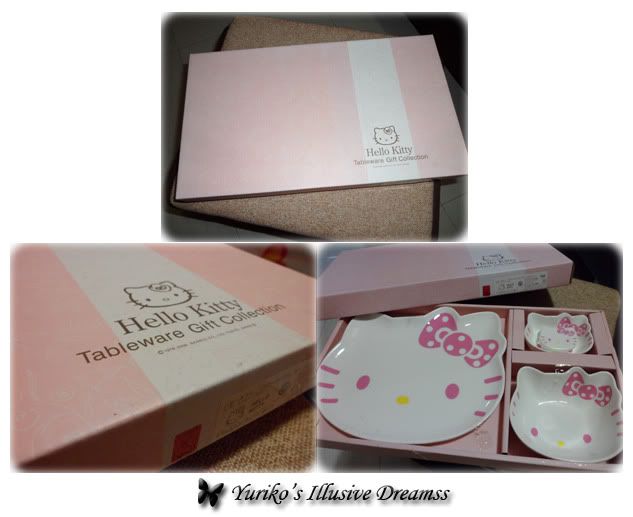 guess what? we won this with ONLY $3! and its really from Sanrio! hahah! i LOVE it! its so cute! and i guess im starting to slowly appreciate Hello Kity more these days! =P
dont bear to use it though~ guess I'll just keep it for now til i have my own house, I'll display it somewhere nice or take it out to use~ =p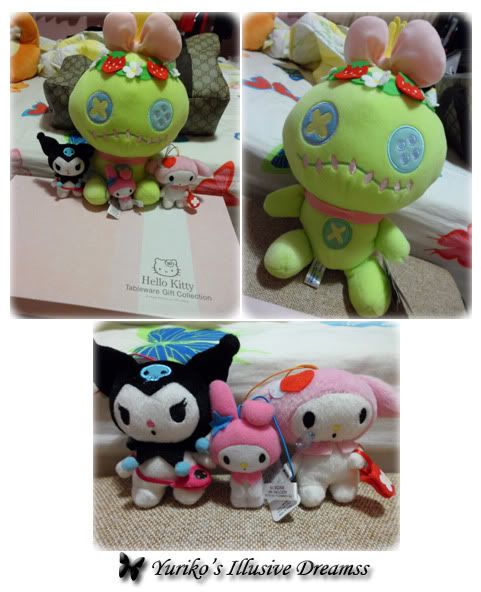 My new uber cute Scrump that was caught with ONLY $1! hehe! All credits to my dearest! =D and a few My Melody!!
Our Supper! and thats my sour and spicy ban mian~ of cuz i didnt finish it! its sucha huge bowl! ended up dear finished it for me~ =p
Sunday, 16may2010
We woke up and head for Brunch with his family. After which came home to rot and took a afternoon nap since it started raining. Was suppose to go for Kite-flying session. But we ended up having to cancel it due to the heavy rain, thunder and lightning! At night at about 8+, we head out to
Suntec
to meet
XiaoQiang
and
YY
for dinner. We had Korean food. But i can't remember or probably just didn't take note of the name of the restaurant. Anyway food was alright, and once again, the guys ordered a table full of food! We ended up having to combine 2 plates of food into 1, to fit all the plates and bowls onto our table. Haha! Anyway, after dinner, we decided to walk around and ended up at the arcade again. Once again we wasted money~ -.-"
Our Korean Foodie for Dinner~ Look at our filled up table! =p
We then left and went over to meet
Jonathan
and his
Gf
again at
Subway
and waited for them to finish their dinner. After which we head over to
Carrefour
and do some grocery shopping~ bought a couple of snacks and stuff. Once we're done with everything, we left
Suntec
at about 11pm and head over to
ECP
again! Meet up with
Bei
and
Valenz
there. Finally the four good friends/bros and their gf were all present and out together! Instead of the usual Triple Dates, now its a
Fourple Date
! LOL! (
is there even such a word as Fourple? well who cares! you know what i mean =P
) Haha! All of us decided to conquer the
Big Sweet Land
machine! Played til about 1+ before we left for home, as all the girls had to wake up early for work Today! While all the guys can sleep til late~ So unfair~ what is the world coming to~
LOL
!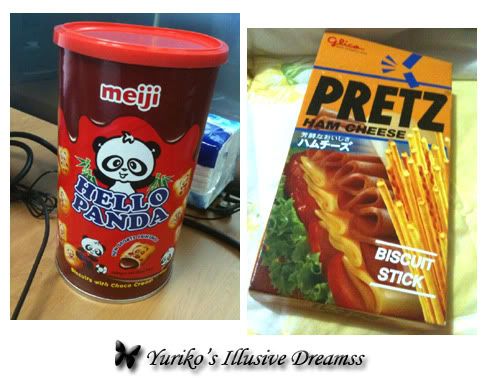 i LOVE Hello Panda! this bottle is now sitting on my office desk! and i already started munching on them this afternoon! And thats the Ham Cheese Pretz that Jon's gf recommended i try~ Hope its really as nice as she said! Hehe! Gonna try them tomorrow~ =D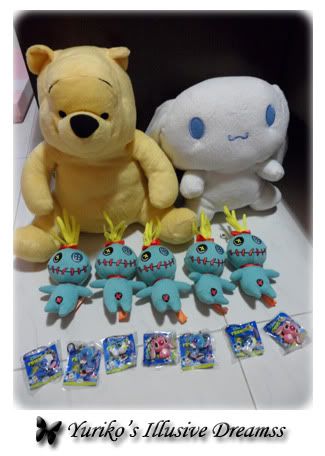 Some of Our Hauls from Big Sweet Land!! I didnt snap the bag of sweets and snacks, and some other bears that are in Dear's car boot though~
Yay for me~ Many Scrumps!! *happy*! and also my favourite Cinnamoroll and a naked Pooh! and a couple of Stitch Hp chains =p
Dear
send me home, and helped me carry my stuff back to my place, as i had too many bags of bears and other stuff~ And he decided to accompany me awhile more and played with
Muffin
at my place while i washed up and prepare to head to bed before he left and head home. =)
As for
today
, I'm so very tired! Cuz i slept at almost 3am and i have to be up by 7+am. End up i keep snoozing my alarm this morning and was almost late for work! Haha! Thank god manage to rush in time and made it to work! =) yawns yawns~
and a stupid incident happened during my lunch time! well, a
STUPID
woman took a step back and stepped on my toes with her heels! *
Ouch!
* And instead of apologizing, she turn around and
GLARED
at me! *
WTH
* i wasnt even at fault la~ i felt so innocent as i was just queuing behind her and i didnt even moved an inch! -.-" What logic is that right? Really Stupid Woman! I better not bump into her again~ -.-"
Anyway I need to sleep early tonight! Seriously! My eye bags and dark circles are getting from bad to worse! I think i need to do my eye mask before i sleep~ and i need to buy my eye cream soon~ still can't decide between
SKII
and
Estee Lauder
~ anyone with other cheaper but yet good alternatives? =)
Panda! This is how I'm gonna look like soon!! =(