TGIF = Thank God Its Friday!!
Its been a long time since i last said it! Its been a long time since i last countdown to
TGIF
! Ever since i stopped working, everyday is a holiday to me. I never had to countdown to Friday nor weekends. I never had to countdown to Lunch time. I never had to countdown to
KO
=
Knock Off
time!
But now im back to reality! Back to working life. All the counting down begins again~ Many stuff to look forward to again! Look forward to lunch time. Look forward to Knock Off. Look forward to Fridays and weekends. Look forward to having free time to meet Bf!
And today is a Friday again! Yay!! My first week of work just past in a flash!! Everything had went well so far, and i really hope everything would continue to go on well for the next few years to come! =)
Anyway, after work today, i took a train down to
Cityhall
and walked to
Suntec City
to wait for
Dear
to Knock off from his work!~ And so i started shopping around~ Was tempted to buy lotsa stuff! but i controlled myself and only ended up buying a pair of lovely earrings that i would regret not buying! =) As i was very hungry and my legs were aching i decided to stop by
McDonalds
~ Gotten myself my favorite
Cinnamon Melt
and a cup of
Ice Lemon Tea
~ Its the first time im finishing the whole Cinnamon Melt all by myself!!! So Sinful~ But i still
LOVE
~ LOL!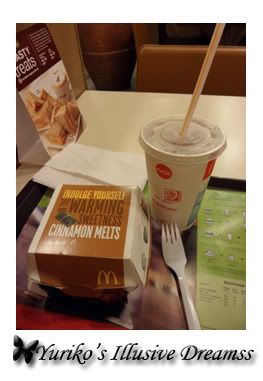 After which left
McDonalds
and continue window shopping. At about
8.30pm
, he finally knock off! i said finally cause i wait for him for a total of
2 and a half hours
!! *
faints
* After we met up, we head over to
Marina Square
to shop. He gotten himself a new messenger bag! After which we head for our dinner.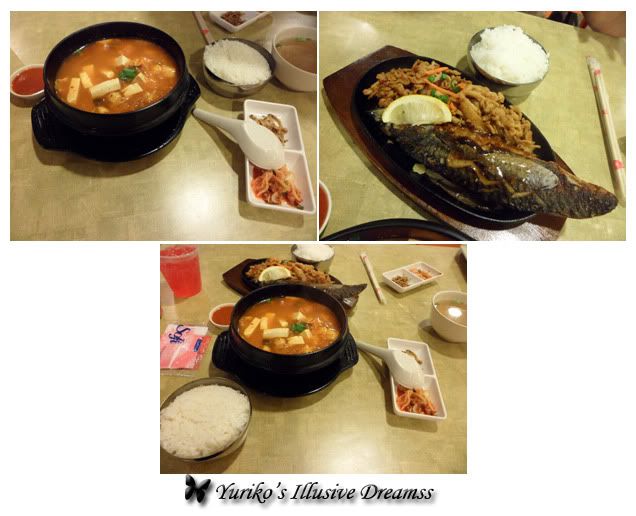 Our Korean foodie for dinner~ Kimchi Soup and Saba Fish! yummy! =)
Tried persuading him to head over to
BQ
to meet my
COT
for Ktv session. But he was too tired and refused. Sigh. Ended up i didnt make it down.
Sorry COT
. i know i let you guys down. =( Some unhappy stuff happened when i informed them that i aint turning up. Not gonna go into details. All i can say is i am really sincerely sorry.
It's really not easy to please everyone and have the best of both worlds.... =( Feeling really awful bout it...... I really wish i could Split myself into
TWO
right at that very moment. Seriously.
Anyway we left MS after dinner and headed home to rest for the night. I totally knock out after washing up..
So very tired~