went to work as usual...feeling very tired again..good thing the bosses werent around today so its a little relaxing and no one could see me yawn all day!
lunch time met up with
Valenz
, and we went to
Watami
, which is a
Japanese Casual Dining Restaurant
at
ION
! Food was pretty good and we chatted for awhile before heading back to work.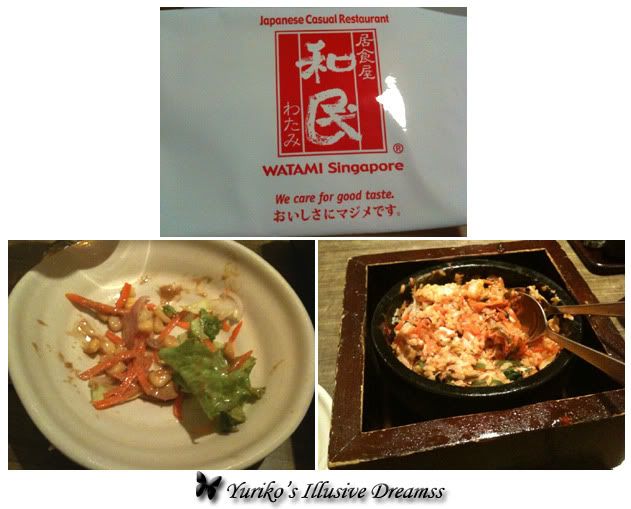 Our Food at Watami!! Sorry i know the photos are abit messed up! =p Was too hungry and forgotten to snap before i started eating! LOL!
was suppose to meet
Caelyn
in the evening, but i was simply too tired, plus she would be late and had to rush. thus i ended up cancelling the meeting.
Dear
came over to fetch me after work instead. Was suppose to just have dinner and head home to rest since i was tired. But ended up before he turned into the carpark to pick me, he bumped into Bei who had came to fetch Valenz from work!
(well as above, its obvious Valenz work near me! thats why they would bump into each other on the roads!
) And so they stopped at the carpark and chatted, and decided that we would have dinner together.
And so, we head over to
The Regents Hotel
to park the car before we cross over to
Tanglin Place
to have dinner at
Dan Ryan's Chicago Grill & Bar
! Awesome place indeed! The setting and ambiance is really good! Relaxing Music playing in the background, Romantic and Cozy dim lighting, with the American Chicago atmosphere and decors! Plus their service is almost top notch! I said almost because, they were really friendly helpful and nice, and they would come over to check if everything is ok or if the food are alright, BUT they dont re-fill our glass of water as frequently, and when Dear asked them to refill the water, they ONLY took the glass that he was pointing to, and refilled it! and left the other glass empty on the table -.-" haha! That aside, all the food that we ordered taste Fantastic too!! The portions were also pretty huge!! BUT the Only thing bad about it is that its pretty pricey!! But no harm trying good food with good ambiance once in awhile! =) This is a place i would definitely wanna visit again!! Without saying, it means that it is
RECOMMENDED
to all!! Do try it out if you like American Chicago food! =)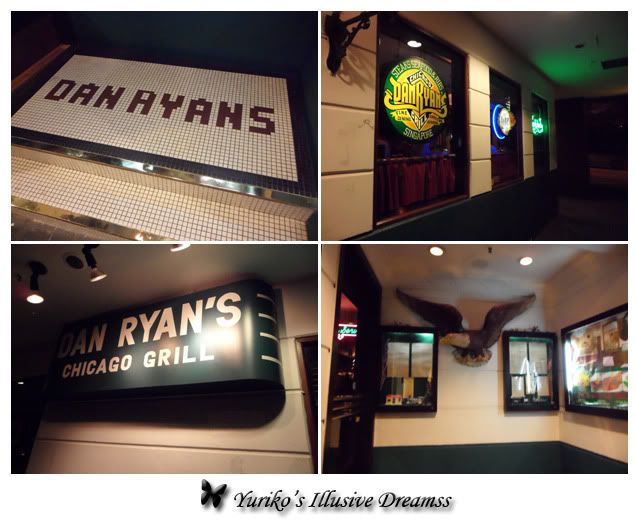 Dan Ryan's Chicago Grill!!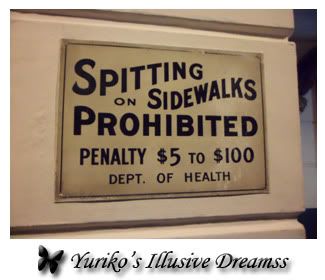 The interesting signage pasted outside the restaurant!
The menu and the decors! The huge moose was just above our table!! =p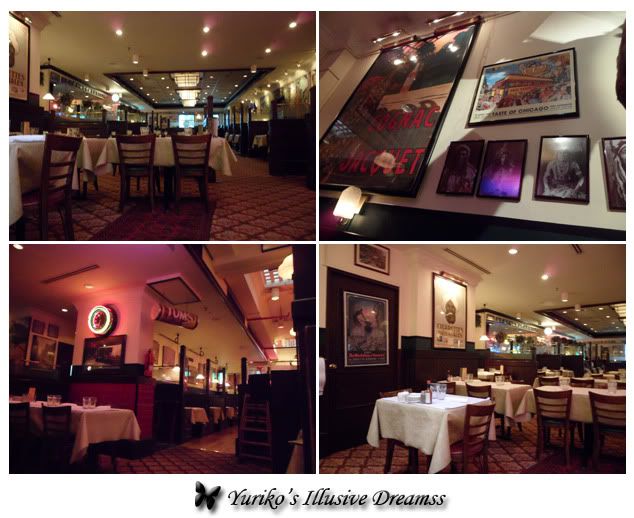 The setting and interior decors!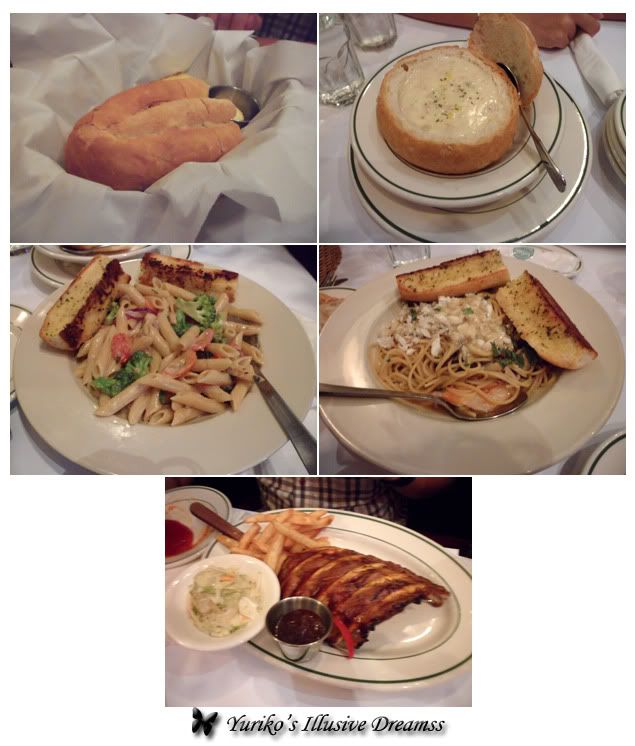 Our Glorious Yummy Food~ Trust Me! All of it taste superb!! =)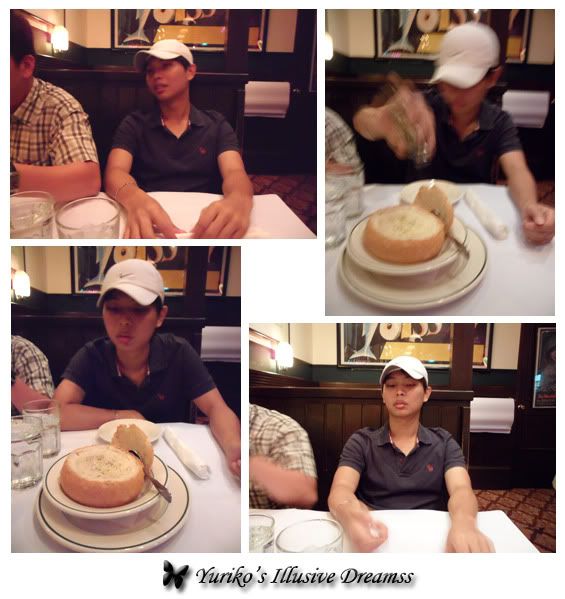 My Boy! =P he looks so cute! haha! his different expression and him vigourously peppering the soup!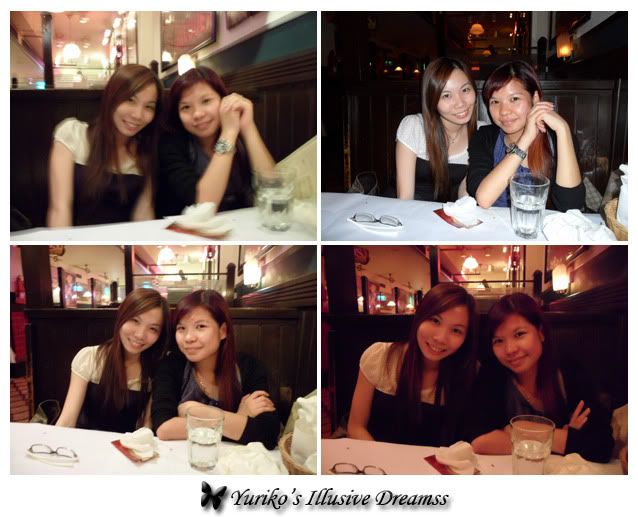 Valenz Babe and Me! =)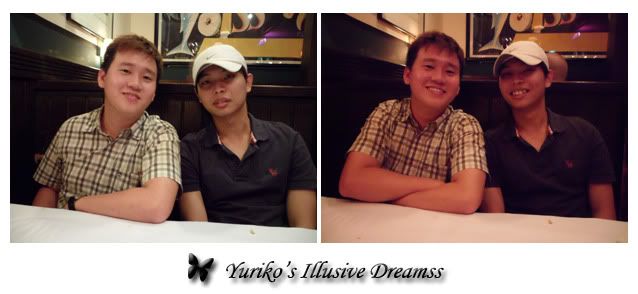 The Guys! Bei and my Boy! =)
After dinner, we continued chatting and the guys suggested watching a movie! And so, we left the place and head over to catch the show
Ip Man 2
!! Yes i know almost everyone else around me have watched it!! Im so SLOW! haha! but as the saying goes, better late than never. So yea was quite happy i finally get to watch it!
I would give it 4.5/5 popcorns! Really good show! So do catch it if you havent! =)
Basically the show is a continuation of Ip Man shown in 2008. It is a Chinese martial art movie about Ip Man who manage to survive after the war and moved to Hongkong with his family. He set up a Martial art school and recruited some fine young man. But these young man are hot tempered and provoked people from another martial art school. And this martial art school happen to belong to the top martial art master in that town. Ip Man soon had to help save his disciple from the hands of those guys and ended up having to challenge other masters in town to be recognized as a Martial art master so that he can continue to run his martial art school. The first part of the show is most about him against the other martial art master. While the second part of the show took a turn and all the martial art master were again the British who were ruling Hongkong. The corrupted British police bullied them and and invited the world best boxing champion to the town for a boxing competition. This is where the top master died in the hands of the champion boxer as he wanted to prove that Chinese martial arts is not one to be made fun of and look down upon. Ip Man seeing his fighting spirit to protect the Chinese martial arts decided to challenge the boxer and eventually wins him! And the corrupted police was eventually caught! And the last part was pretty rush where a lil boy name Bruce Lee came to Ip Man and wanted to learn martial arts. They then showed fast forward photo glimpse of the future where Bruce Lee grows up and learns from Ip Man! A good ending indeed!
Hope i didnt spoil the show by summarizing the show here! haha! But anyway, its really very summarized as i didnt mentioned every character and every part of the show. As im mainly focusing on the character Ip Man and the story line. Thus, you'll still have to see the show to truly understand! =)
After the show,
Dear
send me home for the night~