dont you just love surprises? =)
i love surprises too~ and of cause i love giving my other half surprises as well! hehe! =D
yesterday
woke up and head down to my office at
Orchard
to sign the letter of appointment, after which shopped around alone! gosh, i didnt really enjoy shopping alone in the past, but i guess people do change~ cuzi just gotta know that shopping alone can be so much fun! first of all, you dont have to wait for people and end up wasting precious time, and you get to see anything you want without worrying about whether your friend or bf gets bored. =) only problem is, you are unable to get opinions from them, and for me, i always end up spending alot!! thus,
shopping alone for me, is harmful to my wallet
! haha!
but dont get me wrong, its not that i dont like shopping with people now, i still enjoying shopping with my girlfriends! =) cuz its way more fun!!
anyway after shopping around for
ONLY
an hour at
Wisma
, i bought myself a pair of skinny pants from
PepperPlus
, and a pencil skirt from
G2000
~ i
ALMOST
spend more!! cuz i spotted many pairs of heels which i like from a couple of shoe shops, and i spend at least half an hour trying on shoes! but end up empty handed, cuz those pairs that i like didnt have my size!! *
sulks
* hesitated between 2 pairs which had my size, but after much considering i left without buying them, cuz i just didnt like them as much as the other pairs that no longer have my size!
and so, off i head home~ upon reaching home, applied medication for
Muffin
again, and after which i started on my
first task
for the day~
Cookie Baking
!! =D Hehe! i've always love baking~ from cookies, to brownies and certain cakes~ but always didnt have the time! or sometimes i just too lazy! but this time, i'm pretty determined to bake cookies for my other half!! had wanted to bake him brownies, but he didnt like brownies, and so i ended up baking cookies~
everything started out well, til......my oven started malfunctioning, and keep tripping the electricity of my whole house!! *
sulks
*
I NEED A NEW OVEN!!
ok that aside, after trying many times, i eventually found a way to get all my cookies baked, but with more procedures and time involved!! ended up, the cookies didnt came out nicely as planned, as i couldnt get hold of the proper time of baking, while switching the oven on and off several times~ thus ended up, only the first batch of cookies came out nicer, while the second and third batch came out a lil too brown! *
sulks
*
but luckily my oven didnt totally died on me midway! else i dont know what to do!! haha! probably rush down to the electrical appliance store and buy a new oven on the spot? LOL!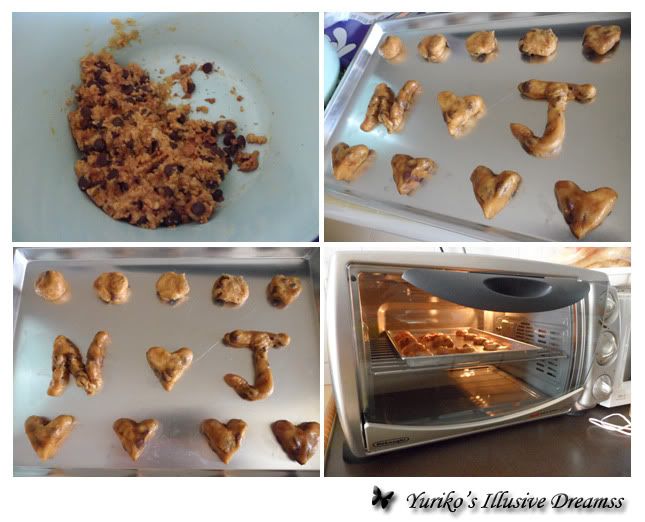 Cookie Baking in process~ This is the first batch! 2nd and 3rd batch i was too busy and forgot to snap photos!
k that aside, after everything was done, left the cookies to cool down, and i rested and updated my blog, after which i started on my
second task
for the day!
Card Making
! yea, another thing i enjoy doing! hehe~ i love handmade stuff!!
(not tt im some cheapo, but cuz i feel that it shows more sincerity, filled with my love!! LOL)
cut, paste, decorate and wrote a short message~ and i was done! =)
Now, you all must be wondering, whats the occasion?? Nope, not his nor my birthday! Nope, not our anniversary nor any special date to remember!
Answer is, It was all
VERY RANDOM
! whahahahah~ who says that surprises, cake making and gifts are ONLY for occasions? hehe!
I just suddenly thought of doing them, and just went ahead to put them into action! =) Well, the thing with me and my bf is, we
DONT
celebrate any of our monthsary at all~ and we didnt even exactly had a proper celebration for Valentines day. Instead, we always get each other gifts and go out for nice meals on random days~ =)
When 2 are in love
, theres no need for splurging on one another, and only celebrating particular occasions.
When 2 are in love
, everyday together is a day to celebrate and just be happy with one another.
When 2 are in love
, you dont have to only wait for special dates to celebrate and give one another gifts and surprises.
When 2 are in love
, everyday together should be a day to put in effort to keep the flame going and making one another happy in all possible ways!
=)
and so, after im done with everything, i called him to make sure he was still awake, and told him i was gonna go wash up and sleep soon. i didnt lie. i did went to wash up after i hang up the phone. brushed my teeth, took another shower and washed my face. But instead of changing into my PJ, i changed into a plain tee with my Levis shorts, and drove over to his place to give him a
SURPRISE
!! And thats my
last task
to end the day!
and indeed, he was extremely surprised when i knocked on his door and he opened it. hehe! the look on his face and the reaction he gave.
PRICELESS
~ =)
im glad i made him smile after his tiring day at work. im glad he likes the cookie and card i made. im glad all my effort was appreciated. im glad to be in his embrace with him smiling so widely! =)
when he's happy, im happy!! =D
End product with the card! =) Content inside is only for him to read, thus i only post up the front cover~