Self-pampering is one of the best way to keep yourself happy, and also one of the best way to burn a hole in your pocket!! =p
Yesterday
woke up and we went to
Tampines Mall
to have
Brunch
and shop around. Bought myself a
nail top
and
base coat
as my current one is finishing soon! Also i bought a new
Toner
recommended by
Lisa
. (
will try using it first. will blog bout it if its really good!
)
After which, we left
TM
and head over to
Lisa
's place as i wanted to get my
SK II Facial Treatment Essence
(aka.
神奇水 Miracle Water
)!! Had troubled her to get 2 bottles for me! bought 1 bottle for my
Mummy Dearest
too!! Yay!! Finally got it! Heard many good comments and feedback about it from my friends, including
Lisa
and
Rain
, and thus wanted to try the wonders of
Pitera
myself! =)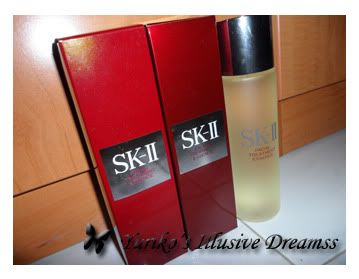 My SK II 神奇水!! Hope his works wonders for me!! =)
(If its really that wonderful, i'll surely blog another post specially bout it! so do look out for it within probably a month's time!)
after which, head back home and lazed around. at night, we head out for dinner with
XiaoQiang
and
WhyWhy
. And as usual, since there aint much to do at night, and its been our latest craze and hobby, we headed down to
EastCoastPark
again!!! hahaha~ Played the
Big Sweet Land
again! after which the guys played
Billiard
while i chatted with
WhyWhy
throughout the night~ =) Since we're both
Virgo
s, we clicked very well and had lotsa similarities, and thus had alot to chat about! I as initially still kinda bored that we might not have the same topic or interest due to our age gap!! =p
anyway we accompanied
XiaoQiang
to fetch
WhyWhy
back home since its a long journey! (
she stays in the west while we're in the east!
) after which we head back to
ECP
to get
bf'
s ride and went to packet food before going home to rest for the night!
As for
Today
, woke up and he send me home. shortly after i reach home, my parents went to pick
Muffin
home from his full grooming and dental scaling session!! and now, he's very naked, petite, skinny, lamb-like, and smelling very good!! hahaha! yup, had to trim off his long fur, as the weather is pretty hot these days and his fur keeps tangling up!! plus i aint home everyday to groom him, plus i will be starting work soon! wont have as much time to accompany him. miss his long fur though, cuz i always thinks that he looks cuter with long fur! =p
in the afternoon, it started to rain heavily with scary thunders and lightning! but me and
Mummy
decided to go over to
Jessie's
place (owner of
Jess.sg
/
bagsshopper.blogspot.com
) for her open house sales anyway!! there were lotsa bags, and i had hesitated between a few, but after much consideration on its material, style and durability, i ended up getting the
Kate Spade Small Basic Nylon Henry
in
Red
! =) Its the size i was looking for, the material is pretty good and its looks pretty nice as well!! Happy me!! I almost got the
Prestwick Noel Quinn
which is in black patent leather and the interior is of a quality that has shimmers. But alas, i didn't get it as i feel that the interior color will run very quickly and as I'm not one that takes particular care of my things, I'll probably scratch the patent leather very soon~ though it really looks nice!! Had wanted something of another shape, but didn't see anything i was looking for~ and
Mummy
didn't see anything to her liking as well, thus she didn't buy anything this time round. hopefully after i start working, can save up to buy some stuff for mummy dearest, lil bro and daddy! =)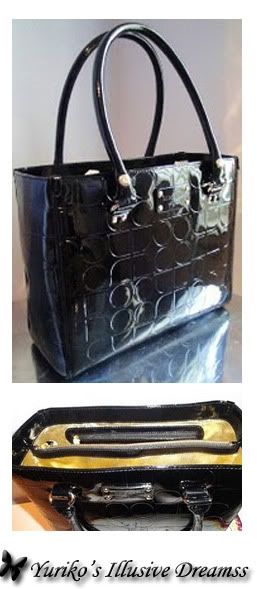 Kate Spade Prestwick Noel Quinn - the bag i almost bought!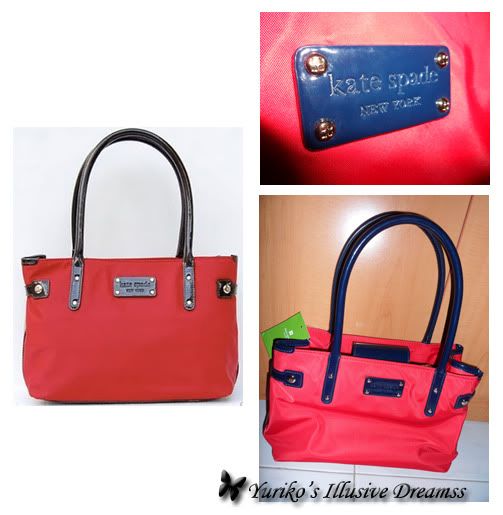 Kate Spade Small Basic Nylon Henry in Red! - the bag i eventually bought! =) my FIRST red bag! haha! quite an impulsive buy, but after buying it home, i quite like it! something to brighten up my closet and bag rack! finally something different! not my usual kinda buy, and not something i ever thought i would buy. well, there is always a FIRST time! hehe! so yea. this is my first time, my Virgin Red Bag! =D
_____________________________________________
anyway a lil update on my life!
i had hesitated about this and intended to post this only 2 weeks later when i officially commence, but...... i worry I'll be too busy or tired by then, and start neglecting my blog...
haha. ok. bad excuse. i couldnt keep this from my sweet readers anymore! hehe! i finally found a job!! yeap, a job i like, and i job I've been wanting. at least its my area of interest and its part of my future goal! =) though i have to start from scratch since my past 4 years of working experience isn't exactly related, and though the remuneration isn't as spectacular, I'm still happy and glad i got the job!
it'll be a stepping stone for me to reach my ultimate goals, and i do hope this time round i would have really nice colleagues and bosses to work with! everything is confirmed and I'm so looking forward to it the official commencement of work in 2weeks time! =)
not gonna disclose too much details though, only my closer friends would know. =) but I'll be working in Orchard area~ so dear friends, next time we can meet for dinner and shopping after work in town! =) Yay!! But that would also mean, I'll do a lot of shopping! haha! *worry* hope i wont burn a huge hole in my pocket while working there~ LOL!
meanwhile,
WISH ME LUCK
! =D