this morning woke up and we went back to my place to pick
Muffin
up to bring him to the vet to check out on his skin rash! apparently after his grooming, some rashes appeared on his butt area and it seemed to bother him quite abit plus it kinda hurts him too, as we tried to touch the area and he screamed!!~ *
heartaches
* this is the first time its happening, as throughout this 2 years it has not happened after any of his grooming before~ so i decided to bring him to the vet to have it checked and to get some medication to apply on him!
glad the vet told me its nothing too serious. gonna apply the medication given and see how it goes, hopefully it'll heal soon! another thing now is that, Muffin has to wear the e-collar! hahaha! he's super clumsy with it! keeps knocking into things~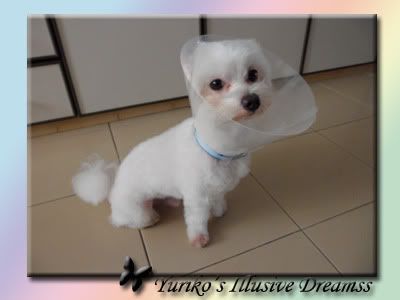 Muffin with his e-collar on!
after the vet visit, we send
Muffin
back to my place, and rested for awhile before we head out for our Brunch! (
yeap since we woke up, we've yet to eat anything yet! been rushing around the whole morning til 3pm!
)
and thanks to
my sweety boy
, my Sushi craving was satisfied at
EastCoastPark
's
Sushi Tei
!! =) yummy yummy!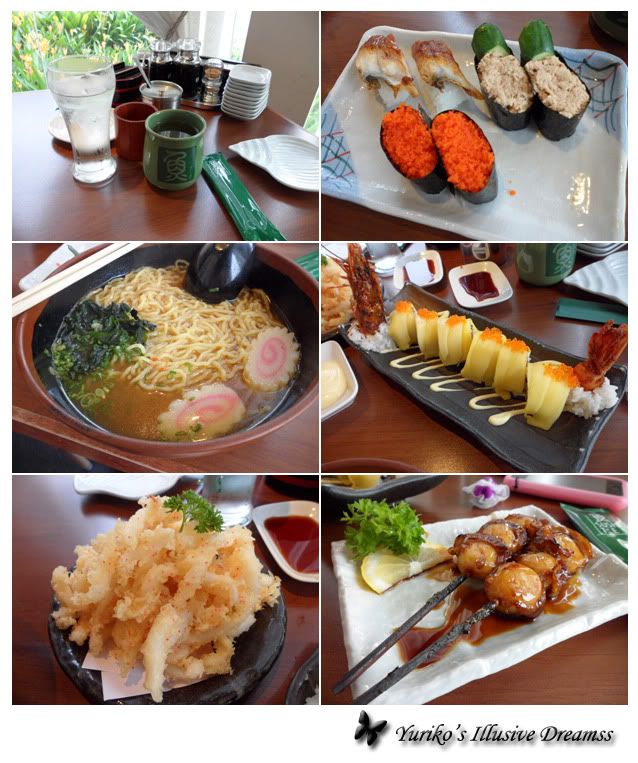 Our Food!!
Unagi Sushi, Ebikko Sushi, Tuna Salad Sushi, Spicy Miso Ramen, Golden Roll, Hotate Teriyaki, Hamasaki Ika Tempura!! =)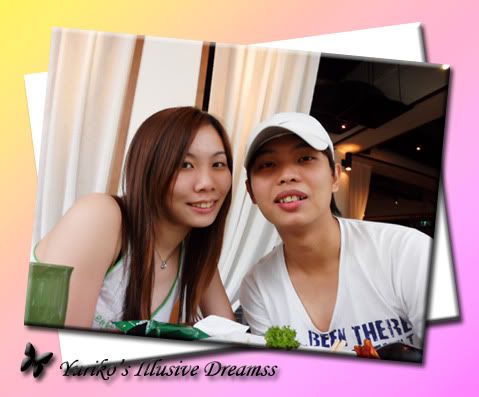 Us @ Sushi Tei! =)
after our brunch, we head back home, lazed around and rested, and i downloaded and purchased a new game, 'Driver', on my iPhone for Dear! First game i actually purchased!! But since he likes it so much, guess its worth it! =) Watched him play til i got tired and eventually doze off~

Side Track~ Gonna purchase a few more apps and games soon!! Up next would be 'Angry Bird' and 'Monopoly'!! This is so addictive! all the paid apps and games are so fun!! gosh~ hope i won spend too much money purchasing these iPhones apps and games! LOL! =p
back to topic~ in no time, he got tired and joined me in dreamland too! woke up later at 10pm, and we head out to packet dinner back with a cup of Slurpee!! Both of us were coincidentally craving for it at the same time! Hehe! Mixed both Apple Freeze with Coke flavours!! YumYum! came home to eat and watched some HK dramas til bout 1am before i head back home myself. upon reaching home had to park the car very far as the carpark at my place is full! *sulks* too many car, too little lots! anyway got home, washed up and chatted with Dear on the phone til 2am before we both decided its time to sleep as we both had to wake up at 8am tomorrow!! He had to go to work, while i had to go to office to sign my letter of appointment! =)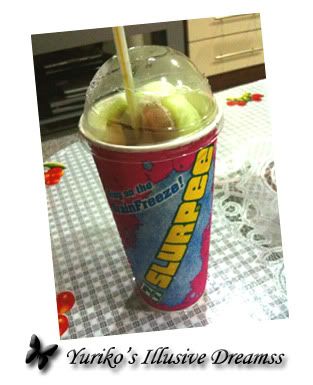 Our Slurpee!! =)