everything was confirmed pretty late and i only gotta know of the meetup after checking my email
yesterday
. thankfully i had nothing on that day and so at night,
9+pm
took a cab down to
Mr Bean Cafe
to meet up with
Rain
dajie,
Mike
korkor,
Glenn
and
Cheryl
. We were still early and thus sat there to have white wine with cheese fries. i didnt eat it nor drink the wine though. cause i had some restrictions and limitations that day, and was only allowed 1 glass of alcoholic drinks that night. so i just had a glass of ice water, while we waited for the rest of the guys to reach.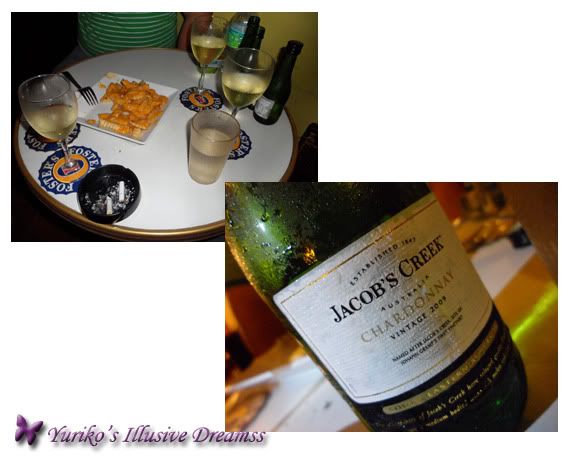 at Mr Bean Cafe~
at about
11+pm
they (
Kelvin, Jeffrey and Alan
) reached and we headed in to
Le Bar II
again, where we sat at the VIP table! well, i was pretty upset cause i had a curfew, and had to be home by
12.30am
. thus i could only join them for awhile since they reach so late!! =(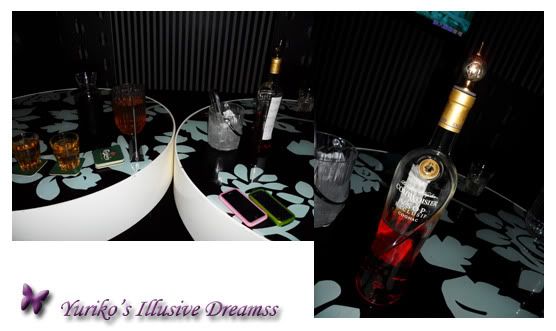 Our booze for the night
but anyway the night went on, i did have only a glass and a half, and we took some photos before i eventually left and headed home.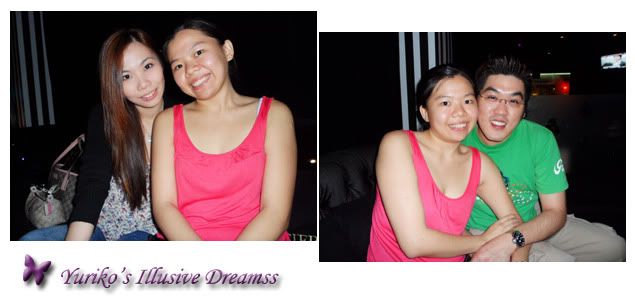 with Cheryl, and the lovely couple!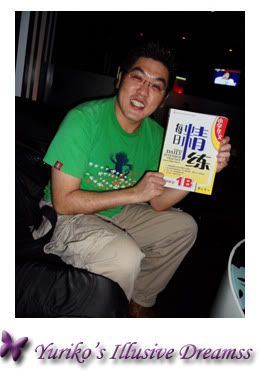 Glenn flaunting his new goal~ learning mandarin! talk about lifelong learning eh! haha! =p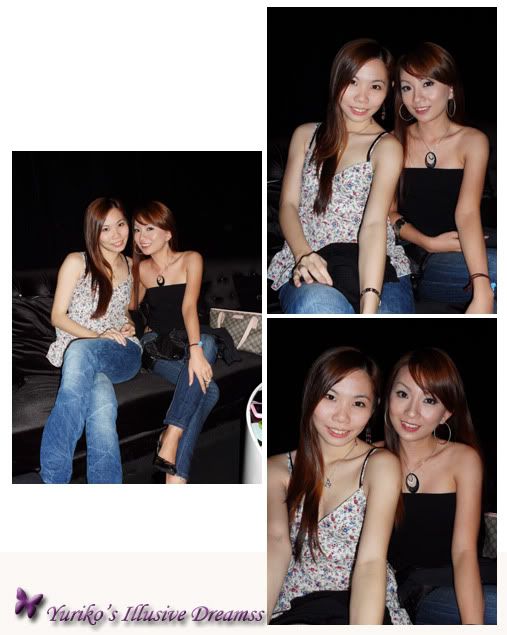 with my babelicious Rain dajie! we were both synchronized for the night! both of us were in jeans!! yeap very rare indeed! in fact its the first time in the 3yrs plus that we know each other!! what can i say, haha! Great Minds Think Alike! LOL!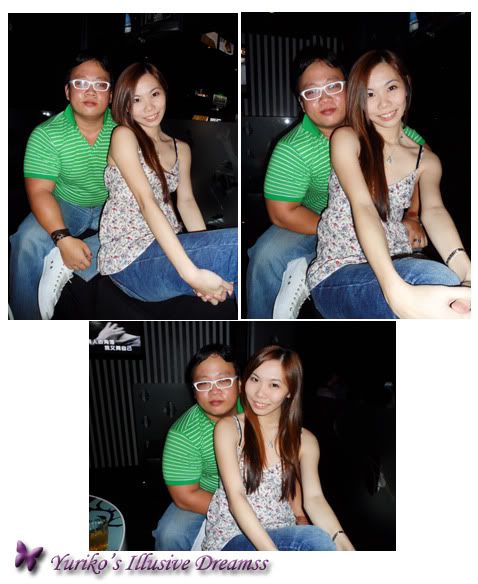 with my macho Mike korkor!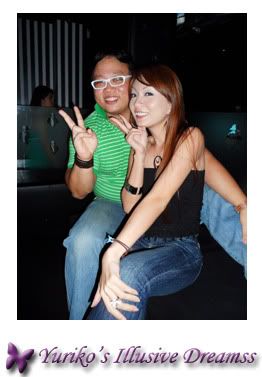 my macho 哥哥 (korkor) and babelicious 大姐 (dajie)!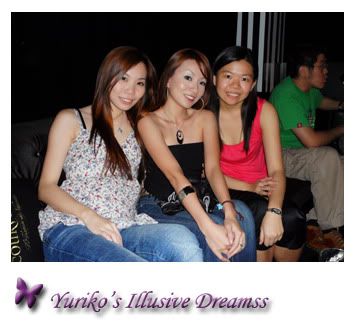 the ladies~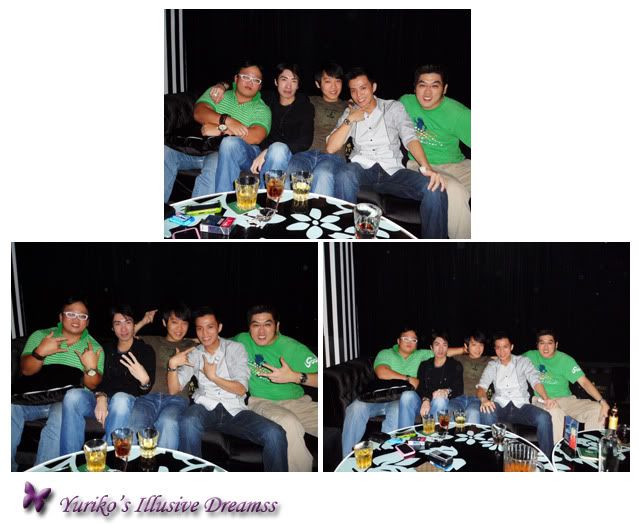 the guys~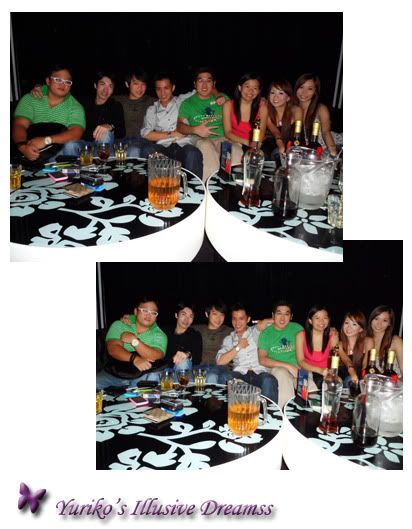 group photo!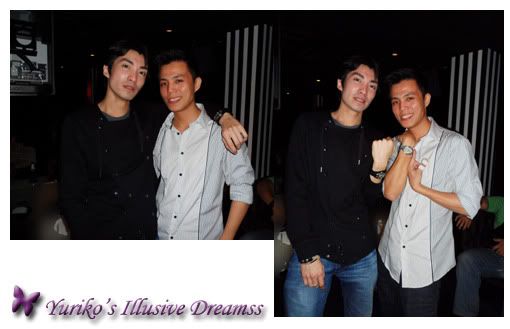 the bros~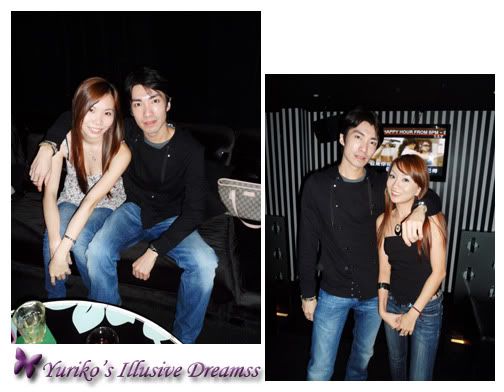 me and Rain with the MAN for the night, Alan!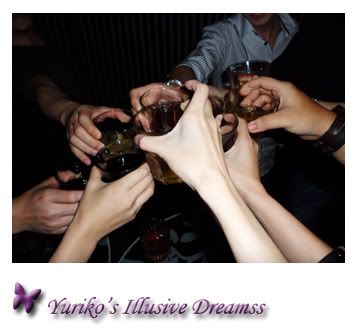 Cheers to ALAN! All the best to you in your future endeavours! You'll be missed! =) Hope we'll all meet up again soon!!
feeling kinda stupid to cab back and fro and only be there for an hr plus. sigh~ but in a way i guess its pretty worthwhile, cuz at least i get to meet them all.
and, i bump into another
STUPID
taxi driver again!! (gosh whats up with me and idiotic taxi drivers~ -.-") argh~ well, he drives alright, except that he took a LONG way back to my place, AND he always FLY over humps, causing my butt to hurt when it lands. AND, as i didnt have small notes and change, i gave him a $50 note and he short changed me!!! arghhhh! was so pissed i didnt wanna argue with him and just took whatever he gave and left in a huff! =(
sadly i didnt really enjoy the night, but at least i manage to meet up with the main character for the night,
Alan
. manage to take a photo with him and say goodbye before he left.
and so this post is pretty short with only limited photos and details, as after i left i dont know what else happened but from their photos, i know they had alot of fun which i missed out on... =( *sulks* but....oh well.......since he already took a step back and allowed me to go and am allowed 2 drinks. i shant take advantage of the situation and invite another quarrel....
______________________________________________________
that aside, later at night after BF's soccer game with his friends, he came over to pick me up and we went to packet some pratas and my favourite mee goreng before we head back to his place to watch soccer and ate our supper. =) so im happy afterall~
i'll just take it as an opportunity cost~ =)