after my horrendous morning, came home and relax my mind. did some photo uploading and blog updates, did some chores, bathed
Muffin
, washed the car and applied the new solution
RainX
that i bought from
AutoBacs
not too long ago, and got myself washed up and prepared and waited for
Bf
to come pick me up for dinner.
he reached at 8.30pm, picked me up and we went to
Siglap
to meet a guy to sell him one of Bf's
SSR Type C RS
rims. after the transaction was done, we head to
Roxy Square
to have
Steamboat
for dinner!! Yummy yummy~ Steamboat there is good as the food is fresh! Ate til we were both almost exploding, and we headed home. I really recommend this place for good Steamboat! Its not a place to eat alot and in a buffet style. But rather its ale carte, where u can be sitted and simply tick from a list to order and they will bring the food freshly out from the fridge. Better than those Buffet style where the food are kinda unhygienically and openly placed!
Upon reaching home, washed up and lazed around and camwhored with our new uber cute, huge, hugable and soft
'Ah Pooh'
as he calls it! haha!
Ah Pooh doing Stuns!! PushUps, HandStand and Headstand! =p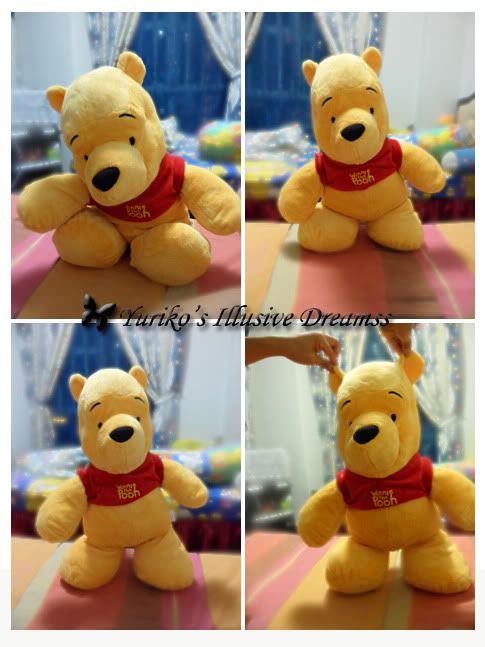 Our Adorable Ah Pooh!! =)
Seated and Standing!
also i took this chance to try out my new camera's (
Samsung PL150
) smile detection feature~ haha! its too sensitive! once it detects your teeth and a lil smirk, it will automatically click! Haha! we ended up with many funny looking candid shots which he demanded i delete off! except for 1 that i refuse to delete, but i aint gonna post it up as promise! else he's so gonna kill me! LOL! =)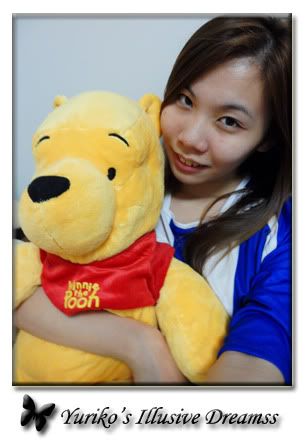 Yours Truly with my Beloved Ah Pooh! =)