feeling tired! have been out and about! what an eventful day!
woke up early in the morning at
8am
, washed up and prep and head down to school for my supp tutorial which starts at
9am
! and i was
ON
time! =) rare case~ haa~ spot a couple of familiar faces who ended up in the same situation as me~ am pretty shocked but well, they may have been shocked to see me too! so yea~
after tutorial, headed home~ watched tv with mum, and in the afternoon my parents accompanied me to
VivoCity
! nope~ we didnt go there for shopping, rather we just dropped by merely to visit
Pet Safari
, as
US Doggie Bakery
just opened an outlet there! The main outlet is at
Turf Club road
, and it way toooo far~ thank goodness they branched out! hehe! anyway we went to buy a little bday cake for
MUFFIN DARLING
! cuz its gonna be his
2nd Birthday tomorrow
! On top of that, we bought his other presents, such as doggy Choco Donuts, 3 different flavours of Eclairs and a Pumpkin Muffin! hehe! yeap
Muffin
for
Muffin
! keke!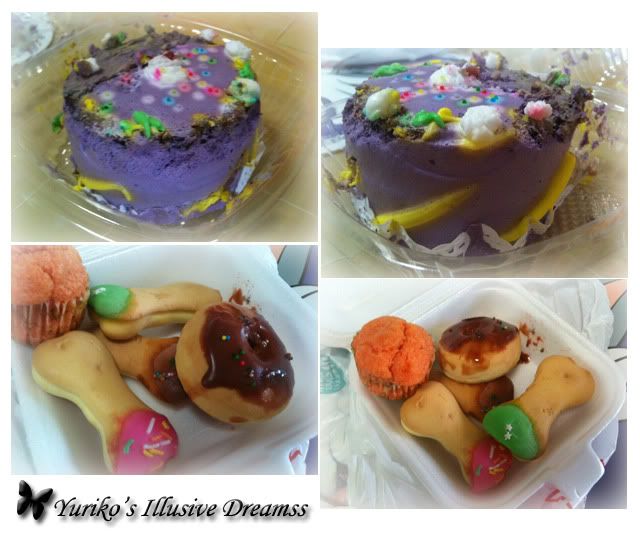 Muffin's Blueberry Birthday Cake , and his box of yummylicious snacks!
(
sorry Muff! the cake is kinda ruined by the time we got home due to the car moving etc. *sulks* the packaging is kinda lousy, no choice~
)
after getting everything, we left and headed to
Bedok South
for our lunch, where we had satay beehoon~ and after lunch, we brought
Muffin
to
Pet Movers
!! Its been a long long time since i last bought him there with Mr S. and i really miss such activities.....
in anyway, there were lotsa doggies there today!! and im sure
Muffin
had lotsa fun running around and playing with his furry friends~ Too bad the weather had beeen horrendous and we just couldnt stand the heat any further and soon brought
Muffin
home to wash up as he was extremely dirty after playing around and splashing in puddles of water before running around on the sand and grasss!
upon reaching home, i quickly bathed
Muffin
and took a cold shower myself to cool off~
and just now my family held a mini advanced bday celebration just for Muffin! well, his actualy bday is tomorrow, but its gonna be a Monday and my parents may work til late, thus we decide to celebrate it today! i had initial plans to get his furry friends and my friends to come along for his birthday celebration, but due to financial and time constraints at the moment, my plans had to be postponed til next year. =( *sorry muff* but i promise! next year i'll surely hold a proper bday celebrations with his furry friends and mine, just for Muffin! =)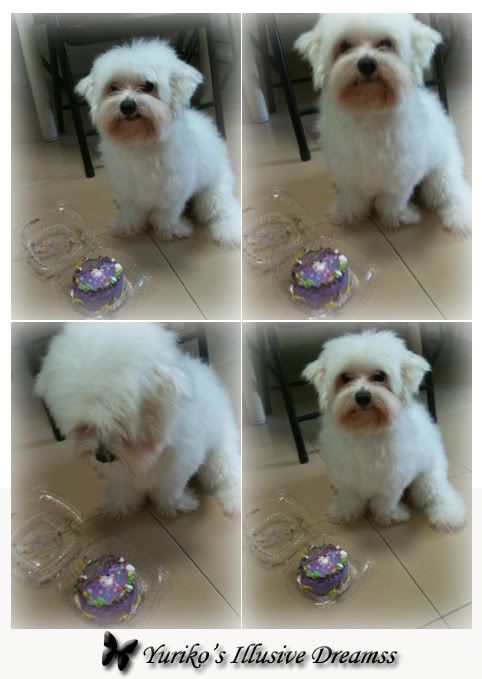 Muffin with his 2nd Birthday Cake!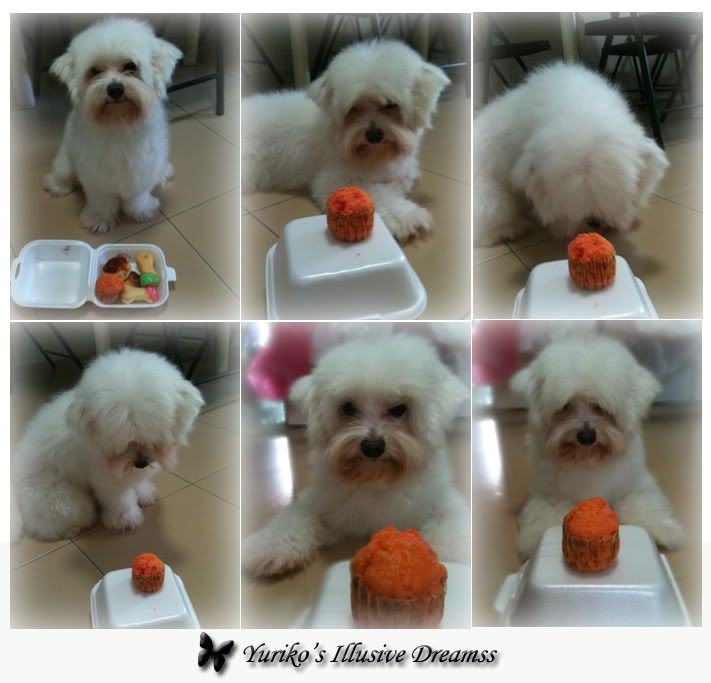 Muffin with his box of yummylicious snacks, and his pumpkin Muffin!
Muffin keeps staring at it, as we refuse to let him eat yet! haha! But he's sucha good boy! he just stared and didnt eat it til we told him to do so! hehe! im a proud mummy! =p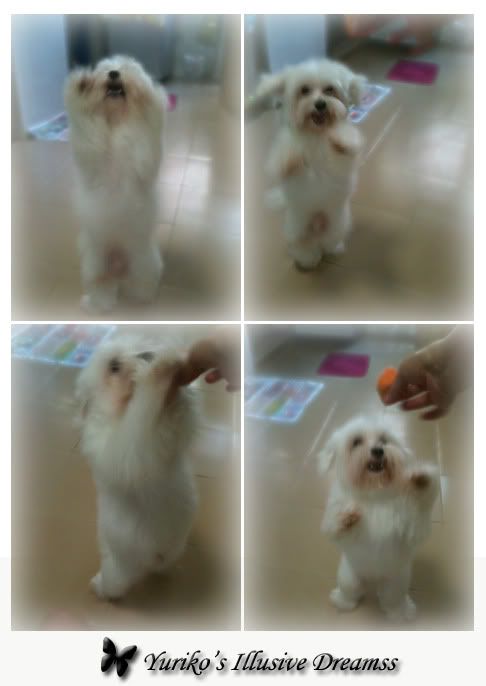 Muffin says HI!
Muffin begs for food!
Muffin jump jump jump~
He looks so polar bearish when he stands up! hehe!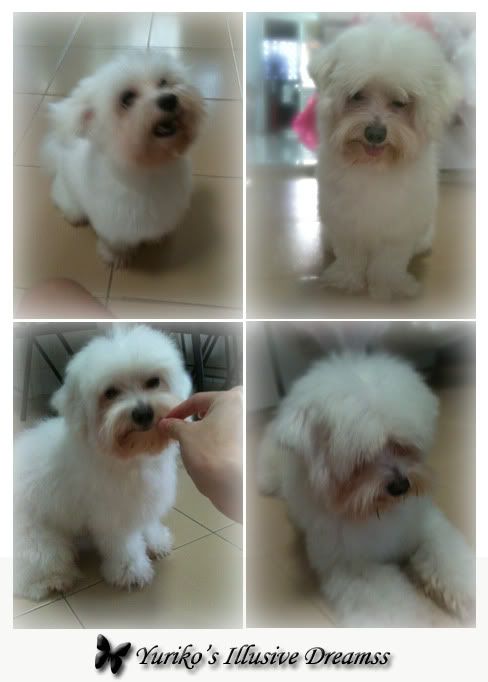 My Darling!!
in human years, Muffin is 2 this year, but in doggy years, he is already 14! next year he would be 3 human years old, and 21 doggy years old! weeeeeeee~ im gonna hold a 21st birthday bash for him! =p
HAPPY 2nd WOOFDAY MUFFIN DARLING!
=) *
HUGS
*
Mummy LOVES you
! hehe!
How time flies eh, I felt like just a few weeks that i gotten
Muffin
home. But in fact, he's been with me for
1year 9mths
in exact! Though he's indeed grown a little older, longer, bigger and fatter! But He's still my cute sweety lovely darling, and always will be! =)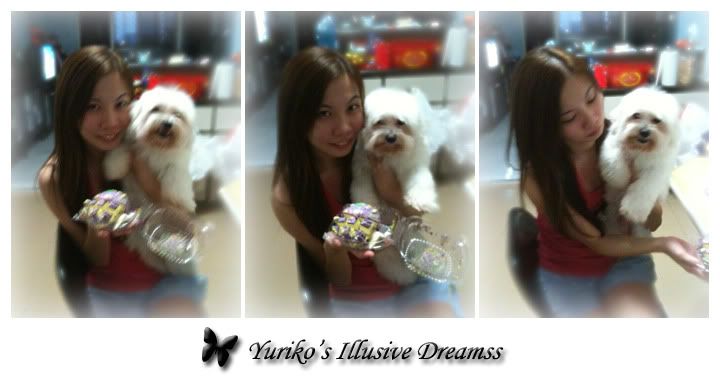 Muffin Darling and Me!