Its been a long time since i last drank. a long time since my last nightout with my girls. long time since i last step into such places.
well, i didnt exactly get to drink this time either, but at least i get to catch up with my girls! =)
last night
, took a cab down to
Dempsey Road
to meet
Rain
Da Jie and
Fion
. the taxi ride there was horrendous! and i felt something was very wrong with the Mercedes cab driver's driving skills! (
to think its a Merc cab! i was expecting a slightly better service with a smooth journey! -.-"
) his turning was not smooth, driving aint smooth either. accelerate brake, accelerate brake. faints~ cant even keep constant nor keep in lane! scary!! and after the ride, i was feeling kinda giddy and already felt like vomitting even without drinking anything. -.-"
Anyway we had wanted to go The
Wine Company
, but it was fully packed, and thus we ended up at
La Salsa
. a new place which we havent tried before. the place was quite nice, peaceful and relaxing. but the choices of drinks and food was pretty limited and we soon realize the people who hang out around there are all of other races!! that aside, after we hang out there for awhile, we spotted a superstar walking in. and thats
Kit Chan
!!
Rain
got so excited upon seeing her! haha! anyway they ordered
Chardonnay white wine
, and we gotten
Tortilla chips
to munch on while catching up~ =)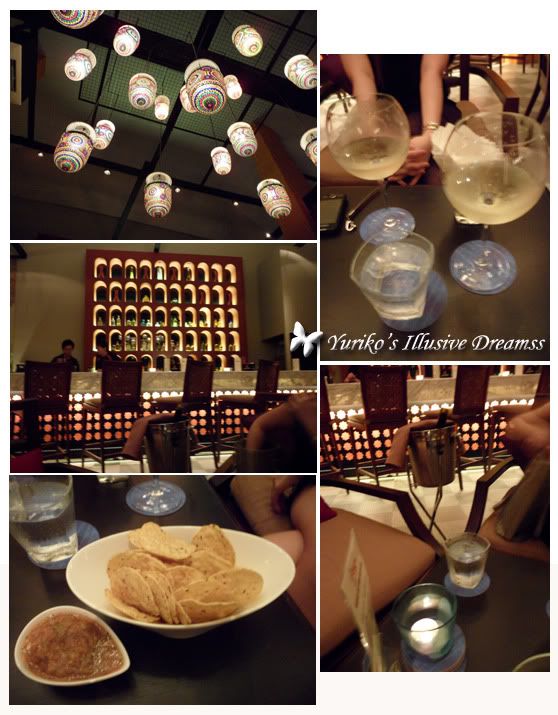 at La Salsa, with pretty lightings thats i like alot!, and our food and drinks! =)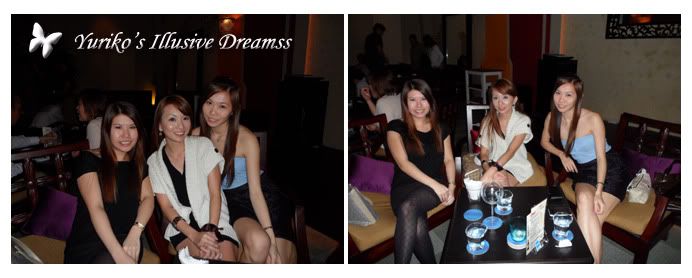 with my babes at La Salsa!
at about 12+, they suggested going over to
Arena
to take a look. and so off we went~ The place was pretty crowded and 1 of my toe is kinda bruised by people stepping and chairs landing on it! =( *
sulks
* overall not too bad, plus i bumped into a good friend whom i've not seen nor chat with for a long time,
Jeralyn
! =) Happy to see her, and hope to catch up with her and the rest of the group that i use to hang out with soon! Hang out there for quite awhile as they were dancing away and enjoying the live band and performances before we eventually left and head in to
Zirca
, again to check it out. We literally went in and walk 1 round and came out! haha! after which they mentioned they wanted to go
Boatquay
to finish their bottle at
Plush Bar
, and so we shared a cab as i was planning to head home and its on the way. but was soon persuaded to join them for awhile since it wont be long and the place was closing. and so we really went for awhile and the lights were already on by the time we reached! haa! after which i took a cab home to rest for the night. =)
gosh i really realize, there are so many places i havent been to! gosh! feel like a mountain tortoise! -.-" anyway its been an eye-opening night for me indeed! =) thanks to
Rain
and
Fion
for making this night such a good for one me! *
hugs*loves
*