da-lang da-lang, da-lang, da-lang da-lang da-lang da-lang
da-lang,
da-lang
da-lang da
~
been rotting the whole week~ aside from the usual chores, i had been busy watching the Taiwanese Drama, 'Hi My Sweetheart', also know as 海派甜心
(Hai Pai Tian Xin)
! Its been the latest craze, everyone around me is watching it, and everyone is talking about it! Ok mayb im abit slow! but i've wanted to watch it since long ago! never had the time! i finally found some time this week! The first to introduce this to me would definitely be my lil bro, as he's a big fan of Rainie Yang, who is one of the main character in the show! I'm also a big fan of her and the other main character, Xiao Zhu (Luo Zhi Xiang)! Hehe! =)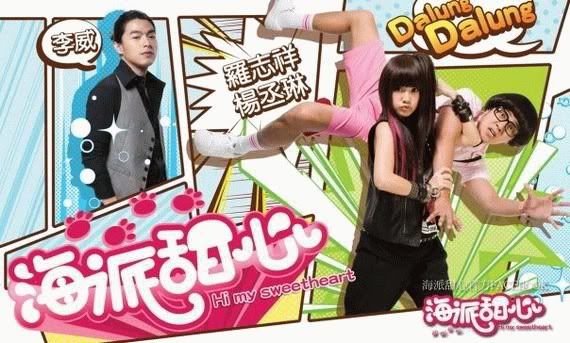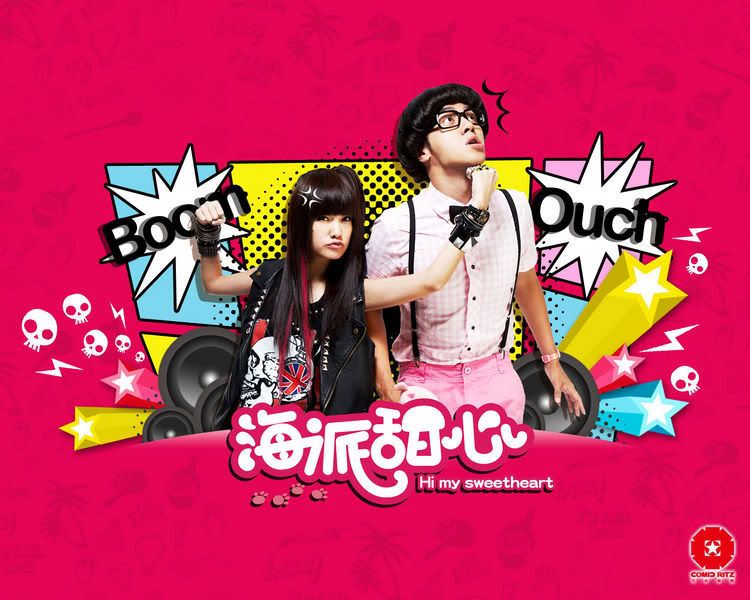 the adoroble duo in the drama poster!

i've actually watched bits and pieces of it since the show first came out, when i spot my lil bro watching it, but never really get to watch it fully as im either busy or by the time i spot him watching, he's already watching it mid-way! and so i eventually manage to get the show from him and started on it since Tuesday and finished watching it yesterday!! (i could have finished it by wednesday, but i went to meet Mr BF and only came home yesterday morning!)
i must say its definitely a show worth catching!! the plot is hilarious, yet with a tinge of fairytale-like-cute-romance!
basically its about a rich geeky-nerdy-mushroom-head-boy who decides to get out from his comfort zone and the protection of his over-protective older sister who vowed to protect and take care of the only son and her only brother at home ever since their parents died while he was young! he went to university and met a girl who is rebellious, extremely fierce and inert due to her family background, bad past records and experiences! the story then goes on about how they fell in love with each other and just before they graduated, something happened and caused them misunderstandings and broke up. after 3 years the geeky-nerdy-mushroom-head-guy totally changed into a very handsome charming looking playboy who doesnt believe in love anymore due to the hurtful breakup. ..........
well if i go on typing, i would probably summarize the whole story, and it wouldnt be fun watching anymore! thus, i would really recommend this drama to all of you Taiwanese-Drama-Lovers out there!!
lotsa laughters and some tears! i totally love the show~
da-lang da-lang, da-lang, da-lang da-lang da-lang da-lang
da-lang,
da-lang
da-lang da
~ (well you'll understand why i keep typing this if u've watched the show! =p) (hint: pink panther)
and also i love this phrase that was mentioned in this drama "
喜欢可以很多人,可是爱却只有一个 ! " by
薛海 aka
林
达
浪 !
________________________________________________________________________________
side track.
as mentioned, went to meet Mr BF on wednesday night after his work. drove over and picked him up and we went to have the Pig Kidney Mee Sua near my place. after which we went back to his place and rested for the night as he was feeling very tired after a long day at work. woke up on thursday and we went to Bedok central for his haircut before we have our brunch and head home after which. at night we went to pick his dad up together with the rest of his family and head to Changi Airport for dinner. and yesterday morning, i send him to work before heading home and continued watching my drama! =)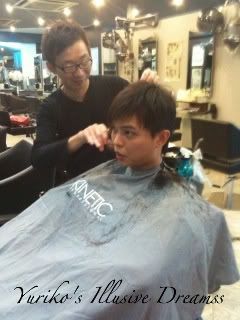 Mr BF having his haircut! and thats his hair stylist! =)