met
Caelyn
last
Thursday (4Feb10)
at
Somerset
and we head to
313
for dinner at
Yoshinoya
and chat up before we shop around and i gotten myself new bangles from
Forever21
! =) loves~ cuz its Gold~ hehe! after which head to
Orchard Central
, walk around a little and settled down outside to continue chatting and did a little cam-whoring when 3 cute caucasian guys came up to us and offered to help up tk photos~ and they cheekily came into the photo! haa! thats the thing i like bout caucasian guys. they're extremely friendly! =)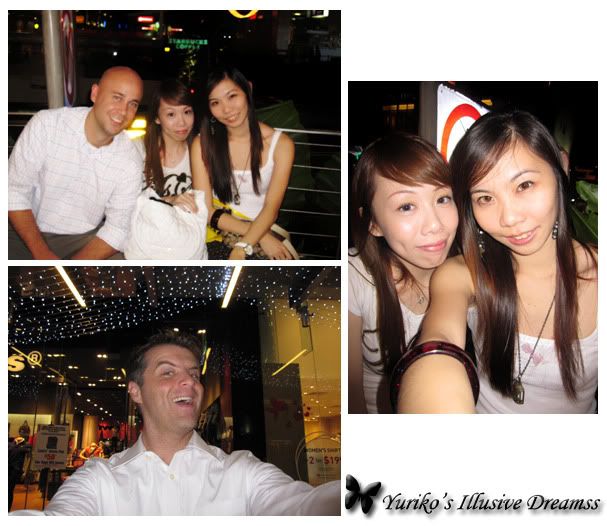 Caelyn, Me and the Unknown Caucasian guys! =)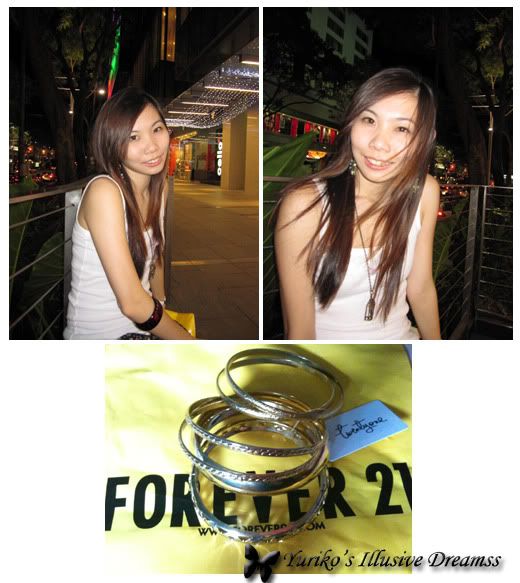 Me! love the wind blow effect! haha! and also the bangles i gotten from Forever21! =)
on
Friday (5Feb10)
i was at home and continue spring cleaning and in the evening,
BF
came over to meet me after his work, before we took a bus together back to his place. after which we head out to
Bedok
to get our dinner. The place was super packed! so much so that all the carparks were full and thus we ended up having to park very far away~ after which head home to eat and continued watching the HongKong drama before heading to sleep.
on
Saturday (6Feb10)
, woke up early in the morning and
BF
send me to
Clementi
for my
dental
appointment. Did a final retouching to my
rootcanal
and did the permanent filling and case closed for that tooth!
FINALLY
~ =) no more pain at night, no more pain on that tooth when eating sweet stuff and icecream! hehe! packeted some
Dim sum
back home to eat before we left again to fetch his dad and he send me home after which. Upon reaching home, took the car and drove me and mum to
Ang Mo Kio
for our facial session~ Wanna have better looking skin for
CNY
! hehe! after which came home and did some chores~
on
Sunday (7Feb10)
, continue spring cleaning with my family. this time theres lotsa activities going on in every corner of my house! each of us were cleaning and clearing a different section! and my house became very very dusty!! end up all of us came down with a running nose. and mine was probably the worse! =( *sulks* sneeze nonstop, and my nose was as red as rudolf! cuz i kept having to blow my nose with lotsa tissue and the abrasion cause the skin around my nose to come off and it hurts terribly when i wash my face! We then went out for dinner before sending some
CNY
goodies to my
aunt
. Her house has
5 cats
!! gosh~ and thats not making my nose nay better at all!! faints~ but i must say her cats are so cute especially the fattest one among them! haha! after that i was feeling very tired and giddy and slept thruoghtout the journey in the car while dad send my bro back to camp and we head home~ upon reaching home, i washed up right away and head to sleep~
as for
Yesterday, Monday (8Feb10)
, woke up early in the morning as some guys were coming over to do the car polishing for
Daddy's car
. in the meantime i came back home after handing over the car and key, and continue clearing up my very messy dressing table and dressing rack! in between went down to collect the keys and made payment before i came home to continue packing and went to bath soon after before heading out to
Orchard
to meet
Caelyn
again for more
CNY
shopping~ this time we head to
Fareast Plaza
~ had our lunch,
Claypot chicken rice
before we started shopping. and i must say their claypot rice is definitely one of the best i've tasted so far!
YUMMY
! =) after eating we starting shopping~ i ended up buying 3 pair of ear studs (
im in love with ear studs these days~ no longer into those huge dangling ones anymore~
), new pair of stockings, and a pair of heels, while she gotten a dress~
after which we took a bus and head over to
Bugis
to continue shopping~ as the weather is very humid we each gotten a cup of ice cold fruitjuice~ and i bought new eyelash glue and a tube dress~ =) after all the shopping is done, we head to
Chong Qing Steamboat
for our dinner~
Vic
(
her bf
) came to join us shortly after~ ate
ALOT
~ til i almost exploded before we parted and left for home~ =)
and i must say yesterday was a
bump-into-friends-day!
! in all i bumped into
4 friends
!
Eunice, Meiting, ShiHui
and
Watson
! =)
anyway as for today im gonna bath
Muffin
before heading to
Plaza Singapura
to wait for
BF
to knock off from work~ =)
Ciao for now~