*
Dinner @ Pu Tien (Tampines Mall)
Yesterday
,
Dear
went
Ubi
to collect his new
Federal 595 Tyres
, after which he send me home..but as i had forgotten to bring my keys, and no one is home yet, we wandered around my place, bought a drink and took a stroll around til my dad reached home~
as for
today
, did the chores and bathed
Muffin
, while
Dear
went to get his new
SSR Type C Rims
and got them fixed up with his new
Federal Tyres
, and finally fit them onto his car! *gosh* im gonna miss his old
STI gold rims
though~ cuz i personally prefer them more than his new rims~ reason being, its gold and has many spokes! his new rims is in gun metal colour and has only 6 spokes~ But oh well, he prefers the new rims, and its his car, so i have no say~ haa!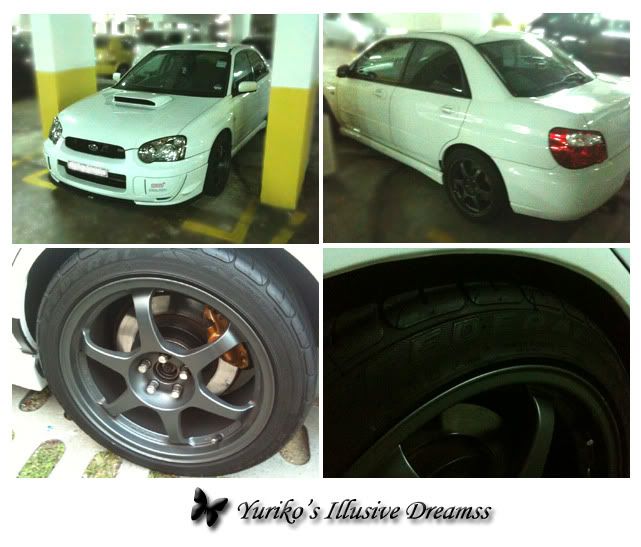 Dear's Ride's New Look, with his new Rims and Tyres~
anyway after everything was done on his side and mine side, he came over to pick me up and we headed back to his place. later at night, together with his family, we went to
Tampines Mall
to meet his uncle, aunt and cousins with their partners for dinner at
Pu Tien
~ It was indeed a sumptuous spread! We had a humongous plate of '
Yu Shang
' to '
Lou
', and also lotsa yummy food which are all in really huge quantity!
After the dinner, i was extremely full to the brim! And i later on found out that the dinner was VERY expensive! *faints* Not really worth the money, but oh well, everyone was happy i guess~ Haa!
After dinner, we headed home and watched soccer~