New Year Day Out~
yesterday woke up and prep and we went to pick his grandma and uncle and headed to
Plaza Singapura
to
Lao Beijing
on the
3rd floor
to have
Dimsum
~ food there is not too bad, but aint that fantastic either. we could get food from the buffet section and also order some stuff which are not under the buffet corner~ in anyway i dont think i would go back there to eat again.
after which we shopped around and
Mr N
bought me my
Geeky Spectacles
! =) weeeeeeeee~ had been looking for one that is nice and unique for a long time! and i finally found it! I especially like the frame and sides as the shape is nice, not too big, nice colour and unique sides as its made of leather~ (
i think
) haa~ in anyway its not something that is easily found and seen everywhere~ so i really like it! Now i just have to bring it to the Optician and get the lens changed to one that fits me! =)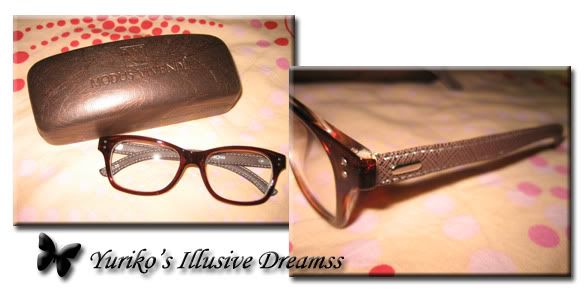 after which we left
PS
and head to
Tampines
for dinner where we had fish head steamboat, etc. after the yummy dinner we then head to
Changi Beach Club
to meet a few others of his relatives for
Karaoke
session~! =) during which me and
Mr N
went to scroll around and explored the place, which is really nice and relaxing as it faces the sea and beach! we enjoyed the scenery and the sea breeze for awhile before heading back in to sing and played with his very cute cousin
Fion
~ =) she's just so adorable and smart! and she pulled me into the kids playroom and into the pool of colourful balls to play with her and the other lil kids! gosh i felt like a
GIANT
in there! and im pretty sure i smashed quite a few of the plastic balls! hahaha! *
oops
* =p
but i sure had fun though i was really tired and totally drained! especially since we had minimal sleep as we slept at almost 5am and woke up pretty early to go out!
i can feel my eye bags and dark circles surfacing!! *
screams
*
anyway today woke up prep and we head to
Maxwel
l market for brunch before heading to his relative's place to see his new born niece! She's such an angel! beautiful smile and is really petite! and i like their dog named
Mickey
alot! its a Shih tzu crossed Maltese! super cute!
anyway, after which we headed home before going out again to
Changi Airport
for dinner and head home after which to watch football~ but i was having a bad headache and eventually fell asleep~