♥
Advertorial : LOVES COACH !!
Definitely one of the better online shopping sites I've patronized so far! =)
From the shop name itself, needless of me to say, they're selling mainly
COACH
items. Aside from
COACH
, they also bring in other brands such as
Kate spade
,
Ralph Lauren
&
Juicy Couture
! Items they offer are bags, wristlets, wallets and even accessories!
Their service is
EXCELLENT
!! Really PROMPT and EFFICIENT replies to all my email queries!!
On top of that, the bag i bought came in
PERFECT
condition!! Besides that, the thing i
LOVE
about them is that they provide
DOORSTEP Delivery
!! Yeap! No doubt about it and you didnt hear me wrong! The bag was delivered to my doorstep and she was really sweet and friendly!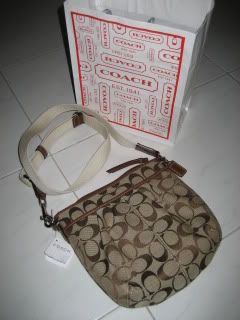 My new sling bag!! COACH Signature Pleated Swingpack!! =) Weeeeeeeeeee~ *HAPPY ME*
That aside, i didnt have to wait very long for it to arrive! In fact it came earlier then the date mentioned! It was suppose to be delivered to me from 3rd to 10th Dec, but it came today, less then an hour ago!!
For your convenience, you can arrange the date and time to suit your schedules!! Thus no worries about them delivering when no one is at home. (unlike normal delivery by the local postman!!)
Plus, all items are
NEW
and
AUTHENTI
C, and shipped in from overseas!! To prove all these, the items comes with the
authenticity card, tags, gift receipt, COACH tissue and COACH paperbag.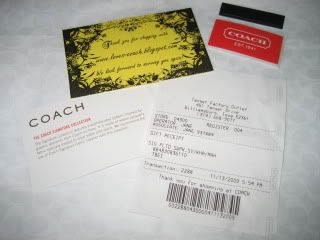 And if you're getting smaller items such as the wristlet or wallet, it also comes with the
gift box
!
Really saves me the worry of damaged items, lost mail, and fake items!!
And if you guys are wondering, with such good service, doorstep delivery, new and authentic items that comes with everything else mentioned above, the price would be pretty high or close to those at the boutiques.
YOU'RE WRONG
! the
GOOD NEWS
is the price they offer are really
GOOD
!!
I would say my entire shopping experience with them was
GREA
T!! Thus im recommending this site to all of you! =)
X'mas
and
Chinese New Year
is coming!! Thus, Happy Shopping!! Hope you can find some nice gifts for your friends and yourselves! =)