i always LOVE saturdays!
yeap. cuz its the only day of the wk i meet my bf, since it my mugging period right now, and we're both simply too busy!
well he came by in the afternoon and had lunch below my place and went to buy some potato chips! yummy! after which headed back to his place. he took his nap while i was watching tv and munching away on the potato chips! and at about 4+ we prep and went for
Church service
as usual at
Expo
. We had a very inspiring and powerful speaker cum pastor with us that day, and he is non other then
Dr A.R. Bernard
! He was so good that the service lasted for 3 hrs!!
WOW!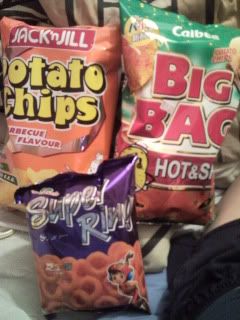 My PotatoChips and SuperRings! yummy! =)
after service, as it was raining, we decided to have dinner with some of the
CGM
at
Macau Express
located at
Expo
! fellowship was great! even though this time round there were only a few of us since the others had other appointments to rush to. But we certainly had a great time chatting bout old handphones, pagers, studies abroad, falling down, bumping into glass doors and etc.! Its so funny we kept laughing throughout! On top of that, the food at
Macau Express
was quite
GOOD
too! tasty, the portion was just right and the drinks were all quite refreshing and nice! =) After which we send a few of them to the
MRT station
before making our way back home for the night as we were both very tired. =)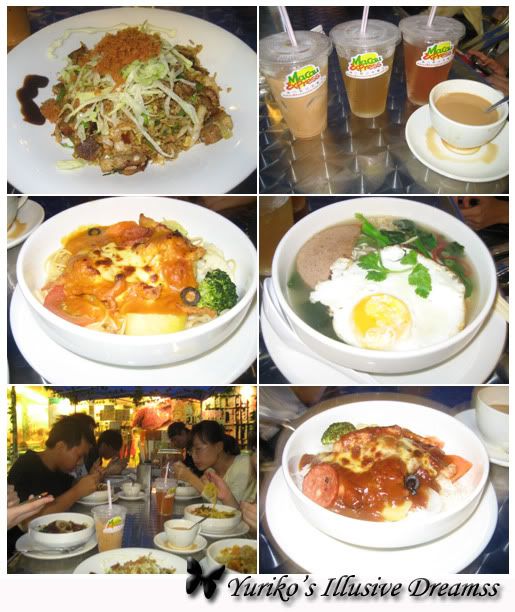 the yummy food~ Macau Fried rice, PorkChop Spaghetti, Baked Beef Spagetti, Noodles, Baked Rice, Etc.
and the yummy drinks, HK Milk Tea, Rose Tea and WaterCres with Honey!
and of cuz, the nice people! =)