Supper and Movie outing with e254!
yesterday
night received a sms from
John
to inform me that they are going to catch a movie at
Downtown East
. i was pretty hesitant at first, as firstly i was lazy, secondly i had initially wanted to catch the show with my
BF
, and lastly, i was feeling pretty down since
BF
had flown to
India
.
But ended up after some sms and calls, i decided to join them. Instead of feeling so alone at home, i might as well join my friends! =) And so at 9pm,
Shixiong
and
John
came by to pick me up and we headed down to
Downtown East
to meet
Leon, Xiuying
and
YaLun
to catch the show,
"Ghost of Girlfriend's past"
! Its a very
AWESOME
show!! 4.5/5 Popcorns!! A combination of comedy and romance! Definitely my favourite category of movies!! =D
Well, It's a cleverly comedic twist on
Charles Dickens' A Christmas Carol
, where Fashion photographer
Connor Mead
(
Matthew McConaughey
) who is a typical ladies' man and playboy, meets the ghost of his Uncle Wayne, who returns to warn him of his wicked ways, along with visits by the Ghosts of Girlfriends Past, Present and Future. And after this very night, his theories on love are destined to change!
anyway its a recommended show! and i wont even mind watching it
AGAIN
! Think i'll most likely get
BF
to watch it when he returns! and i'll be there to watch it again with him! hehe! Yay! =D
After the show, we left and headed down to
Changi Village
for supper~
Leon
and
YaLun
had the famous
Nasi Lemak
, while the rest of us just settled for drinks and desserts! Yummy! I ordered the
AloeVera De Strawberry
, while the rest of them has Ice Kacang, Avocado with Durian and Redtea jelly (
something like tt, i cant rmbr whats the actual name of it!
). I must say, the desserts there are all quite good! especially the store's famous red tea jelly! =) After which
Shixiong
send all of us home! =)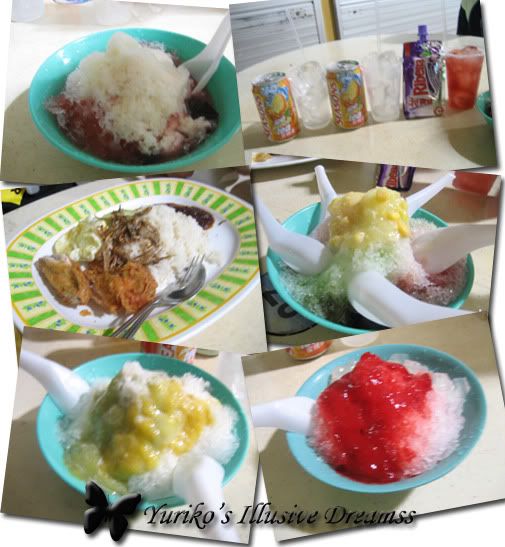 the foodie~ but obviously the photos dont do justice to the food at all! cuz the quality is pretty bad due to bad lightings, shaky hands and a lousy camera tts low batt and died after our group shot! =(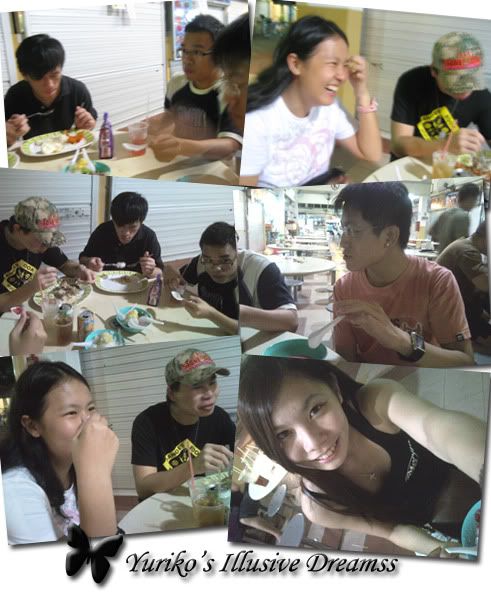 makan-ing~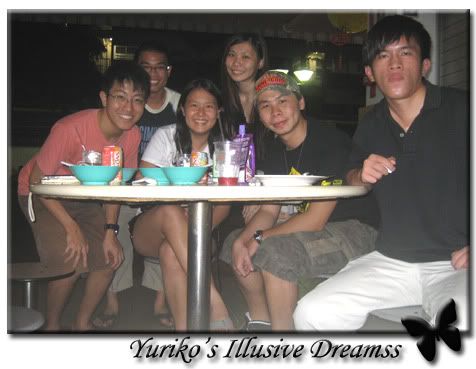 Groupshot at Changi Village! =D
(
left to right: John, Shixiong, Xiuying, Me, Leon and YaLun
)
As for today, as usual
Monday
is my rest day and in the evening i'll have to go to school~ sigh~ double booo~