Chillout Session at ECP 1 Twenty Six!
friday night
after
bf
went for dinner with his ex-colleagues, he came to pick me up and we went back to his place for the weekends. watched some videos online and went to slp at about 2+am.
as for
yesterday, saturday
, spend the day rotting at home, til
2+pm
,
Sylvia
came over and went to
Singapore Expo
for lunch and chatted before
Myron
came to join us. at about
5+pm
, we went to meet
Eugene
and headed in to
City Harvest Church
for service. We had
Rev. Dr. John Avanzini
sharing the word of God for the night, and will be having
Dr. Stephen K. Munsey
for next week's service! =)
anway after the service, some of the members of
E254
and us went for dinner at
WhiteSand's Xin Wang Hongkong cafe
. This time i ordered the
Chicken and Salted Fish Fried Rice
which i had problem finishing as the portion is really huge! had my favourite
Ice Milk Tea
,
Mango Snow Ice
and
French Toast
again as well. =) after the great chats and dinner, they went for their next drinking session while
Bf, Sylvia
and
i
left and went for our own drinking and chillout session at
East Coast Park 1 Twenty Six
! Yeah! i love the place since the
previous time
i went with my bf and am looking forward to it! =) Upon reaching, ordered our drinks,
Sylvia
had
Passionate Blue
,
Bf
had his usual
Erdinger White
while i had my
HoeGarden
! it wasnt long before i was sweating and fanning myself! The weather has been pretty humid as of late! and i hate it since i totally dread sweating! On top of that, the seats we were given were really bad!! there werent any wind or fan blowing into our area! Soon the crowd from another table nearby left and we quickly requested for a switch in place! Thank god for that as there were at least fans facing us so it was abit cooler! It was so bad that even my cold Hoegarden didnt make me feel any cooler~ Anyway chatted and drink and soon
Sylvia
left while
Bf
and me continue to chill and had our personnal talks til bout 1+ or 2am before we went home for the night.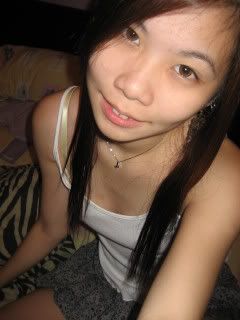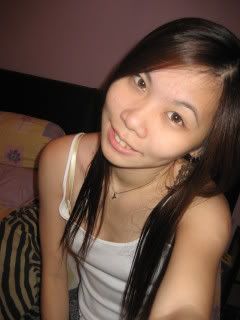 taken before going out for the day!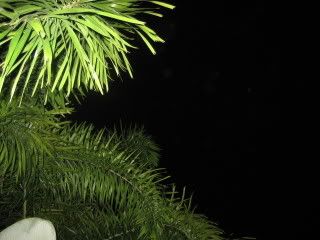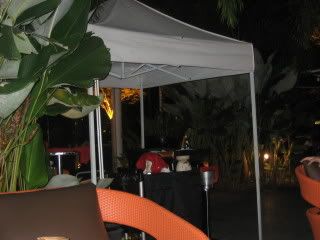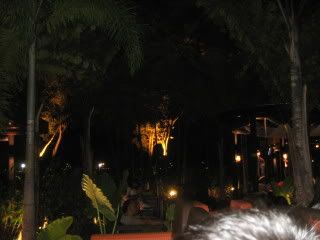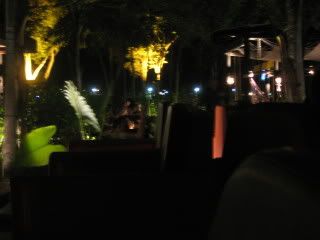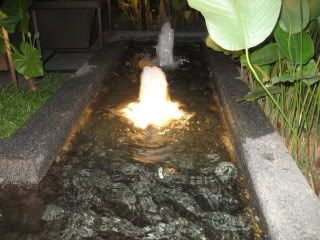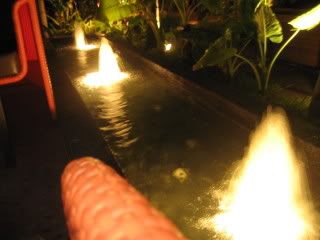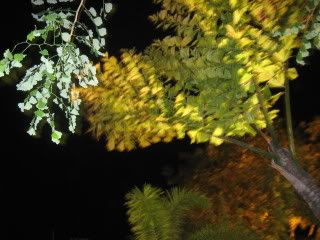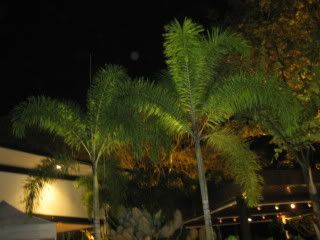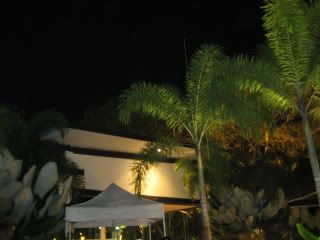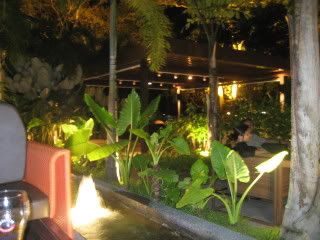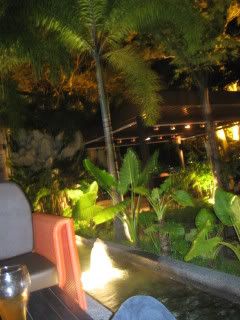 at 1 Twenty-Six! oOo..i love this place cuz of its outdoor bar concept just like Villa Bali! the greeneries, the lil fountains, the beach tts beside us and the music that were played created an awesome ambiance! On top of that i was in for a treat as the skies were filled with stars for the night! i totally love the stars and was stargazing most of the time while Sylvia was on the phone and Bf was resting his eyes! haha! What a beautiful sight! this explains the pictures i took of the sky and the leaves above us! =p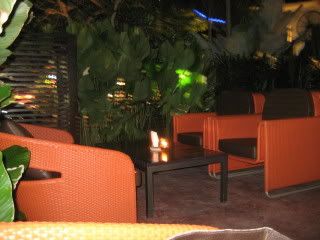 the horrible seats we were initially sitting at! the location was bad as no wind passes through or reaches this part of the place! Its at the corner directly behind the toilet area! So peeps, the next time you guys visit the place try to avoid these seats!!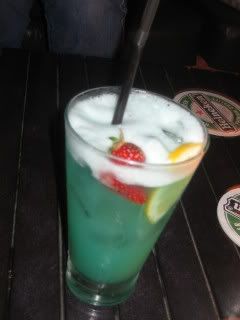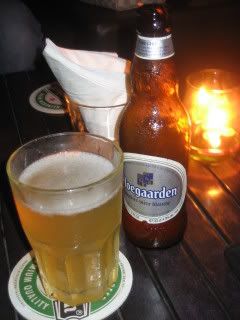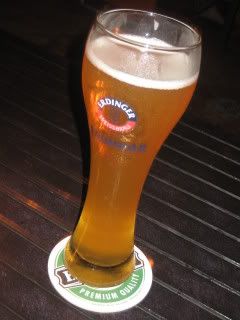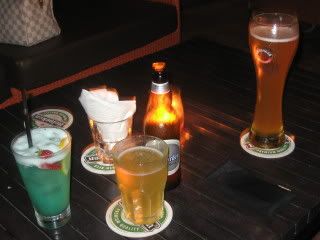 our booze for the night!~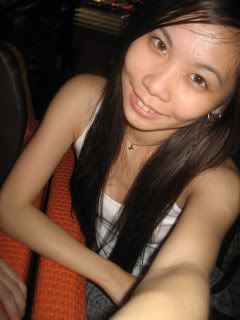 Yours truly! Camwhoring as usual~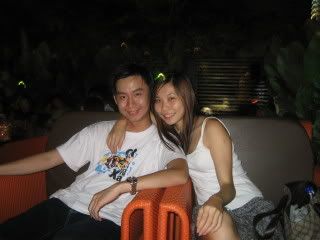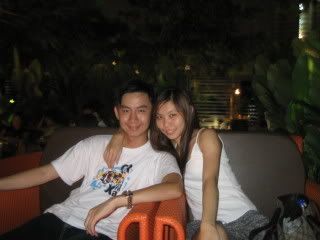 Bf and Me! =)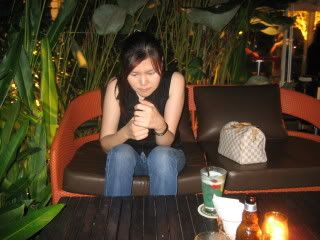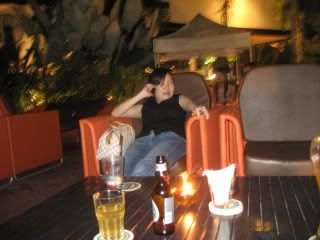 Sylvia! busy on her hp! she was busy majority of the time we're there! 1st pict taken at our initial seat. 2nd pict taken at the seat we move to later on in the night! haa! =p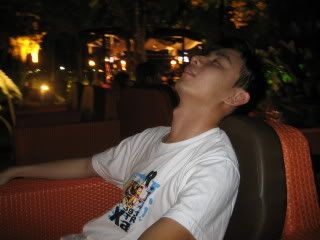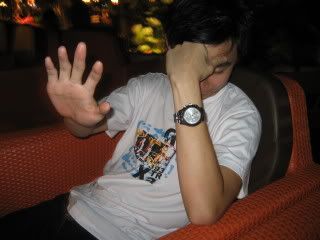 thats my bf! can you tell if he's trying to look drunk or is he really drunk? haa! =p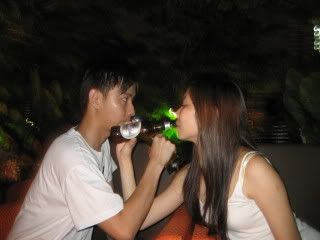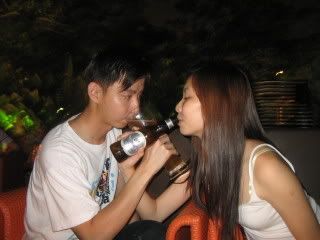 interlock arms drinking~ =) in mandarin also know as '
jiao bei jiu
'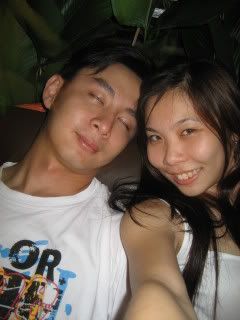 with my tired/drunk looking boy! (whichever u tink it may be. hehe!)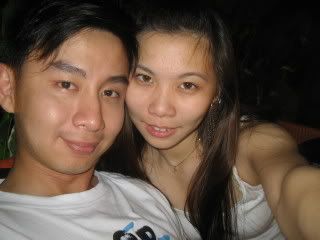 the weather is so hot that i eventually clipped my hair up!! was sweating!! ewwwwww~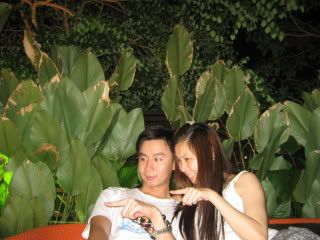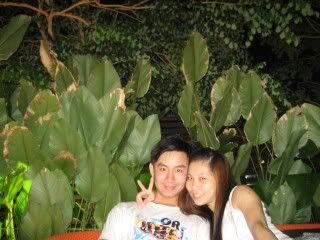 some self-timer shots taken while Sylvia was on the phone, and we had nothing to do~ haha!
As for
today
, we practically rotted the whole day! in the evening we went to
his bro's place
to collect our
Advanced Diver Theory book
and went for
dinner
nearby before he send me home. =)
Right now, i'm just looking forward to our
Advanced Diver Trip
to
Pulau Dayang
from the 8th to 10th May09!! =)