Surprise for my Baby boy! =)
Bf's birthday is coming soon, but he's gotta go for reservice for 2 wks! which would mean tt he may and may not have to be in camp on his actual bday depending on the schedule. not wanting to take any chances of missing out on his birthday, i decided to take out some of my mugging and exams revision time and prepared a handmade birthday card for him! encountered some probs along the way and kept re-doing, but i was determined to finish it! end up by the time i finish doing the card it was about
4+ to 5am
! i started on it at about
1am
!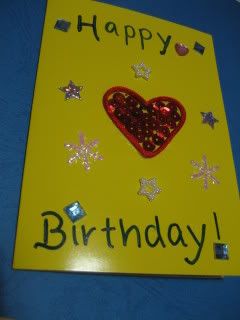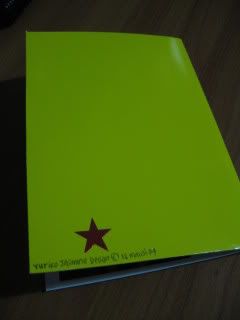 looks pretty kiddish and simple i know!
(im not a art student anyway..LOL...but i do believe i could have done better if i had more time to look for nicer resources and inspiration! haha!)
but still glad he likes it and its now happily standing and flaunting on his shelf! =) *grins*
(and to console myself...its the thoughts tt counts! LOL)
went to slp and set alarm to wake up at 10+ so i can rush down to get a gift for him before heading to
KAP
to study as usual with my study mates. but ended up i was too tired and didnt hear my hp alarm ring. only woke up at about 1pm. woke up and prep and rushed down to
Bugis Junction
and shopped around hoping to find something for him! combed the whole place and ended up hesitating between a few choices before i eventually got him a shirt from
Topman
which i felt was suitable for him to wear to work and yet also to go out! =)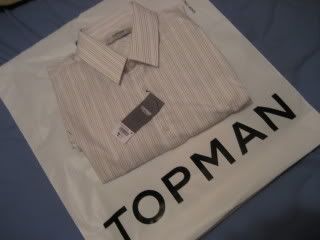 after getting the gifts rush down to
KAP
(King Albert Park) to meet my mates to study but before heading up to
McDonalds
, i went to
Swissbake
which was just below to order a
Mango Cream Cake
for him! Studied til about 8, then i went down to
Cold Storage
to get him
Black pepper chicken
and some
sushis
, and collected the
birthday cake
and went down to his place.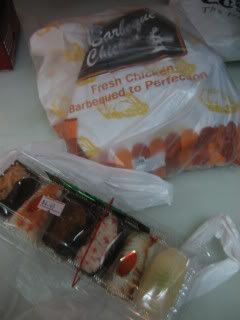 the black pepper chicken and sushis! we had KFC as well but i forgotten to take a pict of it! it was brought by his mum~ more chicken for the day! haha!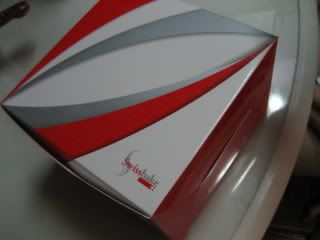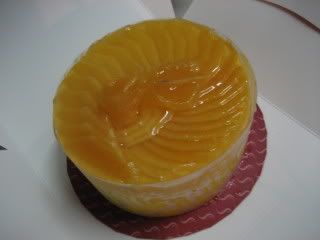 the yummy Mango cream cake from Swissbake for Baby's birthday! =)
As he had went to the car workshop
(i had called before going down just to make sure he is home~)
, i took the time before he got home to place the gift nicely on his bed, hide the cake in the fridge and place the food on the dining table and waited for him to come home! =) When he reached home, he was first presented with the birthday gift and card, which he was pretty surprise and happy about as he had though i would be too busy with my exams preparations to get or do anything for him! hehe~ we then had our dinner and it was time for the second surprise! his birthday cake! hehe! =) did the usual cake cutting and blowing before we both eventually watched tv and we both knocked out to slp for the night~ =)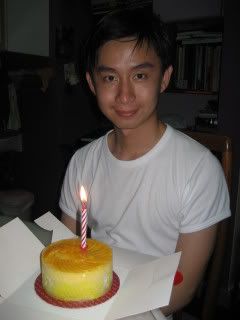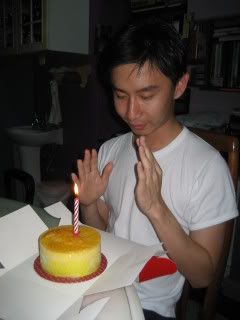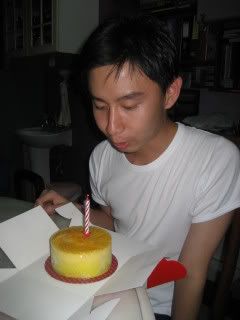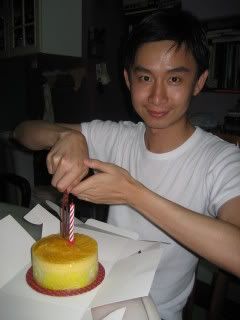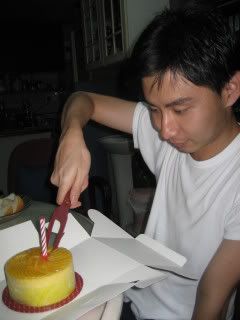 Happy and Surprised Birthday Baby with his cake! =)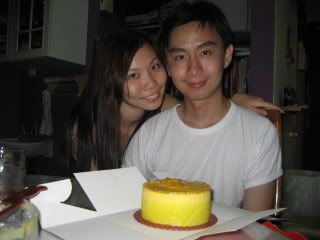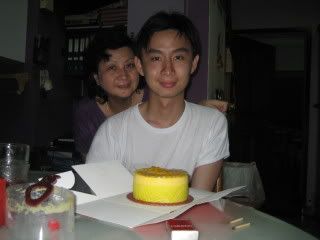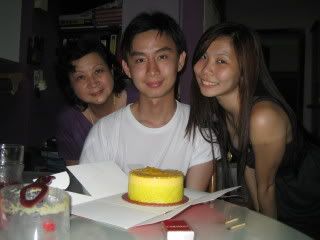 Baby's Mum, Baby and Me! =)
Happy advanced birthday baby! =)