Bangkok Here i Come!
in just another 6 hours plus from now i would be on the plane flying towards
Thailand, Bangkok
! This trip would be going with
Shirlene, Linda
and
Yvonne
. Shopping madness, Cheap Massages, Non stop eating and tons of Fun Fun Fun with my girls~! So looking forward to it!
But yet i would be missing my precious
Muffin
,
baby
, my
family
, my
room
, my
blog
, and my
loyal readers
! But fret not! Its only a short trip and i will be back on Monday Night! Thus dont miss me too much! haha! =D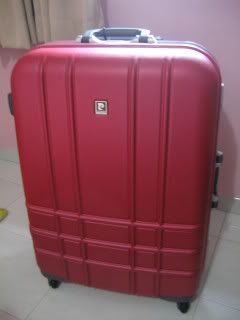 My Luggage! All packed up and ready to go! =D It very big and very empty now! i so wanna filled it up when i come home! haha! =p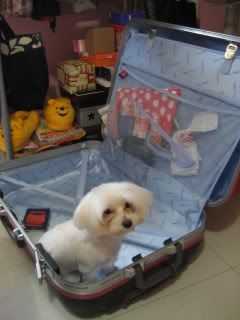 My
Darling
in my Lugagge! He says he wants to go too! Im sure i can smuggle him in! My luggage is almost empty and he wont take much space! Plus my luggage is so big he can even move ard in them! hahaha! awww..
Muff
~ dont miss me too much i will definitely miss ya too! Will try to bring lotsa stuff for u back from
BKK
! =D