my lil bro is a big boy now..
how time flies.... suddenly i realise my lil bro has grown and mature so much... the once homely lil bro i know, is going out often now.... staying out overnight with his friends..(okok i know i sounds a lil over protective..haha! cuz no matter wat, to me he is just my lil bro no matter how old he is now~ =p) and today, he'll be
enlisting
into the army to serve the nation at
Pulau Tekong
.. gosh im starting to feel old.. -.-" plus im so sad as im unable to apply for leave to join my parents who would be going with him.. im so gonna miss him while he aint at home~ haha!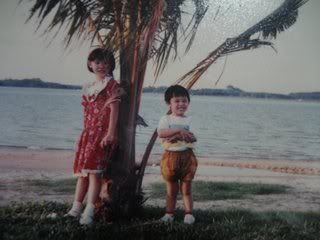 me and my lil bro back then when we were still so young! i was so much taller than him back then...and he was so very cute! and notice that my hair was always tt short back then, thanks to my mum! haha!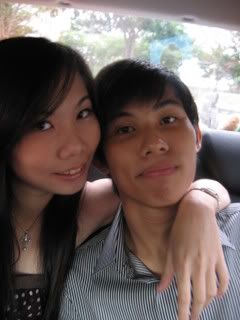 me and my lil bro's most recent pict! he's so much taller than me now that many mistaken him as my bf. haha! looking so gd and much mature now eh~ haha! i still miss the lil him back then..haha...short cute and chubby...and stilla lways as tanned as ever~ lol!
anyway
yesterday
after work met up with my darling
Brenda
for
CNY
shopping at
Bugis
...had
Yoshinoya
for dinner, shopped ard and i bought 3 dresses while she gotten a shorts, a tshirt and a sweater.. haa..after which we continued catching up over coffee at
starbucks
before finally making our way home.. =)