dreads CNY..
really dreading
CNY
...nothing gd comes out of
CNY
...sigh...this yr it aint any better..well...i must say first day was still some what ok....but today its bad! well i spend the whole of
CNY
day 2 at home rushing my
HRM
assignment and
ASM
proposal! sigh...my bro has to book in back to camp at 6+pm...and on top of that...at about 5+pm recieved a call from my bf that he and his mum met with a
car accident
and his
car
is a
total loss
....i got so worried upon hearing that..but as he was rushing to the hospital for a check up and to see if his mum is alrite, he didnt tell me much and thus i just had to wait at home for more news from him...
rushing my assignments, worrying for my bf and his mum, and waiting for his call is like a total hell for me...sigh...
anyway finally at bout 8+pm received a call from
James
, bf's bro and was informed that they're at
Raffles Medical
...i prep and rushed down right away....and finally my worries were cleared...
THANK GOD
that both of them are alright...and after having X-rays and doing the CT scan, they're fine too...so glad my boy is alright... but heartpain for him since his car is totally thrashed now...
damn that careless red Tuscani driver
who swired out of lane and knocked into him...to think he has 2 kids in his back seat! so irresponsible... hopefully everyone is fine... this whole event bring back some bad old memories and recollection of my accident 2 yrs back where i had turtled the car and cause sucha trauma for my passengers back then...
THANK GOD
once again that everyone came out fine....really apologetic for what had happened...sigh...how irresponsible i was back then, that had caused me to lose some friends and made new enemies... oh well..past is past...i wont look back anymore....i've alrdy learnt, friends come and go...and thats life..
tmr gotta wake up really early to accompany him go settle his insurance stuff, go down to the traffic police for his statement and report, go to Sin Ming to settle his car's stuff...its gonna be a long day.....and i still have to rush my assignment before i slp...
argh....dread CNY!!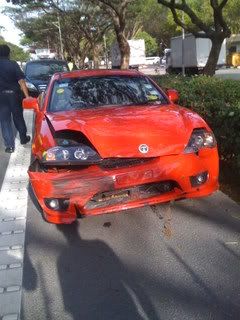 the stupid Red Tuscani!
his once precious...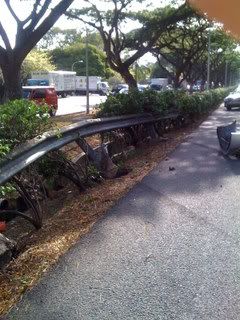 the wreak!