Carpe Diem!!
yesterday after work, went home to prep, after which
Baby
came to pick me and
muffin
up, and we went to
Bedok reservoir
,
ShengSiong Supermarket
to do some groceries shopping! bought
Crab claws, Mussels, KaiLan, Potatoes, Cornflakes, Freshmilk, Raisins, Nata De Coco
and some
potato chips
~ after which went home and i went straight to the kitchen to cook our dinner for us, his parents, his sister and his nieces~ faints. stresss! LOL. cuz most of the dishes are my first time tryout only! Haha! so yea..cooked the crab claws with ginger onion and salt, butter mussels, oyster sauce kailan and baked potato~ well.. i personally feel my culinary skills needs lots of practice! faints! gd thing, all still edible! haha! i will definately wanna try cooking other dishes again soon! cooking is fun..not the washing up though! LOL! and thank god non of his family members ended up with bad tummies~ haha! didnt tk any photos though! sad. forgotten bout it! Haha!
Anyway after which washed up and watched tv for awhile before going to dreamland le. This morning woke up and had breakfast. stoned ard for awhile before
Baby
send me home while he went to
Pulau Ubin
Cycling with his friends. sad that i cant join them cuz i need to be mugging for my coming supp paper this thursday! stress!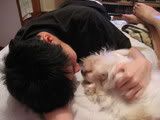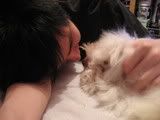 Baby and Muffin playing~ =p
My Name (Jasmine) Magnet from Baby's Niece, Shevonne! =)
btw heres wat it says..
Jasmine
Origin: Persian
Meaning: Jasmine flower
Characteristics: Suggests a pretty, gentle, imaginative, fickle and lively lady
hehe, guess what,
Baby
says the characteristics that it describes sounds exactly like me! haha! so i guess this name
Jasmine
, does suits me indeed! LOL! =p
outdated photos taken last wk!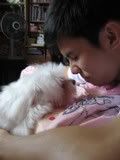 Muffin with my Lil bro! so sweet yea! hehe!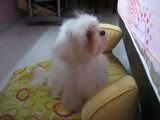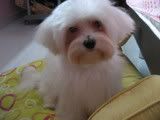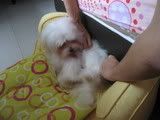 Lil muffin after bathing~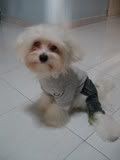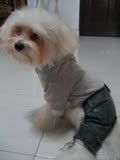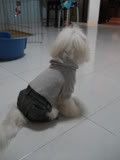 Muffin all ready to go out!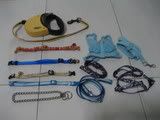 Muffin's collection of collars and harnesses! im sure there'll be more to come! haha!
k la..gonna get back to muggin! Ciao for now~ wish me luck!!