Selamat Hari Raya & Happy Children Day to one and all~
Ytd
after work, went to
Boonkeng
to meet
Baby
.. As he left office late, i walked ard and shopped by myself while awaiting for him..bought some stuff before he came and we left for the
Malay Village
~ Bought
Ramly Burgers
,
Dendang
and some other yummylicious stuff for dinner..after eating, we walked ard and window shopped..and i almost bought myself some malay clothings~ haha! i even tried it on! they're all really nice and i was pretty tempted to buy them to wear ya..only prob is.. felt kinda hot in them~probably cuz the place was alrdy pretty stuffy and after all tt walking i was kinda feeling sweaty~ but well..in the end i didnt buy anything...sad! haha..but we bought some
cookies
home to eat! yummylicious!! love those handmade cookies done by our fellow malay friends..they're really yummy..hehe! after which, we left and went back to my place..i got changed and prep some stuff and brought
muffin
along back to
baby
's place..i was feeling very tired and dozed off while watching tv..
this morning, woke up and had breakfast..and we rotted at home til afternoon, brought
baby
's
mum
and
dad
to visit his grandpa before we went to
bedok
for dinner..after dinner, went home and washed up...watched tv shows like
Friends
and
The Moment of Truth
..after which
baby
send me home le.. =)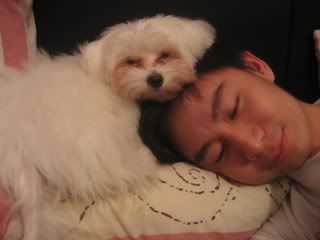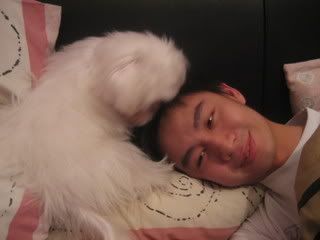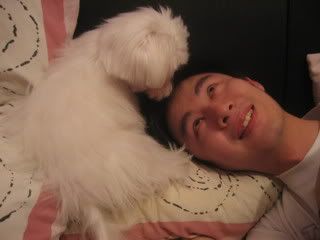 Muffin
happily made himself comfortable by lyin on top of baby's head while we're watching tv! haha! i couldnt stop laughing and quickly took my camara out to snap before he decide to change position~ haa!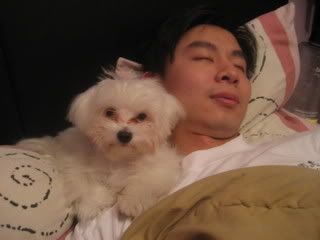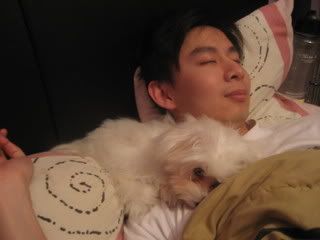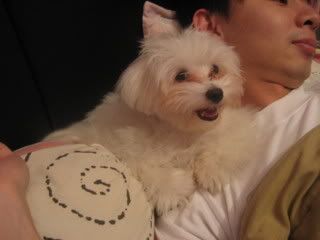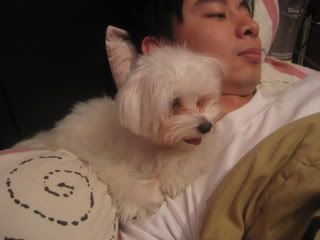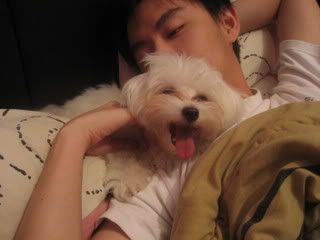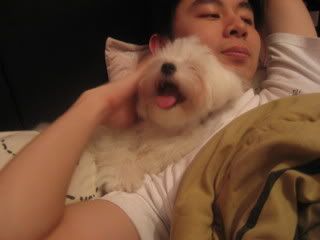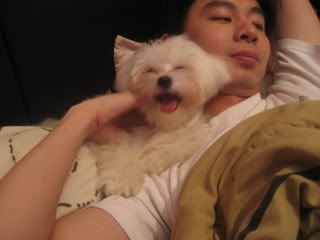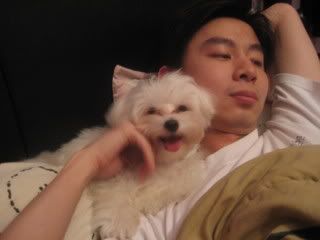 after that, he switched position and lie on baby's shoulder! haha! so
sweet
of
Muffin
yea..hehe! and
Muffin
have got that very priceless satisfied and happy look on his face when baby is rubbing his head and face..hehe! simply sweet and adorable!! =D comments from Mike is that these pict reminds him of Theodore from Alvin and the Chipmunks~ "
Dad, can I sleep with you tonight? I had a nightmare
" hahaha! i totally agree with u korkor! hees`..my darling Muffin and Baby just knows how to make my day! =D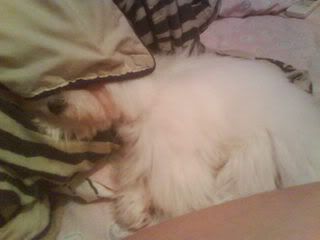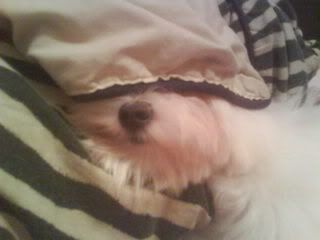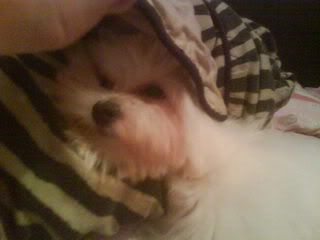 and this is
Muffin
hiding his head under the blanket! i swear i didnt use the blanket to cover his face! he hide himself in there! LOL~ super adorable! and when baby lift the blanket up, his face looks super blur~ haha! think he doesnt seem to like the lights when he's slping~ =p
anyway tmr gotta work, i better get to slp soon.. ciao for now~ =)