Shop Shopped Shopping~ Eat Ate Eaten! Walk Walked Walking~! That's all we did!
BKK
is totally a shopping heaven! Its been quite awhile since I last went there 2yrs ago with some of my girl friends. In need of my short getaway and break from my stressed up days in S'pore. Therefore, just less than a month back we decided we should just getaway~ With a few simple clicks and typings, I booked both our air tickets and hotel accommodation!
Last Thursday (17Mar11)
after work went home to do some last minute packing, after which Bf came over to pick me up and we head back to his place. Helped him to pack his luggage and I went to sleep right after.
Last Friday (18Mar11 – 1st Day)
early morning 5am I woke up to shower and woke Bf up. Pack in our toothbrushes and his parents sent up to the airport. Checked in and went to McDonalds to have breakfast before we head in. Walked around a little, before we went to board our plane,
SQ970
at 7am (
SG timing
). Off we flew to
BKK - Suvarnabhumi Airport
. Upon arrival (
8+am BKK timing
), the pilot made an announcement that the temperature at Bangkok is
19degree celcius
! Gosh! So
COLD
! Anyway we proceeded to get our passports stamped and we went to collect our luggage before flagging a cab and head straight to
Grand Diamond Hotel
(
the place we're gonna be residing for 4days3nights
!). Check-in to our hotels, and left our luggage with the concierge. As our rooms were not ready, we head to
Platinum Mall
next door to commence our shopping spree~ First item I bought, my hat! Been wanting to buy it for quite awhile now and SG is totally overpriced! Bought a couple for stuff before we head back to our rooms at 11am. Placed our stuff down and we head out again to shop~ Shopped at
Grand Diamond Plaza
which was just below our hotel, and after which placed our stuff back in the room and took a '
TukTuk
' and we headed to
MBK
to continue shopping! Had our lunch at
MK Retaurant
, and at night we went to
Hui Kwang
(
not sure of spelling
)
Night Market
to shop til late before we bought
'PhatThai'
back to hotel for supper~ Indeed it had been a cold cold day and night! I was so surprised that BKK had such nice cooling weather too!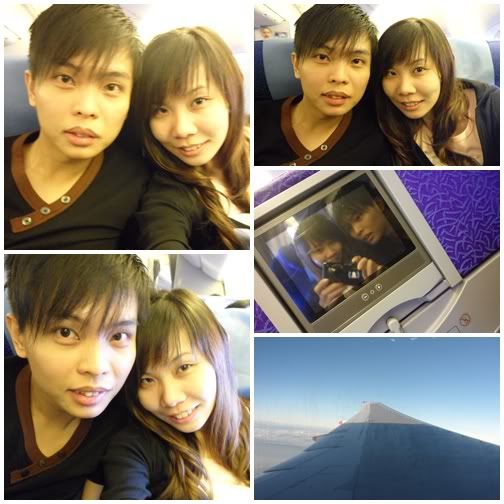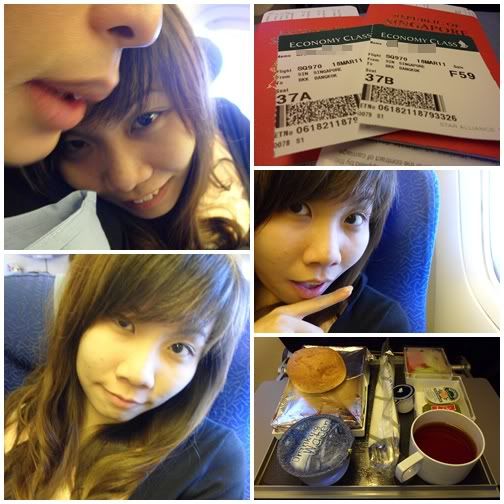 On SQ970, flying towards BKK!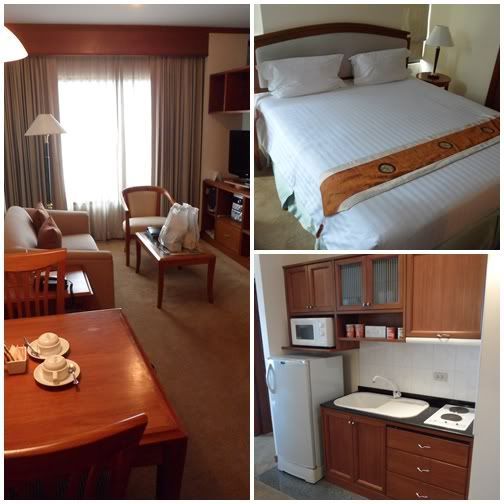 Our Room at Grand Diamond Hotel!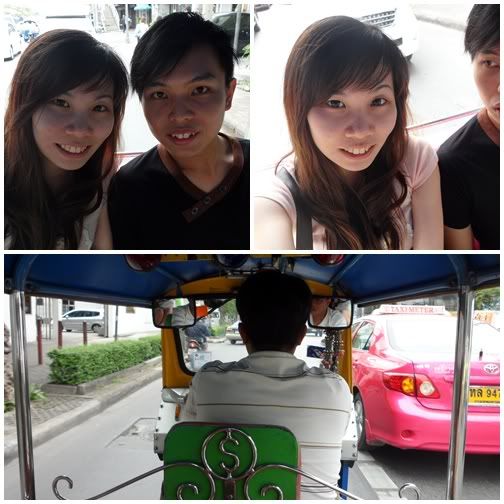 On the 'Tuk Tuk'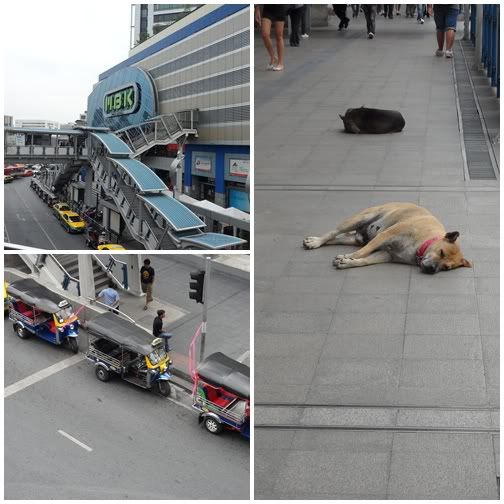 At MBK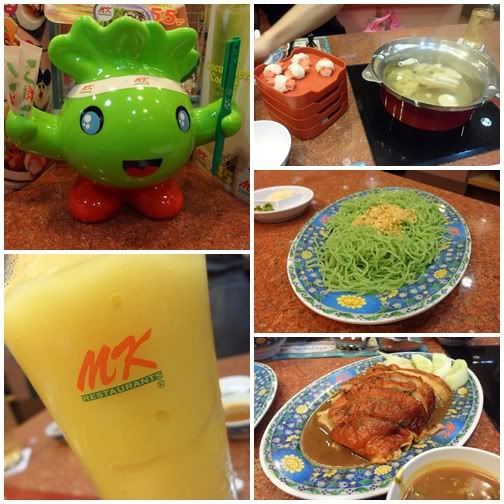 At MK Restaurant having our lunch!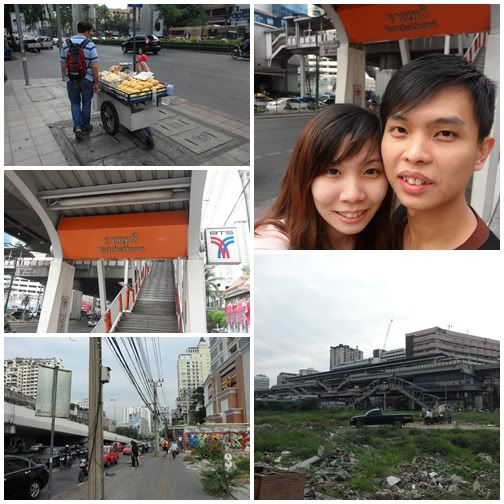 The Ratchathewei Train Station, and the streets!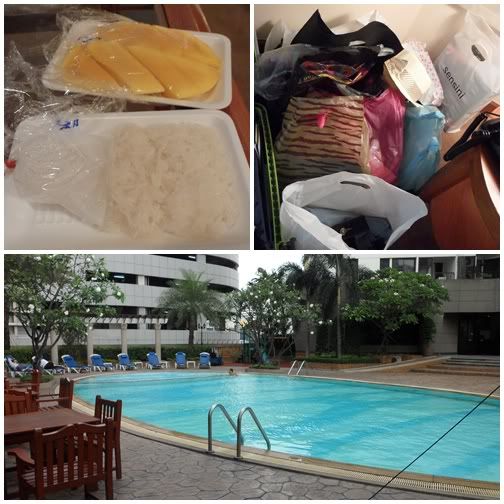 Our shopping loots on the First Day! My favourite Mango with Glutinous Rice, and the swimming pool at our hotel!
Saturday (19Mar11 – 2nd Day)
woke up washed up and we head out to take the
BTS
train to
Siam station
. By today the weather had gone back to the usual
BKK
temperature!
HOT
and
HUMID
! *faints* Walk around Siam square and went to the "
Four-Faced Buddha
" temple. After which we shopped around
MBK, Erawan, Central World, Siam Paragon, etc
. We even had the experience of walking through the
Red Shirt Protesters
! The speaker was on a vehicle speaking through the loud-speakers, and the crowd in red shirt were cheering and clapping! What an experience for me as we'll never see such a sight here in Singapore (
at least not in this century
). Ate our brunch at
Yum Saap
(Central World), super yummy and cheap! Had
Auntie Anne's
Cinnamon Sugar Pretzels and Lemonade as well! Continue walking and shopping and head back to our hotel to place our stuff and rest our feets abit before we head for our
Thai Massage
! After which we shopped around the area abit before we took a cab down to 'Su Pang Put' night market (
not sure of spelling
) and did more shopping again. After shopping we cabbed to
Chinatown
to have our super filling dinner! We order
2 pots
of
Sharks Fin Soup
for each of us, a bowl of
Birds Nest
, fried rice and fried fish cakes(
i think
). I was so full I almost exploded and puked! This is the most expensive meal we had throughout the whole trip in
BKK
, but comparing it to S'pore, its still pretty cheap! The food is superb and really worth it! After dinner, we took a 'Tuk Tuk'(
seriously almost puked after the ride back as it was jerking so much and i was toooo full
!) back to our hotel to rest for the night.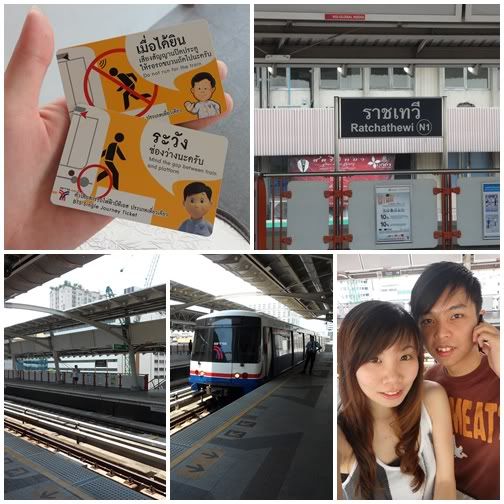 Taking the train to Siam!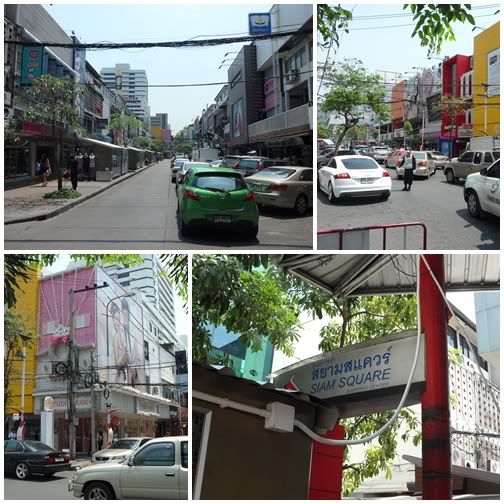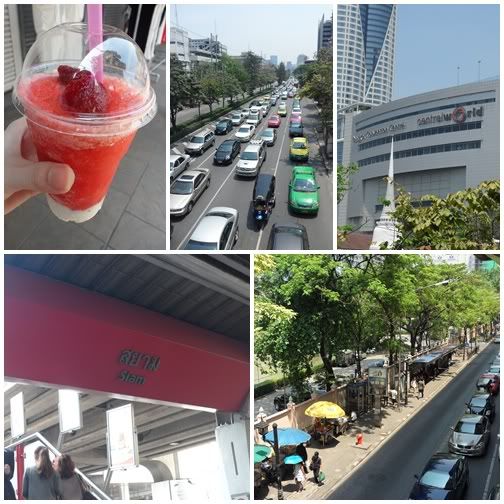 Siam Square, Central World and the streets~ And my yummylicious strawberry ice blended drink!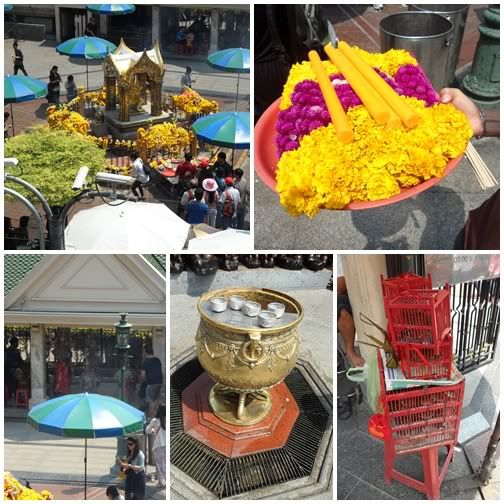 At the 'Four-Faced-Buddha' temple~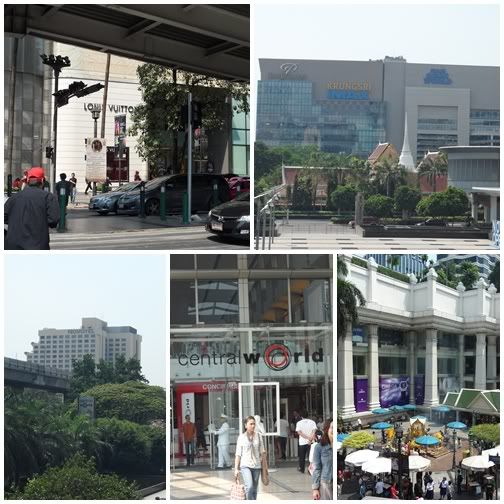 Shopping around~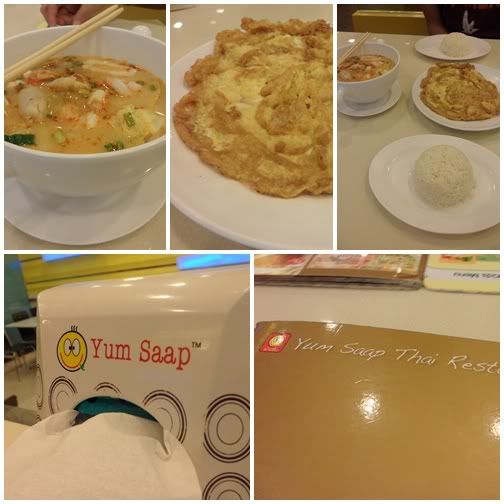 Brunch at Yum Saap (Central World). The Tom Yum Soup is awesome!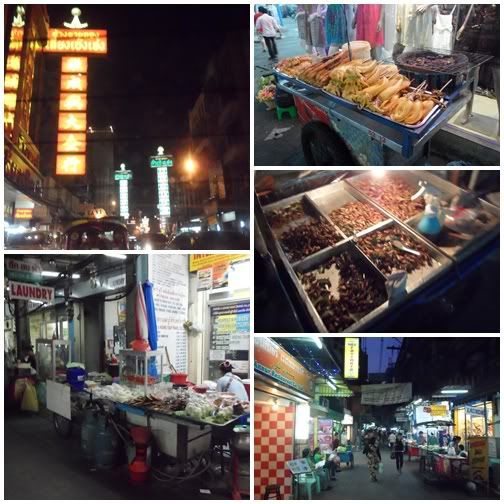 The streets at night!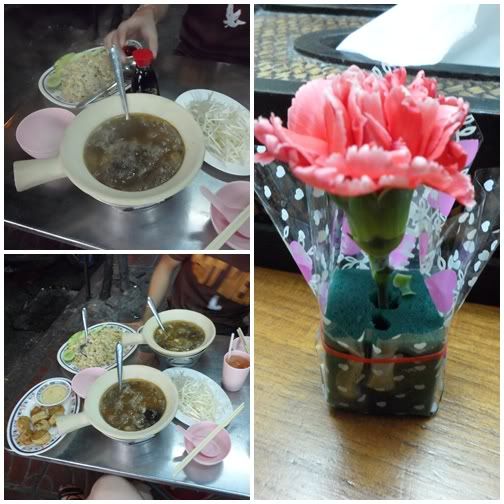 Our yummylicious meal at Chinatown (Sharks Fin, Bird Nest, etc.), and the flower we bought from a random seller walking around.
Sunday (20Mar11 – 3rd Day)
we went to
Platinum Food Court
for brunch before we took a cab to
Chak Tu Chak
! Its Shop Shop Shopping again! Bought a couple of tshirts, bags and stuff, and many many stuff for my
Muffin dearest
! Bought him 4 tops, 2 sets of shoes, a new collar, his yummy treats and 2 boxes of his heartgard!
Dirt Cheap
!! After all that shopping, we head to
JJ Super Mart
for our lunch at
Chester Grill
! Ordered a whole table filled with food! After makan, we shopped again around the mall before we cabbed back to our hotel to put our stuff down. We then decided to walk over to
Central World
and
MBK
to continue shopping as Bf has something in mind he wanted to look for. Walk and walked til my feets were feeling super sore! After shopping, we decided to rest our feets, and at that point of time, we totally forgotten we had just eaten not too long ago, and ended up in
Pizza Hut
! Ended up we couldn't finish our food and decided to take it back to our hotel for supper! Just before leaving
MBK
, we even managed to catch the
World Thai Boxing Competion Live
outside
MBK
! It was pretty exciting and there were many competitors from all around the world. We manage to catch the Thai Boxers from Poland, Ukraine, Italy, etc. On the way back to our hotel, we stopped by
Naraya
at
Central World
, and bought a couple of bags, and shopped around the night markets in the area before heading back to our hotel. Back in our rooms, we washed up and heated up the Pizza and enjoyed it while watching TV before we slept for the night.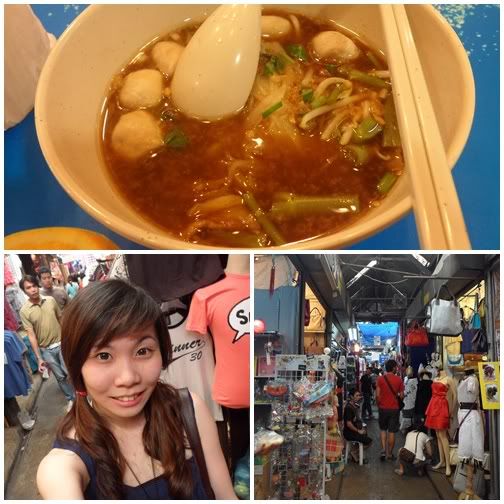 My Breakfirst! Yummylicious Pork Ball Noodles! The noodles is nothing like what we find in SG! totally yummy!
And thats Me at Chak Tu Chak! The weather is soooo HOT! i almost melted there~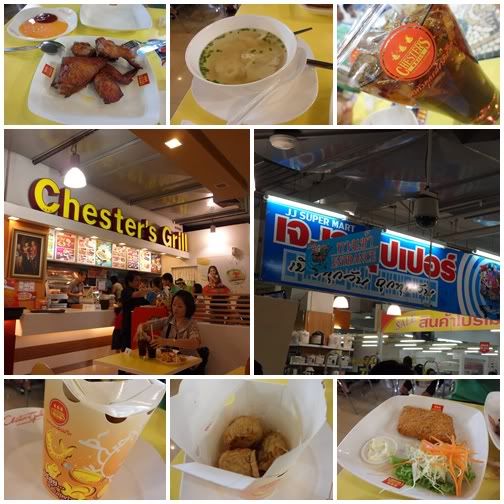 Lunch at Chester's Grill and JJ Super Mart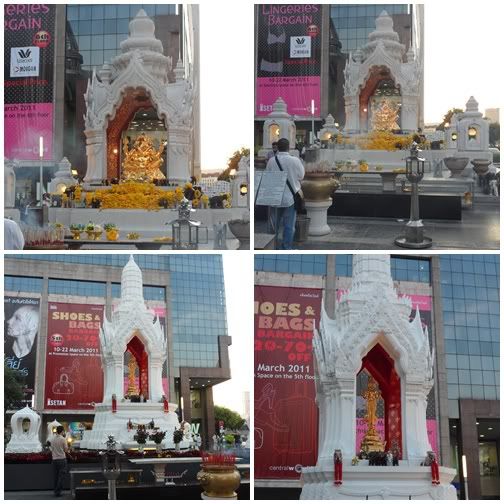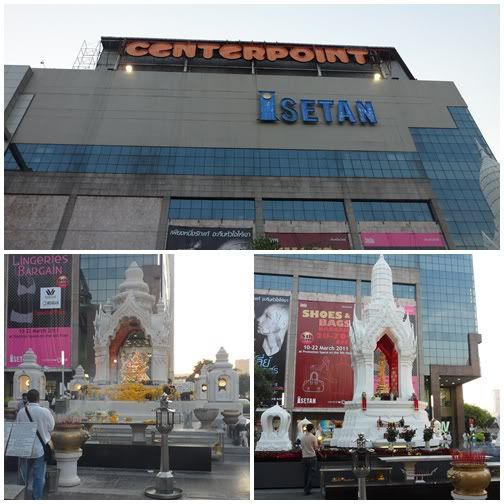 Super uber smart and cute Beggar Doggy!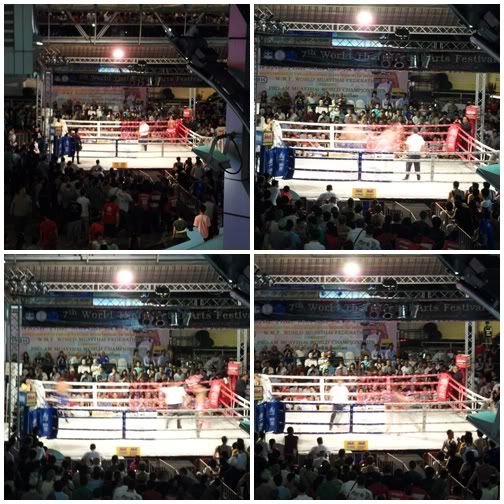 World Thai Boxing Competition Live!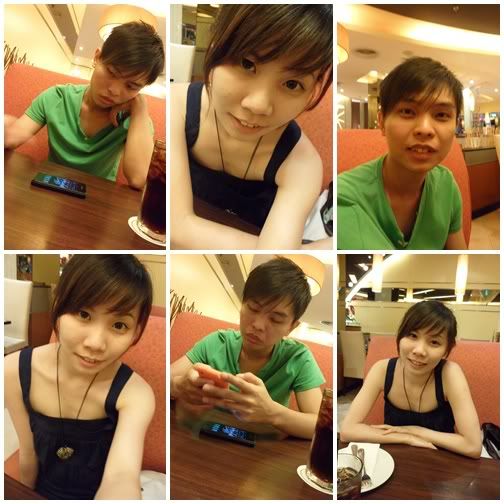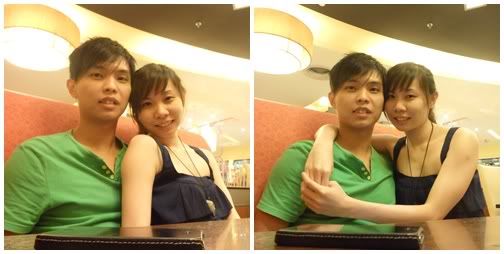 Us At PizzaHut, having dinner!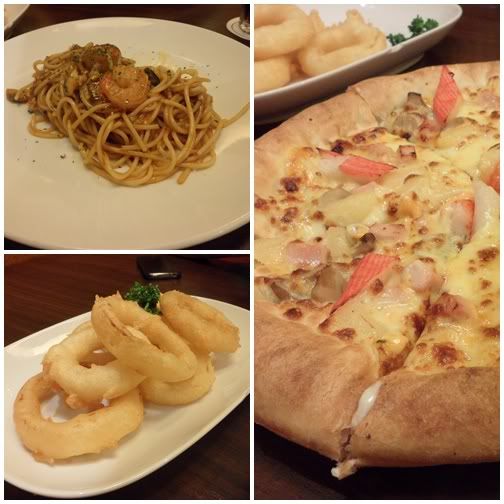 Our Pizza, Onion Rings and Seafood Spagetti!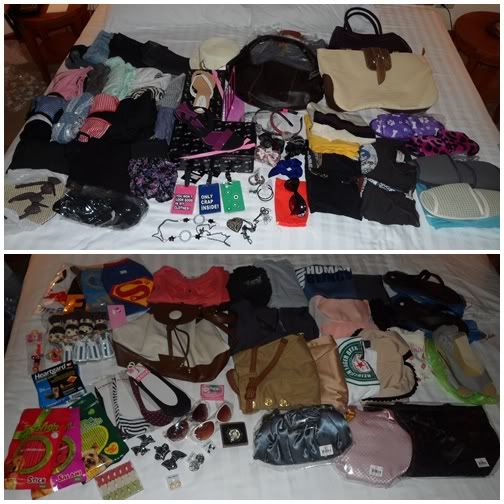 Our shopping loots from Day 1-3! =)
Monday (21Mar11 – 4th/Last Day)
head to
Platinum Mall
to get some food items, and had our brunch before we head back to do some last minute packing and Check-out of our rooms. Left our luggage and bags with the concierge and head out to continue shopping again! Went to
Pratunum
and
City Plaza
and it started to pour heavily! Spend the time shopping and had Auntie Anne's Pretzel and Lemonade again. Soon the rain stopped but the roads were all really wet and dirty! *
Gross
* My feets were all splattered with
BLACK
dirty water! And it was flooding (
with BLACK water
)! We cleaned up our feets before heading to have another round of Thai Massage! This time round, my masseur was a pretty big sized lady! And she stepped and jumped on my back! My gosh! It felt like my bones were all going to shatter!! And the best part was, she seem to be having fun! When I yelp in pain, she giggled! -.-" Haha! But overall it was '
SHIOK
'! So much so that my muscles which were initially aching from all the walking, it hurts even more after that! Haha! Cuz she seem to be able to detect the areas which I was aching, and she pressed much harder and longer on those areas!! But soon after walking around a little, all the pain seem to slowly disappear! So I thought it was really good! =) Shopped and walk around a little before we head for dinner and went back to our hotel to get out luggage. On our last day we couldn't buy a lot and had to restrict our shopping, as we were low on cash and our luggage is already exploding!! =p My wallet was almost totally dry except for a few pathetic coins! Ended up Bf had to change a lil more money for us to have enough cash to take a cab to the airport! At the
airport
, after we checked in our luggages, we wandered around and bought
durian ice cream
and
water
with the remaining money we had before it was time for us to get onto the plane, SQ981. On the plane I bought myself a new watch! It a travel exclusive
Tommy Hilfiger watch
! Totally love the strap and design! By the time we got off the plane, grabbed out luggages and came out of the arrival hall it was already
1am
(SG timing). Went back home to wash up and unpack and went to sleep for the night at almost
3am
!~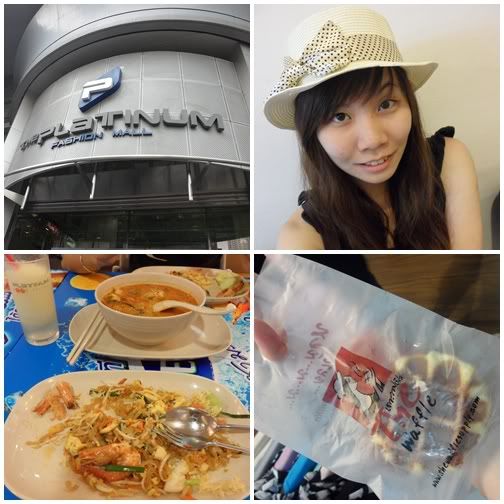 Last day at Platinum Mall with my new hat! Our Brunch and my Waffles~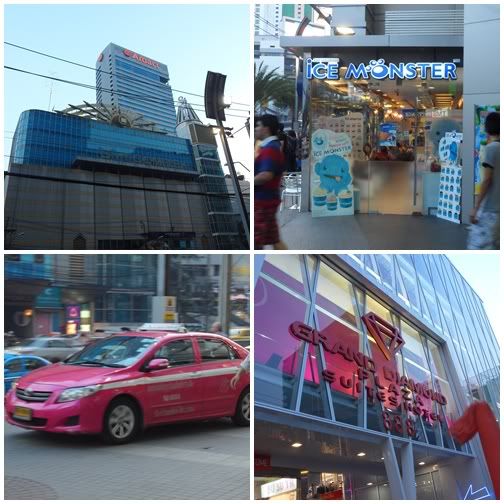 Around and About Platinum Mall and my Hotel! Saying goodbye to Grand Diamond Hotel~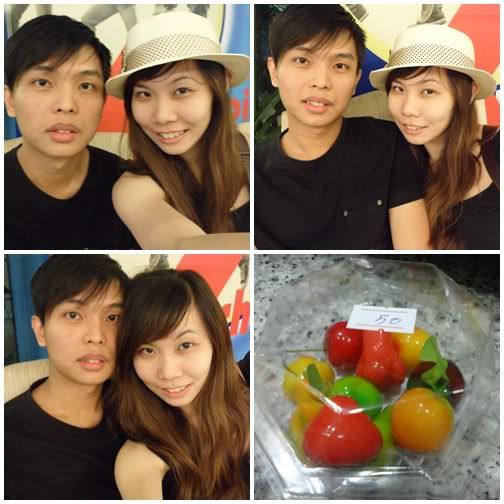 While waiting for our Cab to the airport~ The fruit-shaped paste i bought for Jen and Bf's family~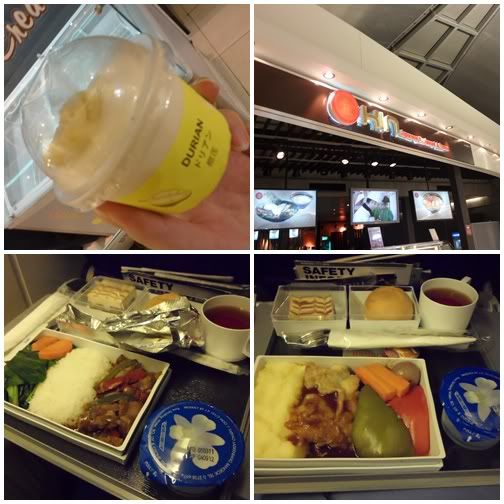 My Homemade Durian Icecream at BKK airport! And our dinner on the plane~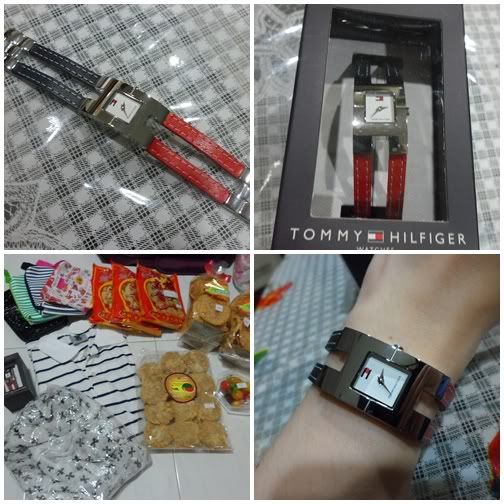 The Tommy Hilfiger watch i bought on the plane, and the shopping loots on my last day!
Holidays always go by so quickly! Back to reality, Back to work~