another year "
younger
"!! oh great~ haha!
Anyway im so thankful and glad that i aint as disappointed nor upset as i thought i would be!! =)
In fact i'm feeling really happy and hippity-hoppy right now! =)
received more than 300+ (
and still counting! hehe!
) birthday wishes on my facebook wall, topped with a couple of birthday wishes via SMS, msn, skype and any other ways possible! I feel so blessed suddenly! Many old friends actually remembered my birthday throughout these years of friendship. Even those that aint close rmbrs! It could be due to the help of FB birthday reminder, but nonetheless i appreciate them all for making the effort to send me lovely wishes! =)
On top of that, i received my first ever bouquet of lovely
Sunflowers
from my
BF
yesterday! (
not the first in my life, but the first from a BF
) he really caught me by surprise! As i totally didnt expect it! =) Totally perk me up!! Sunflowers are my favorite! And nothing could be sweeter then having the best of both
S
!
Surprise Sunflowers
! hehe!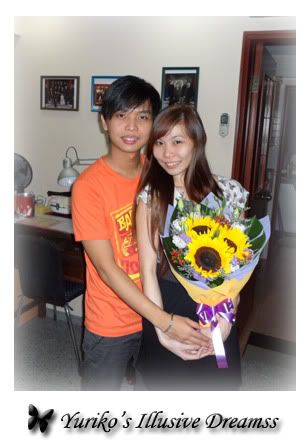 BF and Me with the lovely bouquet of sunflowers he surprised me with!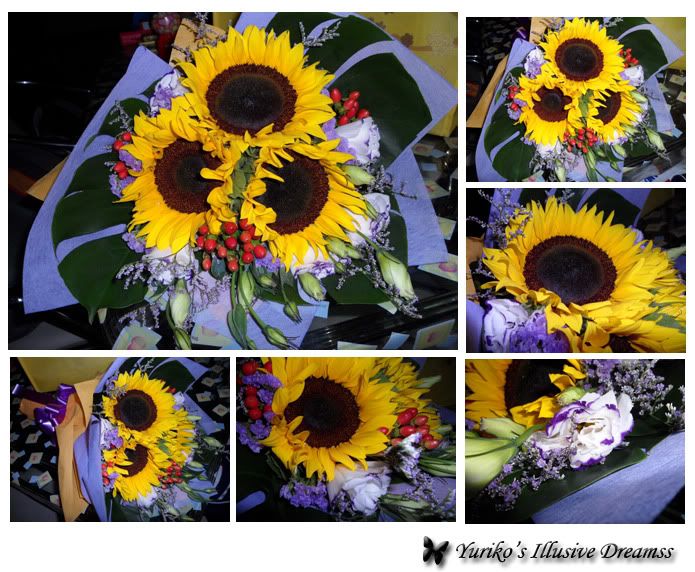 arent they gorgeous! =D


And after work yesterday, went to meet up with
BF
and his family and they brought me to have dinner at
Red House Seafood Restaurant
~ Dinner was great! Thanks to them for the birthday treat! hee~ after dinner, went back to his place to watch tv for awhile and at 12plus midnight, he brought me out to
ECP
for my favourite
Taiwanese Snowflake Ice
~ had the mango plus mango this time! *
yummy
* =) after which he send me home to rest for the night~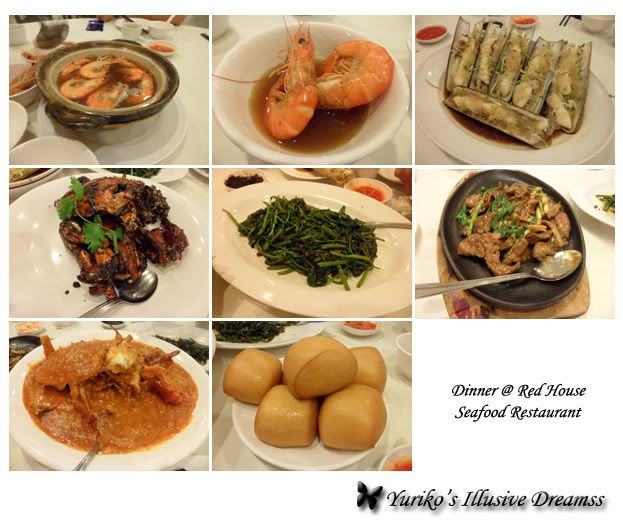 dinner we had at Red House Seafood Restaurant! Drunken Prawns, Bamboo Clam, Kangkong, Stirfried Venison, Black pepper crab, Chilli crab and my fave Fried Buns
Now back at work, and greeted with many lovely wishes from my awesome colleagues! lunch time, my lunch khakis treated me to lunch at
Swensons
! how sweet of them! Hehe thanks all! =)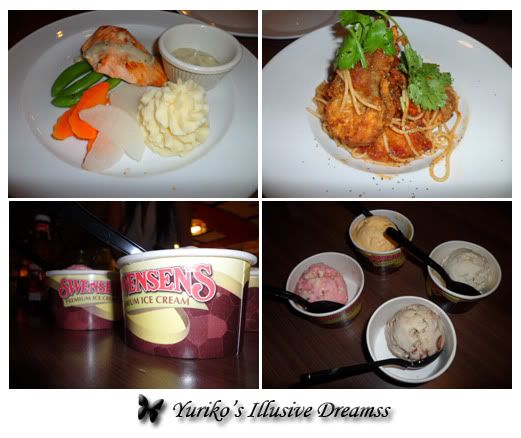 Our foodie! 3 of us had the Crayfish Spagetti, 1 Salmon fish, and our ice creams!!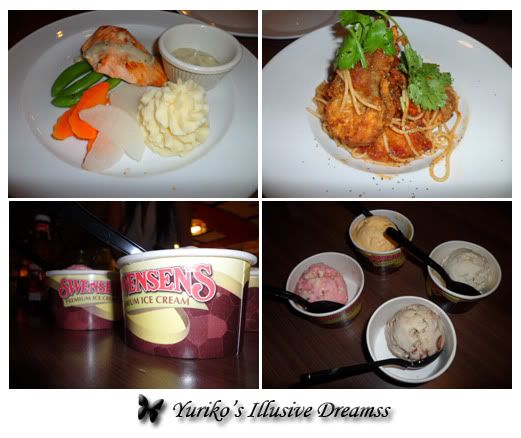 With Michelle, Essie and Yiwei!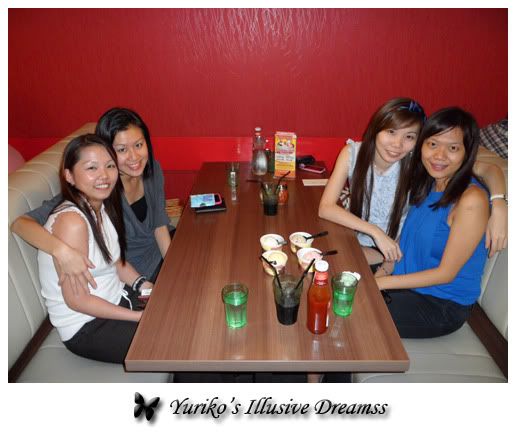 My lovely lunch khakis at GMS! =)
Looking forward to having a simple dinner at
Sushi Tei
tonight with my family~ =)
Gosh feeling so fat, eat eat eat and eat! LOL! =p no wonder they always say 吃是福! which means eat or rather fat tummy is or equates to wealth and happiness! haha!!
Feeling really
blessed
and
loved
!!
Thanks to each and everyone of you, thanks to my BF, thanks to his family, thanks to my awesome family, thanks to my friends and most importantly, i want to thank my dearest mummy and daddy for bringing me into this world! =) *hugs*